A long-anticipated reckoning after the boom of investment in virtual meeting platforms during Covid and an aggressive return to in-person events has sent many streaming platform companies scrambling to position themselves in the best light for a possible looming merger and acquisition season.
For some companies such as Bizzabo and Hopin, that has resulted in substantial layoffs—30% of staff in the case of U.S. and Israel-based Bizzabo and almost the same percentage in two rounds for the more than $7 billion-valuated Hopin. Others have benefitted from a fresh approach as exemplified by today's announcement that Zoom Ventures and others are investing in the remote-first startup twine.
Read more about mergers and acquisitions in the event tech world.
"There's definitely going to be more M&A," opined Smart Meetings event tech correspondent Brandt Krueger. "We saw a ton of money flow into the event tech market during the pandemic, and at some point, those investors are going to want to see a return on that investment."
He interpreted many of the layoffs as an attempt to cut costs and give the impression of profitability in a market that was never going to continue to see the growth it saw during the last three years, most likely in the hope of attracting a buyer. "That's the easiest way for investors to walk away happy. I also think there are quite a few founders ready to get out of the market after the peak and go spend some quality time with their family," he concluded.
A Targeted Approach
For serial entrepreneur Lawrence Coburn, who is navigating the serendipitous networking company twine through the evolution of the virtual events space as co-founder and CEO, getting in early to a growing niche was essential. The February acquisition of Glimpse positioned twine as an embedded enhancement of the ubiquitous Zoom meeting and led to today's announcement about increased investments from Maven Ventures, PeopleTech Angels and Zoom itself, along with additional investments from existing investors Moment Ventures, Coelius Capital, Aaron Schwarz. Twine raised $4.3 million in seed funding to start.
The company's twine App for Zoom is now available through the Zoom App Marketplace to help drive attendee networking within Zoom Events to seamlessly add guided networking experiences, including one-to-one, small group, tag-based and spatial networking that allows users to hover over a layout of a virtual meeting room with tables and chairs before clicking to join in a conversation. The product tries to replicate in-office communication dynamics and is free for up to 25 attendees with different pricing options for larger groups.
'We found our seam—distribution on the massive ecosystem of Zoom, and the wave of remote work that isn't going anywhere," said Coburn in an exclusive Smart Meetings interview.
He described the current state of events as a roller coaster. When Covid is flaring, meeting professionals want to go virtual and then when it dies down, they want to be in-person. "We are still in events, but focused more on a lot of internal events," he explained. The twine product makes it easy for remote teams to interact in large and small groups with the click of a few buttons.
"The rocket ship growth for every event tech company with hundreds of millions of dollars of funding, those days are over," he assessed. "Demand for virtual went to the moon when everything was shut down and it has come back down again. People are thirsty to get back face-to-face."
Coburn is not convinced that the volatility is over. "I think we are overcorrecting right now as everyone is racing back to face-to-face because it has been gone for so long. I think the pendulum will end where virtual events are a bigger part of the pie than before Covid."
But he is not convinced there will be enough virtual business to keep all the companies now in the space living up to their sky-high valuations. "I have to think more consolidation is coming as companies run out of cash. In a down market, if you have cash, you can lean in and start acquiring more."
Coburn has empathy for companies going through the ups and downs of trying to stay ahead of the market. He previously founded, grew and sold DoubleDutch to Cvent through some volatile periods in the market. "Companies that are trying to grow in advance of demand and then if the business doesn't pan out, it is heartbreaking to part with the people who bet on you," he said.
In the meantime, he is excited to have distribution advantage on a platform that is still hosting 300 million daily participants as a small, nimble company, rather than being in receding market selling against good products with great pricing.
Read more updates about virtual and hybrid technology.
In-person Makes a Comeback
Making sense of the ups and downs of in-person and virtual events can take on the nuance of a Rorschach inkblot test with everyone bringing their own point of view to the picture. Eric Holmen, CEO of the event marketing technology company Splash, shared a picture of what the company saw in the behavior of its clients at different stages of the pandemic.
Most clients engaged his tools for registration and apps at their in-person meetings prior to March 2020, then they immediately swapped to the company's live-streaming capabilities, and as variants moved through the populations, undulations in types of services being accessed were visible in the data. Regardless of the platform, all marketing intelligence gathered from interactions synced back to a shared CRM. Now he is seeing a consistent trend with 46% of client event in-person in June. The total number of events is also on the incline. "I think in-person events are back," he said.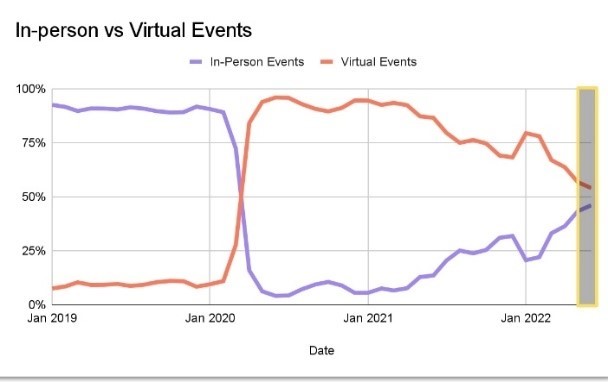 "We expect to see the ratio of virtual to in-person decline compared to the total, but they aren't going away," Holmen predicted based on customer surveys. Instead, he sees virtual as a targeted use case for building top-of-funnel interest and a marketing database. "In-person builds intimacy and converts deals. Virtual events tend to be six-times larger on average in registration, but the real ROI comes from in-person events where they are converting relationships into opportunities," he said.
What he isn't seeing is the huge number of hybrid events people were predicting a year ago, at least not simulcast.
The bottom line, he said, is that virtual companies received very high valuations from their investors and the market for virtual slowed down for companies only offering virtual. The layoffs are a visible sign of preserving capital and preparing for slower growth and lower valuations.
Holmen describes Splash as an in-person-first company with virtual capabilities and is excited about the level of experimentation he is seeing in ballrooms today. "Trade Shows may have to rethink their value proposition. This is a ripe opportunity for the industry to reinvent itself," he said.
365 Opportunities
Another virtual meeting company that is seeing opportunity in the abstract art created by statistics from adoption of virtual and in-person tools is Ben Chodor, president of Notified. "Everyone is still interested in virtual and we are extremely bullish on 365 events," he said in an interview with Smart Meetings following the announcement of layoffs at Bizzabo. "There is no denying that there has been a push to return in-person. It is exciting to see our teams and go to live events again. But it isn't one or the other."
Chodor explained that capturing content at live events and making that available to a larger audience that will fit in the convention center is just good business. Streaming content drives interest in the physical meeting, it is more environmentally sustainable than making everyone travel to the event, it is more accessible and it can help save budget at a time when inflation is rampant and the recession word is being tossed around ominously.
Perhaps most importantly, including a streaming platform as part of an in-person event strategy embeds a back-up plan in the design in case something happens and people can't attend physically. "An event is an event and we have to start thinking about the big picture," he said.
But even with a predicted continuation of interest in virtual, Chodor sees an inevitable collapse in the number of companies in the space. "In 2019, we had 9 or 12 competitors and now there are more than 800 and they got crazy valuations," he observed. "Wherever there is a boom, there will be a bust and not everyone will be able to survive."
"There will be some consolidation as some companies run out of money. Narrowing down the number of virtual companies will make the industry stronger with more end-to-end platforms and more flexibility," he concluded.
His final prediction? "In the future the vanity matrix of how many people attended will go by the wayside and meaningful data about what they interacted with and for how long on all platforms will help us to better understand and interact with customers, so everyone gets what they want."
Enduring Partners
Consolidation and a return to physical-first could benefit diversified event-technology companies such as Encore, the AV company-of-choice at many venues across the country and offers the hybrid platform Chime, which allows for real-time connectivity between virtual and in-person without awkward gaps of lag time. Chime's robust audience engagement data (results are recorded every 2 minutes, rather than the industry standard of 5 minutes) gives event producers better data and could create its own modern art charts. It was built pre-Covid for in-person engagement, expanded for virtual over the last three years and is now coming back to its roots more robust than ever.
"As meeting formats change, participants' needs change and organizations look to broaden their reach with hybrid experiences, easy technology with better analytics is becoming essential to delivering ROI," said the company in a release when improvements were announced.
"Technology will play a bigger role in experiences going forward," said Taqi Mohiudddin, Encore vice president of product marketing in a follow-up interview.