Photo courtesy of www.walledoffhotel.com
Want to book a night in the world's coolest hotel? Well, if controversial art is your thing then we have the hotel for you! After 14 months of construction, Banksy's boutique hotel will officially open on March 11.
Banksy has attained both fame and infamy through graffiti art portraying radical political statements. Although Banksy's identity has remained a mystery, the art is iconic throughout the world. The hotel, Banksy's latest installment, is located in Bethlehem in the West Bank. Aptly named The Walled Off Hotel, visitors are compelled to encounter the communities greatly impacted by the West Bank wall conflict. The setting for the hotel was tactful, evidenced even further by one bedroom mural which shows an Israeli soldier and a masked Palestinian engaging in a pillow fight.
Instead of having a fitness center, the hotel holds a museum. The exhibit was created to inform and enlighten guests about the political separation. Still, the entire hotel is very cautious about maintaining neutrality about the Israeli-Palestinian conflict. Banksy has created and financed the hotel, ensuring it is not allied to any political party or message. The museum's co-curator, Gavin Grindon, told CNN, "It's meant to be a space that's both empowering and informing for people."
Political allusions begin at the entrance where a figure resembling British Foreign Secretary Lord Arthur Balfour sits. This controversial figure demonstrated UK support for establishing a "national home for the Jewish people" in his Balfour Declaration of 1917. To this day, Israelis revere him and Palestinians loathe him. Banksy provocativeness—check!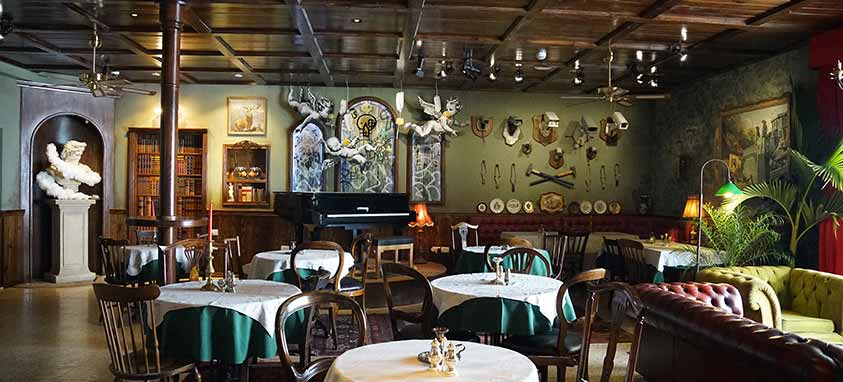 Photo courtesy of www.walledoffhotel.com
Banksy did most of the artwork but two rooms were delegated to two other artists. The artists were kept in the dark about the hotel design beyond their rooms, prohibited from leaving their assigned spaces.
One of the chosen artists, Dominique Petrin, spoke to CNN about her artistic direction, saying, "I made this room like a nice, lushy, colonial room, but when you look at some details, you see something is really going wrong. You know when things are going so good, but at the same time it's apart?"
The trendy property will feature nine guest rooms and a presidential suite. The presidential suite features a complete mini-theater, jacuzzi, study and bar. The walls, including the entrance, are all marked with quintessential Banksy statements. Eccentric contradictions fill the property, with paintings such as a baby cherub hanging on for life support. The Walled Off Hotel cements the theme with its windows; each one opens up to a view of a wall of 30-foot concrete.