Lobby of The Art, A Hotel
We at Smart Meetings have been putting a lot of emphasis on how quickly hotels are evolving to satisfy their guests lately—from the disappearing front desk to robot concierges. But one of the most inspired changes happening in hotels is taking guests by surprise the second they walk in the door.
The lobby, once populated with phone banks, check-in desks and elevators, are transforming into—well, whatever the hotel wants: A cozy living room, a happening bar with lots of networking nooks, offices for business travelers always on the job, and even galleries.
The great thing about this for groups is that guests aren't checking in and heading straight for their rooms. Without having to create (and pay for) a time and place to mingle, these hotels offer spaces to network effortlessly.
First Stop: Exhibit
In Denver, Colorado's bustling Art District, The Art, A Hotel welcomes guests on the ground floor with two art exhibits—but not before they pull up to the main entrance, defined by a 22,000-LED light art installation by Leo Villareal.
The exhibits, with 37 pieces gathered by curator Dianne Vanderlip, encompass the entire ground floor. An elevator takes guests to the fourth floor, where they can check in and check out more art, as well as the terrace and FIRE Restaurant and Lounge, separated by an accordion-style glass door that overlooks downtown Denver.
A traveling Manhattan bar lets guests taste several versions of the classic cocktail, and weekly events like Wine Wednesdays allow guests to network on the terrace and even socialize with the hotel's general manager.
Welcome to the Clift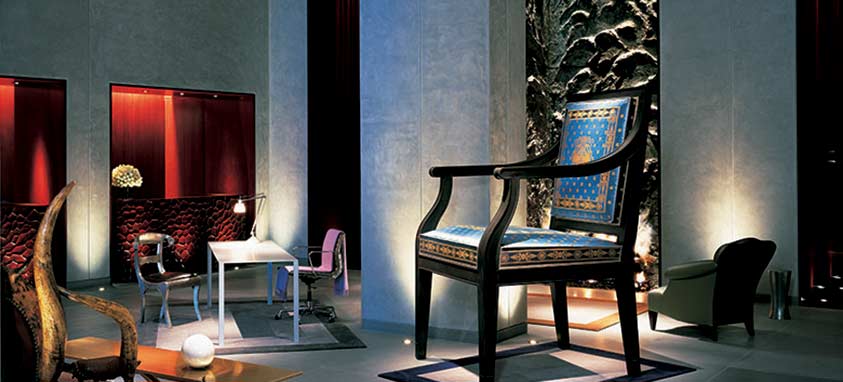 Clift Hotel lobby
The panhandlers, the traffic and the buzzing tourists of San Francisco are a thing of the past the moment you walk into the Clift Hotel, part of Morgans Hotel Group. While the check-in desk is still immediately to your left, guests' attention is overtaken by of one of the world's most stunning and expensive chair collections, just begging them to sit and stay a while.
Nearly every detail of the lobby is reflective of something in Northern California, from the Yosemite-inspired caste bronze fireplace to the redwood-esque mahogany. Designer Philippe Starck designed the hotel to be a clash of classic and modern, with Art Deco light fixtures and a Salvador Dali coffee table and lamps.
Giant doors open into the infamous Redwood Room, where guests can perch in front of the sprawling redwood bar for libations and seasonal bites.
Action-Packed and Social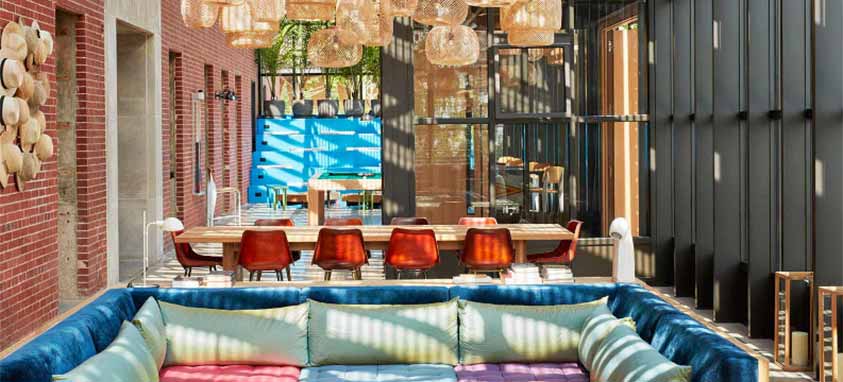 The Ashbury lobby
Ping-pong, pinball machines, board games – and a communal table are the first things guests see when they walk into The Ashbury, a boutique hotel in Ashbury Park, New Jersey.
The lobby-level is equally action-packed; the front desk and check-in doubles as The Counter, a grab-and-go kitchen where guests can fetch keys, order coffee, or buy something from the retail store.