Aboard Etihad Airways' A380s, you can have the most spectacular flight of your life—for a hefty price. The $38,000 per seat cost for The Residence suite on Etihad Airways' New York-Mumbai service is now the most expensive airline fare in the world. That price is for a one-way ticket, so passengers need to shell out a whopping $76,000 for a round-trip journey. The United Arab Emirates national carrier also held the previous record for world's priciest flight, a $32,000 ticket between New York City and Abu Dhabi.
What will $38,000 get you? The Residence is an extravagant three-room suite designed for a maximum of two passengers. Each Etihad Airbus A380 aircraft has only one suite, making this the most exclusive way to fly. Passengers can relax in the living room, which features a 32-inch flat-screen TV, rest in the bedroom's comfortable double bed, and freshen up in the bathroom's full shower.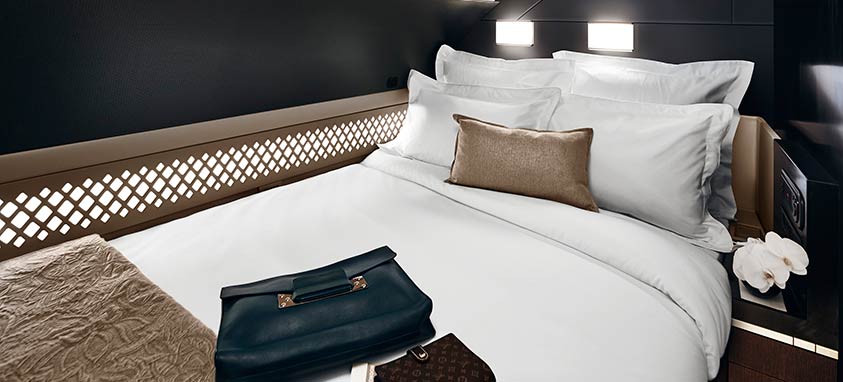 In addition to this sumptuous environment, service is where The Residence truly shines. Every aspect of the flight service can be tailor-made to the passenger's requirements.
From the moment they book their flight until they arrive at their destination, The Residence's guests are taken care of by Etihad's VIP travel concierge service, which can help travelers make hotel and restaurant reservations, as well as other travel arrangements. As part of the package, travelers can also enjoy chauffeur service. The Residence ticket holders even have their own private check-in and exclusive airport lounge.
Once they're in the air, passengers' every need is handled by a Savoy-trained butler. Gourmet cuisine is served up by an in-flight personal chef who can prepare travelers' favorite dishes, even if they aren't on the menu. Turndown service is also provided to add an extra bit of comfort.
For those who have the money to spare, this opportunity to fly at the height of luxury may well be worth every penny.