A survey conducted by the Global Business Travel Association (GBTA) foundation in partnership with American Express asked business travelers with and without TSA PreCheck about their travel experiences to find out if the risk-based program really does make a difference in travel experience.
The online survey was conducted between September 21-29, 2015 and polled 804 business travelers whose primary residence is in the U.S. and took at least four business trips in the last year. The survey inquired about overall travel experience, corporate environments, social media, travel safety, and travel management policy, among other topics.
Of those who answered that they are satisfied with their experience getting through airport security, 66 percent are enrolled in TSA PreCheck, compared to 47 percent who are not enrolled in the program and answered the same.
Those enrolled in TSA PreCheck are more likely to be satisfied with traveling on an airplane, too. 66 percent of those enrolled agreed, versus 54 percent for those not enrolled.
The survey also indicated that business travelers ages 55 and up are much more likely to enroll in the program than their younger co-travelers. 51 percent were 55 or older, 37 percent were between 35-54, and only 32 percent were between 18-34-years-old.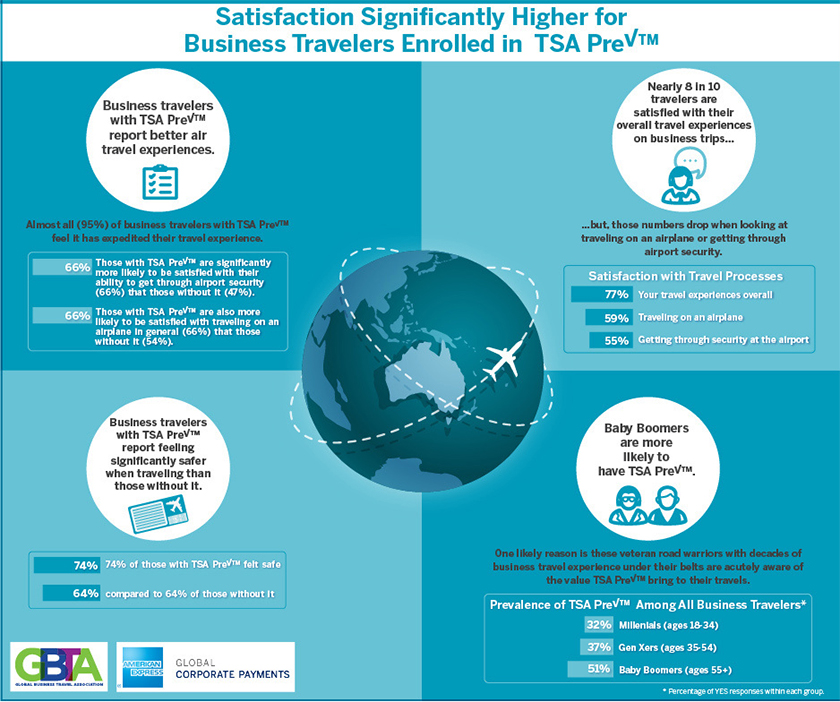 Getting through security at the airport is consistently cited as one of the largest pain points for business travelers.
"This insight into the mindset and attitudes of business travelers shows that programs like this work and make for a better business travel experience," said Michael W. McCormick, Executive Director and COO of the GBTA.
Do You Qualify for TSA PreCheck?
TSA PreCheck is a risk-based screening system designed to make the air travel process safer, smoother and more secure. It lets eligible, low-risk travelers enjoy expedited security screening (those enrolled don't need to remove shoes, liquids from their carry-on, laptops, light outerwear, belts, etc.) The application fee is $85 and is valid for five years.
Eligibility is specific to U.S. citizens and lawful permanent residents (LPR) that haven't been convicted of certain crimes. The program is available at more than 150 participating U.S. airport locations and for most international itineraries. Airlines that offer TSA PreCheck are Air Canada, Hawaiian Airlines, United Airlines, Alaska Airlines, JetBlue Airways, Virgin America, WestJet, OneJet, Allegiant Airlines, American Airlines, Southwest Airlines, Delta Air Lines, and Sun Country.