Some familiar names and kitchen-tested ideas are behind the launch of Appellation, a new hospitality company planning to open boutique properties with a local edge in popular luxury tourist destinations in the West. Chef Charlie Palmer, the father of "progressive American cooking," made his mark in the restaurant world with a combination of classical French cooking techniques, innovative American spirit and an attention to detail that makes napkins stand up straighter. His philosophy is that "Genuine hospitality is the way a restaurant makes you feel before you even take a bite of food. It's an elusive quality, but it's also very down to earth."
The New York icon (Charlie Palmer Steak, The Patio, Aperibar, and Spyglass Rooftop Bar to name a few) and his wife, Lisa, found their way to northern California's Wine Country in the 1990s. The place kept calling them back. In what at that time was still the small agricultural town of Healdsburg, they settled in on a farm in the early 2000s to escape the mayhem and raise their four children while managing the reigns of his Charlie Palmer Collective business. "There is something about this area of Sonoma County that gets down into the deeper layers of what it means to be in wine country. It's a different vibe here than in Napa," he said.
Palmer was soon apron-deep in projects in the area, applying his local-done-well aesthetic to hotels, opening the award-winning Dry Creek Kitchen at Piazza Hospitality's Hotel Healdsburg and investing in its sister properties the sustainable h2hotel, and most recently Harmon Guest House.
Read More: Northern California Sets Example for Sustainability
He has now partnered with Four Seasons alum Christopher Hunsberger (pictured above on left with Palmer) to launch Appellation, a hotel brand that will develop and run community-based venues that incorporate local cuisine, art, crafts and people. The first one has broken ground in Healdsburg (108 guest rooms, a 160-seat restaurant, rooftop bar and 15,500 sq. ft. of event space with more for lobby activations and 53 workforce housing units) and should be open in 2024, with more in the works in Petaluma (45-minutes away on Highway 101 with 93 guest rooms, 3,000 sq. ft. of meeting space, a signature restaurant and maker spaces in the heart of the former Egg Basket of the World's quaint downtown), Southern California's Pacific Grove (225 guest rooms, 10,000 sq. ft. of meeting space, and a signature restaurant on 5.5 acres across from Monterey Bay) and Sun Valley, Idaho (73 rooms, 5,500 sq. ft. of event space and a rooftop observatory)
The Healdsburg property is across the road from the hotel and residential Montage Healdsburg development and is co-located with Enso Village, a 32-acre mixed-use that includes a Zen-inspired luxury active senior living community.
Smart Meetings sat down with Palmer, Hunsberger and Ed Skapinok, Appellation chief commercial Officer, at Healdsburg's Little Saint for a plant-based brunch to find out what the trio is cooking up.
Unique and Boutique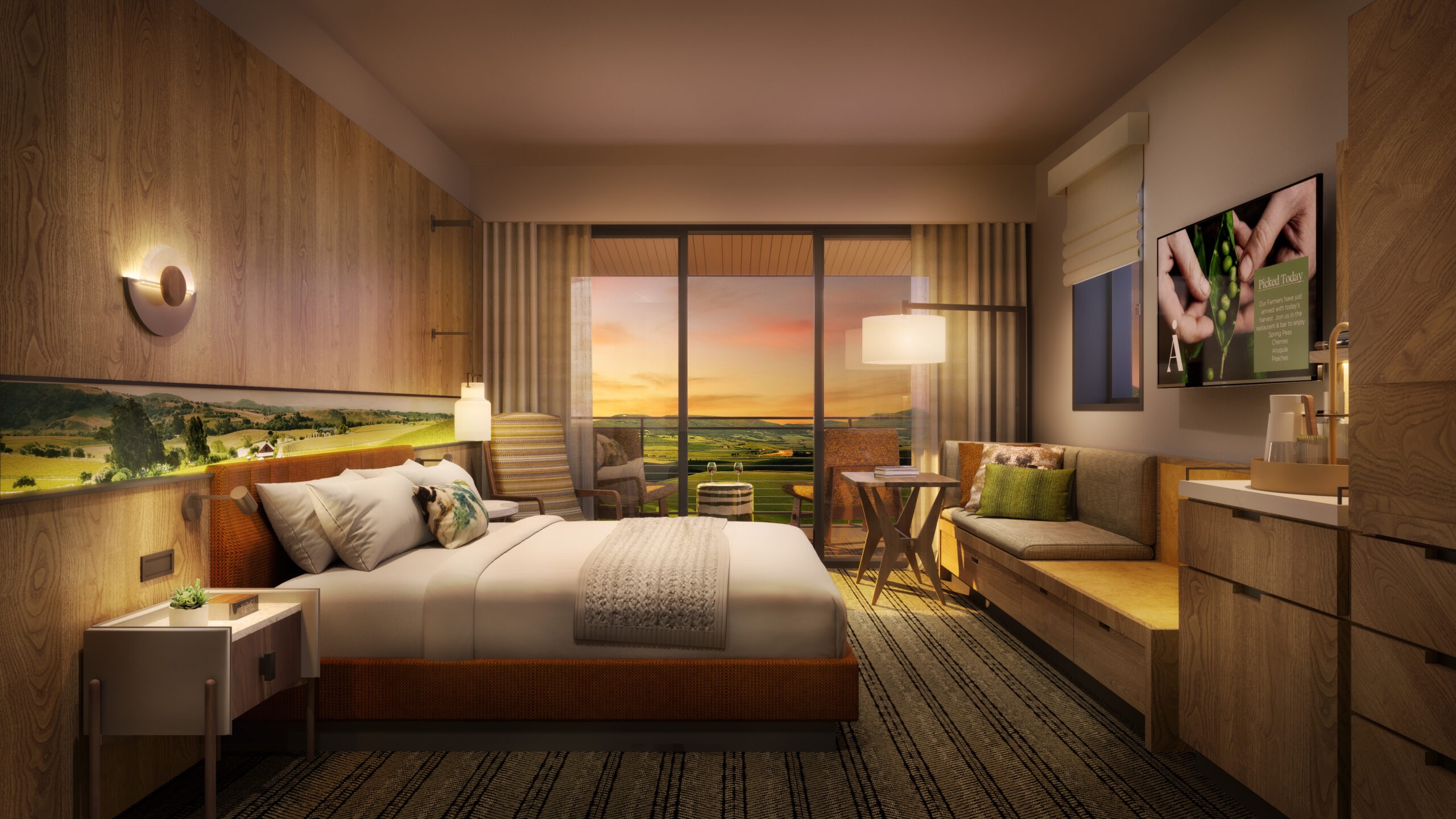 "We really think there's this niche for what we call approachable luxury," said Palmer.  "We want people to come to places where they can discover and experience the way of life." The company is working on projects in unique places with high barriers to entry and established luxury properties with boutique options that are four-and-a-half-star luxury. They are well-appointed, but not the most expensive in the market. They bring a sense of place and connectivity to the destination.
Rooms are thoughtful and comfortable with lots of outlets and largely locally sourced touches.
Read More: Chef-driven Wine Tastings Delight in Napa Valley
A focus on culinary property-wide includes quality glassware and a bottle of wine in the room, pour-over coffee and "proper" tea equipment and accouterments. Healdsburg will feature a pantry on almost every guest floor with snacks and filtered water bottle refill stations, and cocktail kits that can be taken back to the room. Murals of a vineyard sunset anchor the warm wood and crisp white linens while acting as a headboard.
One thing that will be standard in every room: functionality. "It blows my mind that in brand-new hotels, they just aren't functional. There's no place in the bathroom to put your stuff, you can't find the hairdryer, the outlets are hidden behind the headboard," Palmer lamented. Don't get him started on the lighting. It should be easy to turn on and off all the lights without reading a manual or calling someone to help you find the switches. It needs to be simple. A lot of this is just common sense.
Read More: 2023 Hotel Design Trends
And, because this is a foodie brand, the catering will match the richness of the dining room. The kitchen is being built so that it is experiential. It can be used for teaching and chef dinners or just admiring. Buffet stations will be like walking into a private kitchen and picking what you want for dinner. Skapinok calls this making the invisible, visible, something he thinks their "curious traveler" demographic will appreciate.
The team is partnering with local bakers and roasters for unique coffee experiences to showcase the richness of the area and activating the lobby area with experiences.
"Hotels should not be static," said Hunsberger. "They should be active community places with lots of things going on." Guests can choose to be involved in many or as few of them as they like. From crafting classes to wine dinners, when locals feel comfortable stopping by to participate in the activities, guests get to know the character of the place. When they find they are sitting next to the winemaker involved in creating the beverage in their glass, that is pretty special.
Bill Foley Takes Over Management of Forestville's Farmhouse Inn
Bill Foley, the man behind the Fidelity National Financial turnaround and eponymous winery, is investing in Forestville's Farmhouse Inn, a luxury Sonoma County boutique hotel, destination restaurant and spa 90 miles from San Francisco International Airport (SFO). The move is an expansion on his interests in Sonoma County hospitality.
Catherine and Joe Bartolomei, siblings and fifth-generation Russian River Valley farmers who have owned Farmhouse Inn since 2001 and transformed the historic property into a top-rated luxury resort, will retain partial ownership of the property. But Foley Entertainment Group, which already owns a boutique property in nearby Healdsburg and Foley Family Wines in Santa Rosa, will manage as part of Preferred Hotels & Resorts' Legend Collection.
Day-to-day strategy and operations at Farmhouse Inn will be overseen by industry veteran Warren Nocon, executive vice president of the company's hotel division. Nocon currently oversees the strategic operations of Hotel Californian in San Diego, Hotel Les Mars in Healdsburg, and Black Walnut Inn & Vineyard in Dundee, Oregon. He previously served as managing director of Hotel Californian.
A Storied History
Boutique 25-room Farmhouse Inn has been lauded nationally as a five-star retreat on the site where Russian River Lodge, the first gay resort in the area once stood with an array of illegal bath houses. Only one legal bath house, Grange, remains.
After a stint as a bed-and-breakfast, the farmhouse was completely restored, new guestrooms and a luxurious spa were added. Almost immediately, Farmhouse Restaurant earned a Michelin Star and maintained the honor for 14 years under Chef Steve Litke, who retired in 2021.
"We are excited for this incredible new synergy between two well-rooted Sonoma County families, joined by a common vision to enhance an award-winning brand synonymous with luxury and authenticity—a testament to Joe and Catherine's dedication over the past two decades," said Foley in a statement when the partnership was announced.