Day two of IMEX22 at Mandalay Bay Convention Center Las Vegas kicked off with a keynote address by Shane Feldman, founder of Count Me In, who stressed the importance of creating an inclusive experience at meetings. Like many in the audience, he is a frequent flier. "In 2019, I had more airtime than most pilots," Feldman said, articulating how he learned invaluable lessons in facilitating inclusion through interacting with people from different cultures.
"Always keep your circles open," he says, noting the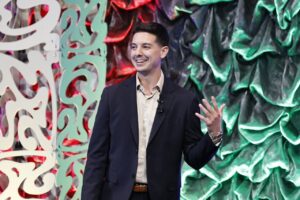 tendency of attendees to gather in small cliques following presentations and activities during conferences and events. "Across the entire fabric of our world, I have found so many universal strategies that are totally applicable to what we're doing here in America and truly around the world," adding that western cultures often miss the mark under the belief that leadership drives community, noting that shifting the focus to relationships is essential in creating a sense of community.
Download "Pathways to Clarity" a joint IMEX, Smart Meetings White Paper outlining the state of the meetings industry.
During a trip to Vietnam, Feldman noticed that circles of acquaintances always left enough space for more people to join, adding that event attendees can engage with one another in a similar fashion through intentional design: how they position themselves in groups. While in South Africa, he became accustomed to the greeting of members of the Zulu Nation, "sawubona," which translates to "I see you," with the intent of ensuring the individual knows they have been acknowledged.
While this may seem like a novel gesture, Feldman says that the solution has a connotation of "My whole intention is with you, I want to understand you, your needs, your wants, your joys, your sadness, your fear, your love and understand that thinking," a practice Feldman says is essential in empowering the individual on many levels.
Read IMEX America 22 Day 1 Updates
That commitment to community was demonstrated on the show floor as Smart Women in Meetings VIP Club members gathered for a toast celebrating their ongoing support to working through change together and lifting one another up.
Celebrating #smartwomeninmeetings because it elevates everyone! #meetsmart pic.twitter.com/xY7qsyppLz

— JT Long (@SmartMtgsJT) October 13, 2022
Destinations International Released New Destination Booking Agreement
On Wednesday, Destinations International released the Destination Booking Agreement (DBA), a new toolkit, establishing mutually agreeable terms to provide accountability to protect both event planners and destinations. The new DBA follows discussions held by Destinations International's Large Market Roundtable, leading to the conclusion that more cooperation between convention and visitors bureaus (CVBs) and business and event strategists is needed to maximize success for stakeholders.
Members of the @destintl Large Market Roundtable announced the new Destinations Booking Agreement at #IMEX22, establishing best practices to protect both destinations and #business #events #strategists. #meetsmart #eventprofs #Destinations #DBA pic.twitter.com/ART6LC3ym2

— SmartMeetings (@SmartMeetings) October 12, 2022
"The need for CVBs and business event strategists to come together to create best practices for destination booking agreement guidelines has been an ongoing conversation for our industry," Don Welsh, president and CEO of Destinations International, says.
"Destinations International's Large Market Roundtable has done great work to take the lead on this thought leadership that will ultimately our entire industry moving forward," he added.
New Disney Destination Gatherings Brand Designed to Help Groups Reclaim Lost Time
As groups look to recapture moments, milestones and memories they missed during the past couple of years, Disney Destination Gatherings is bringing together its collection of experiences for groups, from family reunions and weddings to school trips and conventions, under a new brand to help people gather again in meaningful ways.
Thank you Javier Moreno for updates from @DisneyMeeting about all the opportunities around the world for corporate #meetingprofs check out the interview on @SmartMeetings Facebook. #MeetSmart pic.twitter.com/xqcrSdu6ls

— JT Long (@SmartMtgsJT) October 12, 2022
Disney Destination Gatherings is a collection of businesses that includes Disney Meetings & Events, Disney's Fairy Tale Weddings & Honeymoons, and Disney Imagination Campus. All three are distinct yet have gatherings at their core; and all are welcoming back guests as group travel rebounds at Walt Disney World Resort in Florida; Disneyland Resort in California; and Aulani, A Disney Resort & Spa in Hawaii; and aboard Disney Cruise Line ships.
"Lost experiences and stolen moments have created a deficit of connections for people during these past two years as many have missed events that cannot be recreated," explained Javier Moreno, senior vice president of Disney Destinations Sales Solutions. "With Disney Destination Gatherings, we hope to bring people together again with unforgettable experiences created by a brand they can trust."
"There's always something new to discover in #Panama," says @VisitPanama, who are building a long-term #sustainable #tourism brand through cultural travel trends, competitive analysis and #traveler and #destination insights. #IMEX22 #meetsmart #LiveForMore pic.twitter.com/dFouMuwqj7

— SmartMeetings (@SmartMeetings) October 12, 2022
Lynn Clark, vice president of Disneyland Resort Sales and Services, reported: "Today, Disney is seeing strong demand from these segments. Plus, many events are coming back grander than before." The building bliesure trend and rapid increase in incentive travel as conference attendees add vacation days to the front and back of their work trips has been particularly felt in Disney destinations, Clark explained.
Tourism Diversity Matters Announces Expanded Team to Meet DEI Demand
Tourism Diversity Matters (TDM) announced the expansion of its executive leadership team with the addition of multicultural tourism expert Yvonne Drayton as director of operations.
Read about the origins of Tourism Diversity Matters.
"There's major momentum and demand in the tourism industry to prioritize diversity, equity and inclusion," said Greg DeShields, TDM executive director. The company has grown the consulting team to 10 members to meet the increased demand for DEI organizational culture assessments and strategy development.