IMEX America in Las Vegas returned to pre-Covid numbers this week. An expanded exposition floor at Mandalay Bay Convention Center was brimming with activity Tuesday as an estimated 12,000 people flowed through hosted buyer appointments, education sessions and nearly 400 booths representing more than 180 countries, venues, technology vendors and suppliers. Many of those companies enlarged their presence in the first year that International visitors were back in substantial numbers. And almost a third were new since 2021.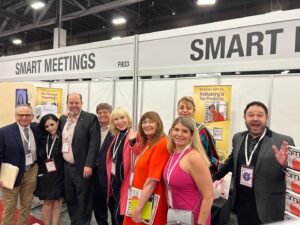 Highlights included experiential activations designed to inspire what comes next in designing better meetings. Encore Global hosted "Break Free, a journey of transformation" which invited guests to take part in an interactive survey focused on the sustainability efforts at IMEX while touching all the senses in a dramatic LED-enhanced space. And Marriott partnered with Google on The NEU Project to pioneer ways to design more neuro-diverse-friendly events.
Download "Pathways to Clarity" a joint IMEX, Smart Meetings White Paper outlining the state of the meetings industry.
The Smart Meetings team was on the expo floor getting updates and sharing snapshots of the action.
Note to #meetingprofs: You have to experience the @encore @EncoreGlobal_ experience to spark your excitement about the possibilities for immersing your attendees in multi-sensory journies. #IMEX22 pic.twitter.com/L1HkdcudyB

— JT Long (@SmartMtgsJT) October 11, 2022
A Brighter, Faster Mandalay Bay
Mandalay Bay Convention Center announced plans for a $100 million remodel of its 2.1 million-square-foot convention center. In phase one, Cat6A Ethernet cabling doubled the frequency of data transmission and increases the speed up to 9,400%—the equivalent of downloading a 4K movie in 30 seconds. A total of 11 new digital walls will enhance communication. RFID locks on meeting room doors and 200 new motion-detection cameras will enhance security. And a bright, tropical design freshened the halls and meeting spaces.
Report from #IMEX22: @MGMResortsIntl Stephanie Glanzer announced a $100 million renovation to @MandalayBay including new tech, security and reimagining of @FourSeasons. pic.twitter.com/Xx7wPBDdFR

— JT Long (@SmartMtgsJT) October 12, 2022

Next up will be a renovation of Four Seasons Las Vegas inspired by the Mojave Desert and enhancements to popular restaurant outlets, including the addition of a private dining room to Strip Steak.
DEI Task Force Marks Starting Point for Improvements
Events Industry Council (EIC) in partnership with its global EIC Equity Task Force, released the results of its 2022 Equity Benchmarking Study at an IMEX press conference. The survey reveals widespread DEI dissatisfaction amongst event professionals, minority groups, and women. While there is an ever-growing awareness and commitment toward equity, survey scores indicate DEI efforts are largely in principal but not in practice. It found:
Employed event professionals are significantly more dissatisfied with DEI in the industry than those who are self-employed or have alternative employment types.
61% of all surveyed event professionals identified as White and are predominant across all job grades, with minimal representation from other ethnicities, especially in senior management (15% Black) and board (6% Black) positions.
Respondents who identify as Black (16%) rated their DEI experience 11% lower across all four dimensions than respondents who identified as White.
More than 75% of respondents identified as female, and they are well-represented in managerial and senior roles. Six out of 10 (61%) female respondents are in 'Senior Management' and 'Board' job grades, yet they rated their DEI experience significantly lower than male respondents (21%).
Board members of @Events_Council discuss the progress of the #equity task force, efforts in #sustainability and continuing to help #Event #Professionals build ambition through resources to achieve a common goal. #IMEX2022 #meetings #meetsmart #CSR pic.twitter.com/NKJ84OXuu9

— SmartMeetings (@SmartMeetings) October 11, 2022

"Dismal Black and Brown representation within the events industry presents barriers to diversity and inclusion in leadership and influential positions needed to impact change," said Jason Dunn, Sr., EIC Equity Task Force Co-Chair and Past Chairman of the National Coalition of Black Meeting Professionals.
The benchmarking study is Phase One of EIC's Equity Acceleration Plan. Phase Two includes a leadership workshop to review the study and shape resources and deliverables for the benefit of EIC membership.
Events Industry Council to Update CMP Criteria
A soon-to-be-launched EIC survey will survey new skills, knowledge, and tasks required for Certified Meeting Professional (CMP) designation accreditation as a step toward updating the blueprint for the certification. "Already through the focus groups, we are seeing new skills and competencies that are coming out of that that now need to be built in," said EIC Chair Cathy Breden, who is also executive vice president and chief operating officer at IAEE. She added that reference and resource materials will be updated to meet demand. There are currently just over 12,000 CMPs around the world.
In addition, EIC is launching a new corporate membership program to bring corporate industry partners to the table to better represent the full spectrum of the business. "It was important to us that their voices are being heard and that they're a part of how EIC champions things and advocates and leads, says Sherrif Karamat, CEO of Professional Convention Management Association and EIC chair-elect.
For the love of lanyards. To ease the rush of registration, attendees were urged to print badges at home and grab a lanyard in the hall. ✅#thatwaseasy #IMEXcited @IMEX_Group pic.twitter.com/S1rHxJroIP

— JT Long (@SmartMtgsJT) October 11, 2022
Fontainebleau Previews New Miami Beach, Las Vegas Properties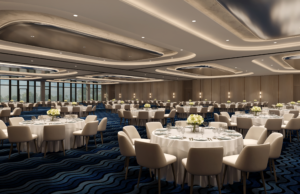 Fontainebleau Development offered a glimpse of the new 50,000-square-foot stand-alone events center at Fontainebleau Miami Beach. The project is scheduled to open in 2025 and will complement the existing 200,000 sq. ft. at the iconic resort. "At this new conference center, there are no restaurants, says Director of Group Sales Louis Gonzales.
"It is truly a stand-alone event center space," says Gonzales, adding that the events center will also include an 18,000-square-foot ballroom, a 9,000-square-foot ballroom, pre-function space, all topped off with a 9,000-square-foot rooftop deck with stunning views of the waterway and Biscayne Bay. "It will be a state-of-the-art building on the technology forefront, with a modern design with a take on what's already famous about Fontainebleau," Gonzales says. The new building was designed in keeping with the original aesthetic in mind, which was originally designed by Morris Lapidus.
Fontainebleau will also be opening a Las Vegas location in 2023, boasting 550,000 sq. ft. of meeting space, including a 105,000 sq. ft. ballroom, a 90,000-square-foot theater, a 25,000-square-foot Meridian Garden, 57 meeting spaces, 3,700 guest rooms and 27 different food and beverage outlets on the 25-acre property, soon to be announced.
Planners: "Make your meetings Boricua" says @MeetingsInPR with the island's rich history, culinary tradition, nature-based activities and vibrant culture to elevate team building, attendees can hold breakout sessions to break out the dance moves! #IMEX22 #meetsmart #PuertoRico pic.twitter.com/L4PqkxAIWV

— SmartMeetings (@SmartMeetings) October 11, 2022
Jamaica Tourist Board Announced New Airline Service
Jamaica Tourist Board Director of Tourism Donovan White shared his optimism about the outlook for the meetings industry in the country at a press conference and announced, new airline service from key markets. Starting in February 2023, Frontier Airlines is adding three new non-stop flights to Montego Bay (MBJ) from the airline's hub in Denver (DEN), Chicago-Midway (MDW) and St. Louis (STL).
This new service provides even greater connectivity to and from the west and northwest regions of the United States for Jamaica. Traveling to Jamaica has been even easier after the island removed all Covid-related entry requirements in April 2022. Plus, air connectivity to the island continues to be bolstered by new services.
In the capitol city of Kingston, a multi-billion dollar 4-year redevelopment is underway at the Jamaica Conference Centre. Its lobby renovation is slated to be complete in December 2022. Set adjacent to the Conference Centre, the 168-room ROK Hotel Kingston, a Tapestry Collection by Hilton property, opened in July 2022 featuring 6 meeting rooms and spacious public areas for events.
Tourism mode's in full swing in #Jamaica with billions invested in the country's infrastructure, new and renovated properties and endless activities to elevate meetings, says Director of Tourism, Donovan White. #IMEX2022 #island #Tourism #meetsmart pic.twitter.com/2BlWbAhy0D

— SmartMeetings (@SmartMeetings) October 11, 2022

More than 8,000 new rooms are scheduled to be constructed within the next 2-5 years. These include a 2,000-room Princess Hotel, the 260-room Sandals Dunn's River resort and a third RIU hotel with 700 rooms, all providing additional meeting space. Further, groundbreaking is being planned for the 2,000-room Hard Rock Hotel along with several other properties and the renovations at Couples San Souci are on track for completion by December 2023.
The country has hosted a number of large-scale events since reopening in June 2020. Jamaica recently served as the host destination for the International Board of Directors Meeting of the Society for Incentive Travel Excellence (SITE) Global.
"It really demonstrates clearly that Jamaica's travel industry is truly resilient and is on the cusp of a full recovery from the pandemic," said White.
#Meetings are heating up #DownUnder, says Director of Business Development Beverly Parker and Director of Communications and #CSR Samantha Glass of @ICCSyd, as the energized, vibrant destination offers elevated experiences. #IMEX22 #Australia #meetsmart pic.twitter.com/av8XejbMg9

— SmartMeetings (@SmartMeetings) October 11, 2022
Orlando Launches Inspirational Umbrella Campaign
Visit Orlando launched a new destination brand to promote the Orlando region to the meetings and conventions market. The new "Unbelievably Real" will promote the city's healthy meeting program, transportation advancements, and award-winning dining to all audiences, including leisure travelers, businesses and groups, reflecting the increased bleisure trend.
A shift from renaming the business services team to the experiences team will better define the consultative role the destination is taking in helping meeting professionals leverage the wide range of assets to enhance meetings. That includes the city's diverse cultural offerings and 6,000 restaurants of all types now honored with Michelin Guide status.
"Unbelievably Real combines what is both fantastical and authentic about our unique destination to tell a holistic story to leisure visitors and meeting planners, site selectors, residents and prospective talent," Casandra Matej, president and CEO of Visit Orlando.
Report from #IMEX22: @VisitOrlando is launching an "Unbelievably Real" campaign to inspire event design that leverages all the entertainment, cultural and culinary opportunities in the destination for meetings and follow-on leisure. pic.twitter.com/dD39yCSkL3

— JT Long (@SmartMtgsJT) October 11, 2022
 New York City Reports Attendance Rebound
NYC & Company reported at IMEX that the destination expects to recover 85% of its record 2019 visitation, welcoming 56.7 million visitors by the end of 2022.  Strong demand for meetings, conventions and events in the city continues with an anticipated 800,000 group room nights on the books through the end of this year; and the Javits Center is experiencing a resurgence of events with a 14 percent increase in bookings from September through December, over the same period last year.
"Last year's IMEX America was unique as it aligned with the reopening of U.S. borders. Now, one year later, we are pleased to say that New York City's meetings industry is right on track. With a busy conventions and events calendar still ahead this fall, and hotel performance consistently trending above 85% occupancy once again and more than 10,000 new rooms in the pipeline, we are confident in the continued comeback of the business travel sector," said Fred Dixon, president and CEO of NYC & Company.
Wyndham Expands Meeting Collection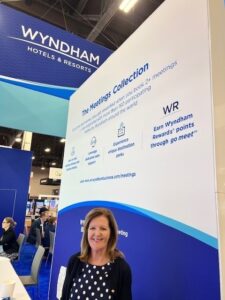 Wyndham Hotels & Resorts announced the global expansion of The Meetings Collection, which now includes over 160 hotels and resorts across the Americas, Asia, Europe and the Middle East. The program launched last year with eight properties and the opportunity to earn loyalty points, multi-meeting discounts, enhanced flexibility (up to 30% group attrition with no penalty), streamlined contracting and access to fun turnkey experiences.
"Over the last several years, Wyndham has continued adding to an already robust portfolio of aspirational hotels and resorts, introducing new offerings in some of the world's most popular and sought-after destinations," said Carol Lynch, senior vice president, Global Sales, Wyndham Hotels & Resorts. "This growth, combined with the continued recovery of group travel, make now the right time to expand The Meetings Collection globally."