Atlantic City's surfside diva amps up its wow-factors
When Ocean Casino Resort opened as Revel in 2012 with Beyonce as its headliner, people got a sense that this was going to be something big.
Cut to 2022 and Revel has morphed and rebranded as Ocean Casino Resort, Atlantic City's chic-est denizen, sitting at the tail end of Atlantic City Beach and still "reveling" in its enviable location.
Radical Renovations
Aside from the fact that every one of Ocean's 1,399 rooms has a stunning ocean view (and over 400 have just been newly renovated), Ocean has an "edge" over the competition in other ways.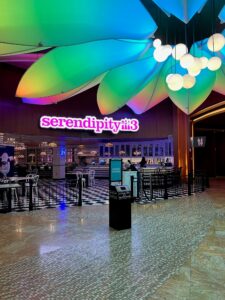 It claims to be currently the only venue in AC where the meeting floor is separated from the casino (here, a dedicated level on its own with 30,000 sq. ft. of meeting space in addition to the Ovation Hall and outdoor meeting space). Planners whose clients don't want to use the casino can come in and out and never walk through it or encounter the space, if that's what they wish.
Most visitors, however, will want to explore the newest addition to the casino, Gallery Bar, Book & Games, a 12,000-square-foot integrated experience featuring a 100-foot elevated bar and lounge, including 59 seats and 12 slot machines. A mix of blackjack and roulette tables surrounds the perimeter of the bar, while 140 feet of LED walls line the venue—and who knows, you might just get lucky.
Also new to Ocean is Serendipity 3 where ice cream lovers can get a taste of the legendary deserts (and the frozen hot chocolate) at this celeb-friendly eatery while looking out at the endless view of the Atlantic Ocean beyond the floor-to-ceiling windows.
Read More: Sustainability, Regenerative Tourism and Getting Back to Business in Atlantic City
What's most evolving here, though, is the infusion of over $85 million in property developments in the guest rooms and food and beverage offerings.
Contemporary Blu rooms are inspired by colors and patterns of the just-beyond-the-front-door Atlantic Ocean with soft-touch fabrics in neutral colors, marble flooring and an over-sized shower, perfect for bath bombs and steam showers after team building.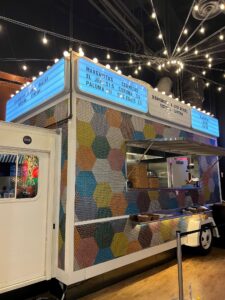 Newly built suites have upscaled interior finishes and dining areas, wet bars and lounges for impromptu gatherings or VIP soirees. The Social Suites feature a free-standing tub in the bathroom as well as a huge sofa and designer lighting.
This fall, planners can look forward to offering experiences at Bottled–Wine, Spirits and Tastings, where guests can explore vintages from all over the world for sample and sale. There will also be a wide selection of domestic and imported cheese, cured meats and designer accessories.
Other "edge" pluses for planners include the availability of Ovation for groups of up to 80,000 in its 70,000 sq. ft., including a 30,000-square-foot section of columnless space. Ovation can be combined with the 20 Think Tank meeting rooms on the same level for maximum accommodation. When not in use for meetings and events, Ovation is hosting headline talent like its recent guest star, Amy Schumer, who said during her performance that coming back to AC was like coming home.
Extraordinary Amenities
For group dining, venues like American Cut or Amada are high-profile ways to showcase AAA Four Diamond-level cuisine to clients. American Cut features all-stars like filet mignon, wagyu beef and oysters and Amada allows groups to dine together on "Iron Chef" Jose Garces' Spanish/Mediterranean specialties like tapas (figs in abundance) and paella.
The pool and spa space at Ocean also feels very much like part of the beach beyond. Groups can book the private, VIP-ish cabanas where they can sup on champagne and strawberries prior to spa treatments at Exhale Spa and bathhouse or dips in Ocean's massive indoor/outdoor pool.
Read More: How a Storied F&B Kitchen Went Halal to Accommodate Allies
Meetings guests can also take downtime and enjoy a variety of retail therapy options at Ocean, including a spa shop at Exhale with sea-inspired soaps and scrubs to make a mermaid's heart beat faster.
HQ2 Nightclub and HQ2  Beach Club have a red-rope feel that will give groups a exclusive buzz—both have award-winning DJs in attendance like legendary Tiesto, who was a featured performer this summer.
Even with an embarrassment of riches when it comes to exclusive venues, meetings participants might just want to find a few hours on their own in one of Ocean's new guest suites. Lounging on a soft white couch and staring out to sea where the Atlantic Ocean hypnotizes you into thinking the horizon goes on forever may just be the one treasure that gives Ocean its edge.