Rising prices for business travelers are predicted to continue in 2022 and through 2023, according to a report, "2023 Global Business Travel Forecast," by travel management platform CWT and Global Business Travel Association.
In the report, rising fuel prices, the continued labor shortage and the current inflated pricing of raw material costs were named as key drivers of the predicted price increases. The remainder of 2022 is predicted to see the greatest price increase across air fare, ground transportation and hotel rates.
This growth is expected to slow in 2023, with the greatest decrease seen in air fare. Ground transportation and hotel rates are set to see less dramatic drops. Overall, the global economy is expected to grow 3% in 2022 and 2.8% in 2023, following its 3.4% decrease in 2020.
"Demand for business travel and meetings is back with a vengeance, of that there is absolutely no doubt," said Patrick Andersen, CEO of CWT. "Labor shortages across the travel and hospitality industry, rising raw material prices and greater awareness for responsible travel are all having an impact on services, but predicted pricing is, on the whole, on par with 2019."
Increase in Meeting Spend
Cost-per-attendee in 2022 is expected to increase by roughly 25%, as compared to 2019. Much like the slowdown mentioned in the aforementioned sectors, 2023 will see a smaller increase of 7%. The report points to pent-up meeting demand, the desire to build company culture and the insecure economic outlook as culprits behind this increase, as well as the fact that many corporate events were cancelled in 2020 and moved to 2022, resulting in more demand than usual.
Read More: Don't Blow Up the Budget: How to Spend Less for More
Shorter lead times—meetings that were scheduled six months in advance are now scheduled just one month out—led in part by constantly changing Covid regulations, are also a factor. The report pointed to Asia Pacific as an example, which has been much slower to fully reopen post-pandemic, with continued restrictions requiring faster responses.
Increase in Hotel Stay Pricing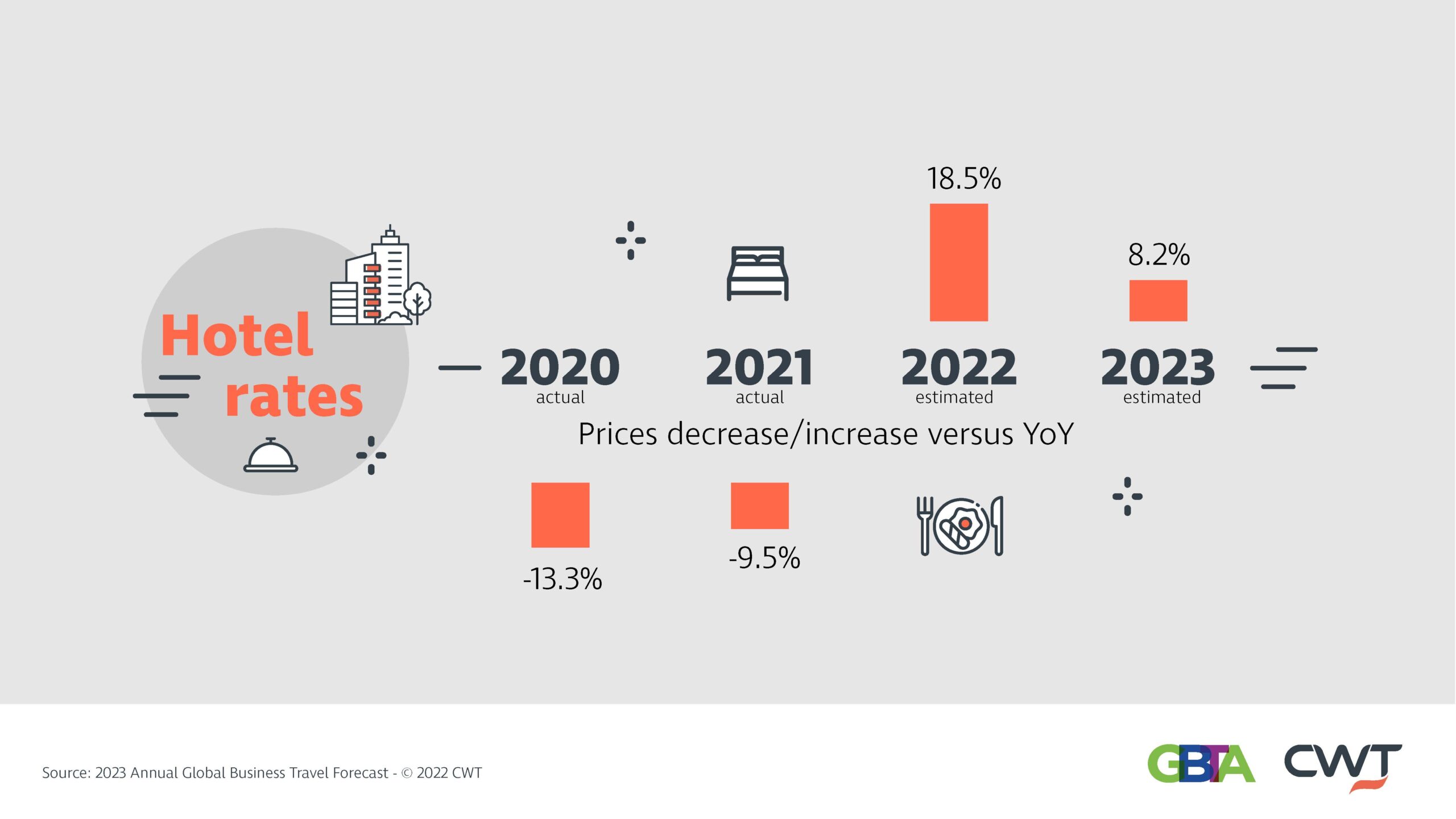 In 2020, global hotel prices fell by 13.3%, followed by a 9.5% decrease in 2021. Two years later and prices are reflecting an upward trend. In some areas around the globe, hotel prices have already surpassed 2019 levels; this year, those prices are expected to rise by 18.5%, and in 2023, it's forecasted to increase by 8.2%.
Europe is set to see an uneven recovery in hotel rates. The United Kingdom's rates, for example, are expected to rise 31.8% in 2022, greater than 2019. Due to economic problems that have arisen as a result of the Ukraine invasion, European countries like Germany and France aren't likely to see hotel rates increase from 2019.
The United States and Canada's hotel demand has been strong in 2022, according to the report, moving past 2019 levels in various markets. Prices are expected to rise 22% percent in 2022 and 11% in 2023.
Air Travel To See Sharp Increase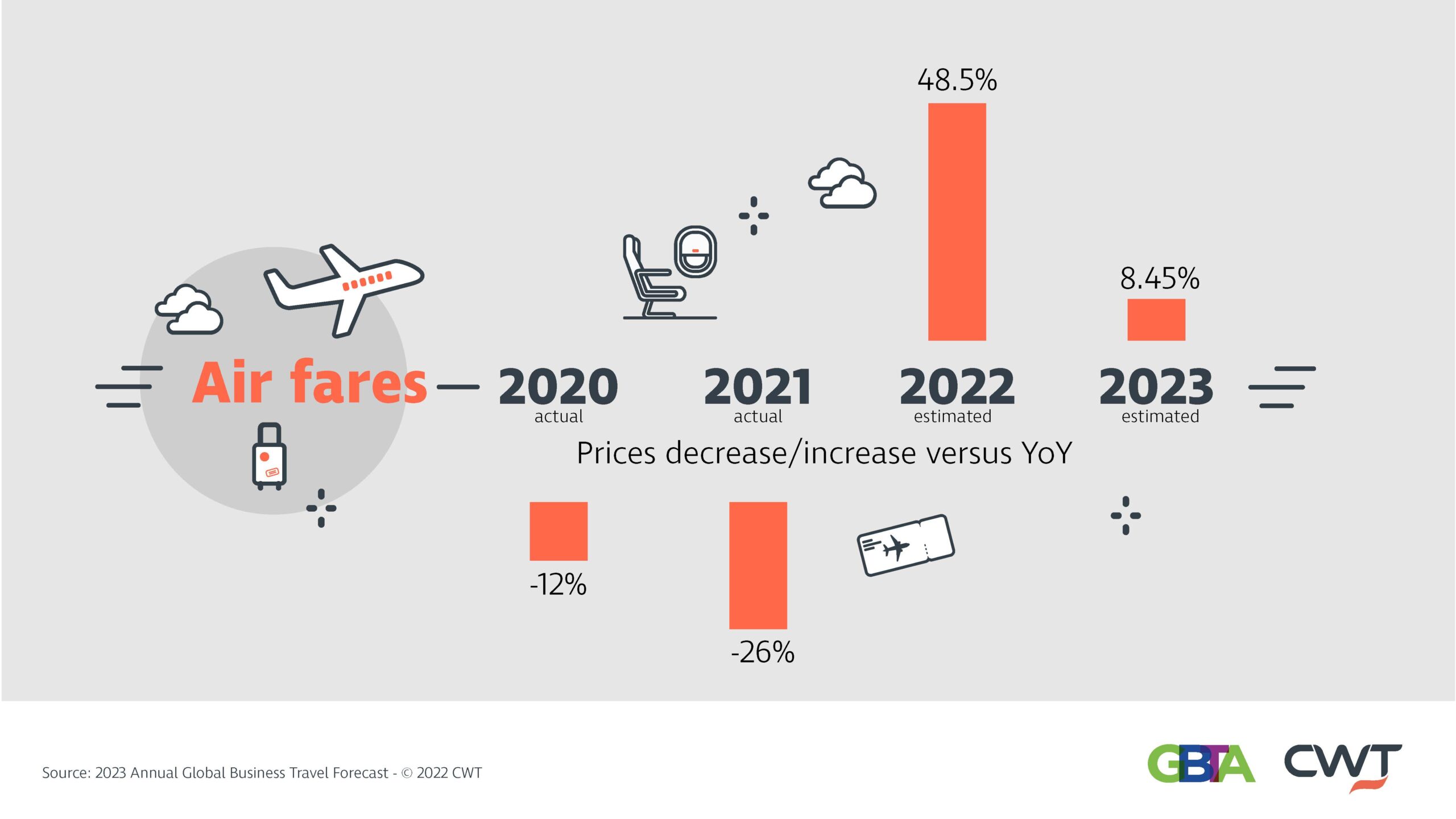 Business travel airfare fell more than 12% to $587 in 2020, followed by a greater dip of 25.9% to $435 in 2021. Air prices in 2022 are expected to see the steepest increase of any sector, at 48.5%. This is still below pre-pandemic levels, although by just over $20; prices aren't expected to rise above 2019 levels until 2023, when prices are expected to rise another 8.4%.
Air travel is not exempt from the labor shortage currently affecting the greater hospitality world. As a result, flight cancellations and delays have been the name of the game for the better part of the summer. According to the report, until the labor shortage is corrected, expect flights tickets to continue to run at a premium.
The State of Car Rentals
Supply chain disruptions have affected the global car rental industry greatly, causing a slowdown in auto production. Rental companies reduced fleet sizes as a response to the slowed demand during the pandemic and have yet to fully recover. Although these companies have moved to buying used vehicles to supplement their shortage, in addition to keeping cars longer, global rental prices are still expected to increase.

In 2020, car rental prices fell by 2.5% and rose in 2021 by 5.1%, the only sector to see an increase in 2021. In 2022, prices are expected to increase a further 7.3%, followed by 6.8% in 2023.
Read More: Carpocalypse: How to Prepare for Rental Car and Rideshare Price Surge
Electric vehicles (EV) are slowly making their way into the rental space, although there are barriers to overcome, such as the increased turnaround time it takes for an empty EV to get back on the floor as compared to a combustion engine vehicle, which could mean significant delays. Global climate initiatives by the European Union, like its ban on combustion engine cars by 2035, will play a huge role on rental agencies' adoption of EVs.
Increased Spending on F&B
Asia Pacific and North America have seen the largest increases in catering costs compared to 2019, with increases of 120% and 70%, respectively. Although overall, F&B is one area that has seen high price increases in all regions throughout the world. According to the report, attendees expect a greater array of choices in their food selection, as well as information on where it's sourced.