In early July, financial technology company nCino made an explosive return to in-person events in collaboration with The Special Event Company (TSEC). The ninth nSight conference was held in Raleigh, North Carolina, an up-and-coming technology hub between three major universities. To pull off the biggest nSight event to date, TSEC worked closely with nCino to turn their vision into a reality.
The Birth of a Collaboration
Founded in 1986 in the United Kingdom by CEO Sally Webb, TSEC was a pioneer in the budding event planning industry. The planning experience she gained in PR propelled her to creating a dedicated event business.
The younger nCino started in 2011 and started nSight in 2013. Their cloud banking technology is used by more than 1,750 financial institutions around the world—over 250 of which attended this year's nSight. Headquartered in Wilmington, North Carolina, nearby Raleigh was an obvious choice for its popularity in the tech world.
Marisa Roberge, nCino's associate director of global conferences & events, had prior experience with TSEC in her previous job. TSEC CEO Sally Webb said that the company earned her trust through several years of events and a smooth transition into virtual events during Covid. This was the start of the cross-company collaboration that would bring nSight 2022 to fruition.
Earlier in 2022, TSEC assisted in the late stages of planning nCino's private leadership conference in Wilmington, North Carolina. This small gathering of global executives paved the way for the creative vision of nSight. TSEC was able to get familiar with nCino's branding and event needs in a sort of "trial period."
Read More: North Carolina: History Takes Flight
A Mountain of Challenges
For TSEC, Covid was a negligible hurdle compared to the massive influx of events that would come after the pandemic's biggest waves subsided. Their staff and vendors were stretched thin by companies eager to return to events.
"All of our customers that had put their events on hold suddenly wanted them live again," said Webb. Though TSEC quickly opened an in-house production studio to host virtual events, many companies laid off their internal planning teams. The first six months of in-person events were a balancing act of what events the company took on and who was able to manage them.
Keri Gloth, executive producer of nSight 2022 and manager of growth and development at TSEC, added that Covid majorly shook up the planning industry. Turnover and delayed timelines plagued the area's event companies.
During the week of nSight, TSEC held three other events across the country. While most of their staff were at nSight, they managed to juggle multiple projects. Webb continued, "Every one of our events went flawlessly. It was quite astonishing."
Pulling Off nSight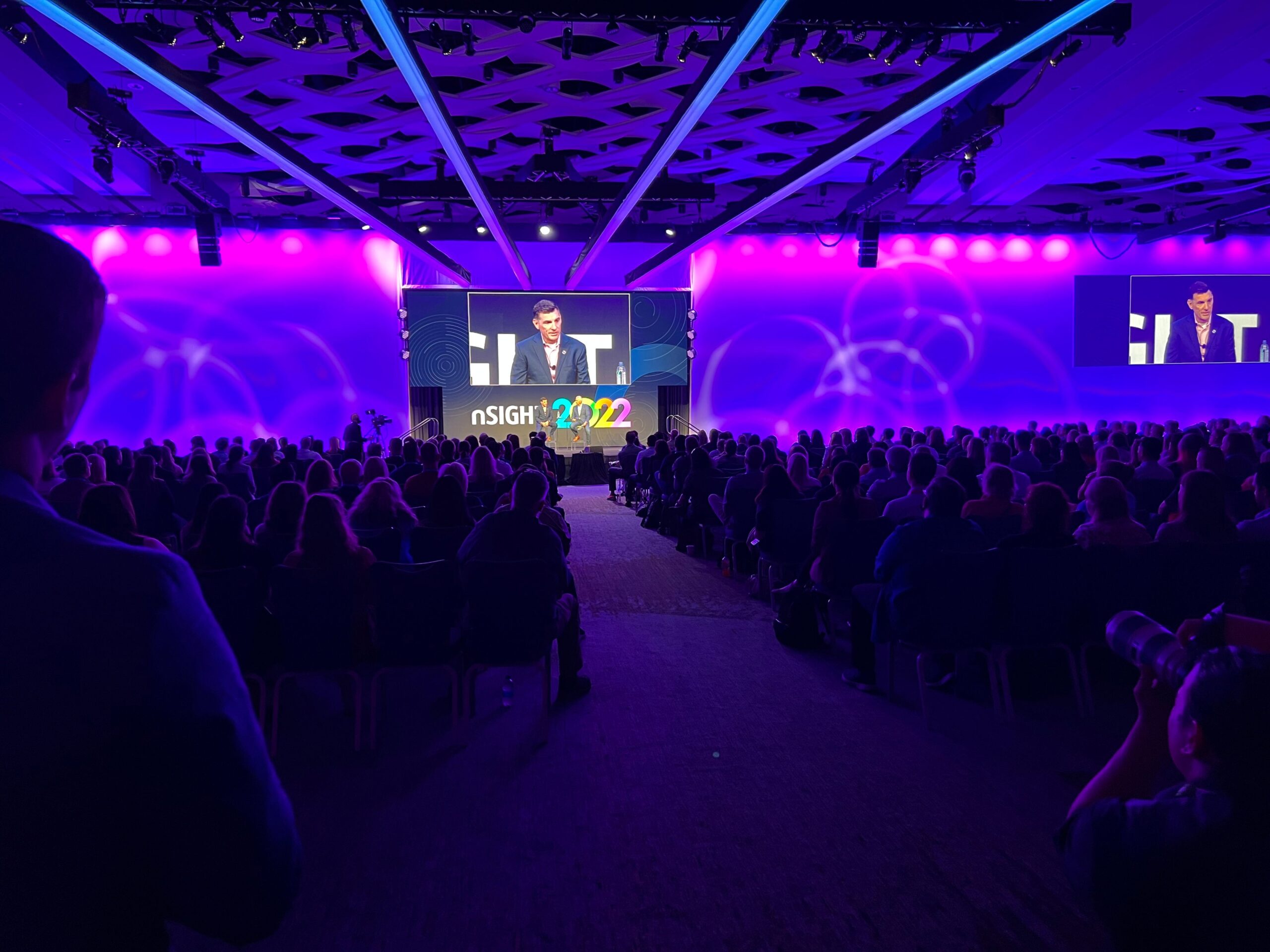 Initially projected to be half the size, nSight 2022 drew in 1,400 registered attendees. It was only with the combined creative and strategic efforts of TSEC and nCino that the program went off without a hitch.
"They have a phenomenal creative team that are really collaborative, they're very open to innovation that takes them outside their comfort level," said Webb, praising the nCino team. "It was really great to see our team being able to have some fun with an event again."
On the nCino side, sentiments were the same. Shelby Keiser, co-creator of nSight and manager of conferences and events at nCino, was happy to see the event bring clients together again. "Feeling the energy of this year's event was truly magical," she said.
Altogether, the teams collaborated to organize the event's stage production, creative design, registration, staffing, lodging, transportation, entertainment and security. The elaborate program was rehearsed many times over, giving everyone confidence that the event would be a success.
Read More: Lessons from a Harmonious Return to Meeting in Anaheim
Takeaways for Planners
Sally Webb and Keri Gloth shared the lessons they learned from the massive project that was nSight 2022.
"There is always a place for the virtual market."

Webb had to pivot her company to accommodate the sudden need for online events. With the technology available today, virtual events can go above and beyond what attendees expect.

"There still is nothing like the experience of people actually coming together in person."

The physical excitement that buzzes in a conference hall can't be replicated online, says Webb. Being forced to stay inside for two years has especially increased the desire for in-person events.

"We have to keep communicating to all our customers all the time to set expectations."

Everyone is familiar with staffing shortages, supply chain issues and rapid inflation. Webb approximates events are 30% more expensive than they were before Covid.

"Collaborate with your clients and your industry peers."

Gloth says that bringing the customer into the planning process, especially in creative and strategic areas, can help deliver the exact event they want.

"Value your vendor relationships."

As a North Carolina-based company, TSEC has a limited pool of venues and services to draw from. Webb says the pandemic brought the local industry together—local event companies greatly contributed to the success of nSight 2022.