That dependable shelter on the road, Courtyard by Marriott, may look a little different when your Uber arrives for your next business trip. More than 375 Courtyards that were part of the brand's initial footprint in the 1980s and '90s are modernizing their exteriors with a streamlined, fresher look. Smart Meetings sat down with Diane Mayer, vice president and global brand leader with Marriott's Classic Select Brands to talk about what the change means for meeting professionals.
In the Beginning
Courtyard was considered innovative when J.W. "Bill" Marriott opened the first property in Atlanta in 1983. The hospitality landscape was filled with full-service hotels fronted by suited doormen and an abundance of amenities. Budget hotels without much more on offer than clean rooms dotted city streets. Courtyard carved out a space for business travel and small meetings that offered guest-room quality of a full-service hotel without the pricey amenities business travelers didn't really need. "We were born to enable business travelers to pursue their objectives, but have evolved to be that and more," Mayer said.
About 375 of the brand's 1,200 global properties (1,000 in North America) are two to three decades old and while they have added features such as made-to-order breakfast, Starbucks coffee shops and bars inside, the curbside has not always reflected the evolution.
Marriott research surveying customers and those who had never stayed in a Courtyard before found that once inside the building, their image of the brand was strong; as much as 5 to 10 points higher for those who hadn't been inside before. "The exterior just didn't look like something that a millennial traveler would think is relevant," Mayer said.
"We think it is important that the outside of the building communicates something to guests that will meet their needs inside," she added. That is why the global brand asked franchise owners to make an investment to transform their exteriors to be more commensurate with the modern, upscale experience guests will get once they step inside the hotel.
New Look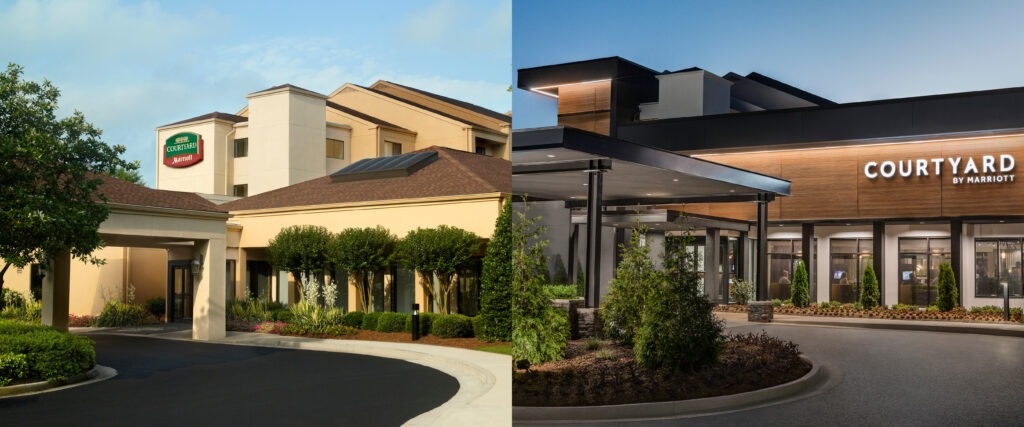 The updates started before the Covid-19 pandemic at Courtyard by Marriott Cincinnati Airport. About 40 percent of the first- and second-generation properties are in the process or complete. Each one takes about two months to complete depending on supply chain issues. Mayer estimated that all the target properties would be refreshed in a few years due to budget challenges of some hotel owners right now.
Mayer shared a few tells for planners who are wondering whether the property their attendees are staying at has been updated. The first thing to look for is a significant transformation of the porte cochere and facade. The early Courtyard properties featured a lot of peaked roofs with a more residential look. New design squares the overhang and provides a "skinnied down" look compared to the chunky, weighty originals. The materials are modern with more organic wood backgrounds. Lighting and a new logo make clear it is a Courtyard and acts as a beacon.
Many properties are also taking the time to update their landscaping with extreme pruning to ensure people can see the improvements. Many are switching out to more regionally appropriate, sustainable plants. "It will all make for a much stronger first impression of a more modern brand," Mayer said.
A Travel Rebound
Many of the updates will be just in time to welcome visitors back after the pandemic slowdown. Mayer shared that while historically 60 percent of Courtyard guests are business travelers and 40 percent are leisure, coming out of the pandemic, reservations reflected the reverse of that. "We are optimistic we will see a return to traditional balance in 2022," she said.
Mayer reported that groups are returning now to the 100 Courtyard hotels with more than 5,000 sq. ft. of meeting space. The pace is different as booking windows aren't as long as they were in the past, but it is improving.
"Travel is incredibly resilient. People want to get back to business and Courtyard is ready for them," Mayer said.