Editor's Note: Special correspondent Kate Patay recently traveled to Atlantis Paradise Island, Bahamas, to host a strategic board planning meeting for the industry nonprofit SEARCH Foundation. We asked her to share her experience door-to-airport-to-pool. 
There was an underlying current of frenetic energy as I boarded a flight at Reno-Tahoe International Airport (RNO) with my passport in hand. I was taking my first international business trip in nearly a year. All the planning, all the what-ifs, everything I had been preparing for….it was here.
This wasn't a nervous energy. This was excitement! As someone who has traveled over 100,000 miles annually for over a dozen years to work with hospitality professionals around the globe, I can see just how hard our entire industry is working towards recovery in a safe, responsible manner so people will feel comfortable meeting F2F again. While it is still early days in moving the needle forward for meetings and events, I felt it was important to test the risk mitigation plans for myself to see what really works.
I've taken a handful of domestic flights this last year when what we needed to do could not be accomplished with a Zoom meeting, so I was aware of what the airport experience would be. If you haven't yet been back in air, I can tell you that this is the cleanest, most sanitary I have ever witnessed. In fact, it's one thing I hope we keep up with long term. If we're trying to find silver linings from Covid, this is one of them.
📍 Smart Tip: Bring multiple masks so you can change them throughout your flight. It's much more comfortable than wearing the same mask for that length of time.
Island Conditions
I flew into Lynden Pindling International Airport (NAS) in Nassau, Bahamas, a few days early to gather information and confirm that things were being done right before I welcomed in a dozen of our board members for a strategic planning retreat. The long list of pre-arrival safety protocols were thorough, to say the least.
New visa requirements: To travel to the Bahamas you now need to apply for a visa ($40-$60 depending on your length of stay) and upload your passport and a negative Covid PCR test that was taken within 5 days of arrival. Bonus: the visa covers both any medical-related expenses and follow-up Covid tests every 5 days, which Atlantis offers on-site in their beach tower.
Safety bubble: Atlantis Bahamas has created a "safe zone" on Paradise Island where employees are tested regularly. An on-site health clinic and strict protocols on-island ensure a stay that is as safe as possible.
I located my driver and he extended the typical Bahamian warm welcome and thankfully helped with my heaviest bag. Mask, gloves and plexi were all present. I've always enjoyed chatting with drivers as they offer great insight on the destination, but I have to be frank…it's not so easy with a partition and both of us wearing masks. In time we'll all adjust, but my ears have not yet acclimated to mumbled mask conversations yet. #RealTalk
📍 Smart Tip: Keep a printed copy of your dated negative Covid test handy, as you'll need to show it to get through numerous control points until you're through the security checkpoint at Atlantis. The paper version is easier for people to read from a distance than looking at the screenshot on your phone screen.
Arrival Experience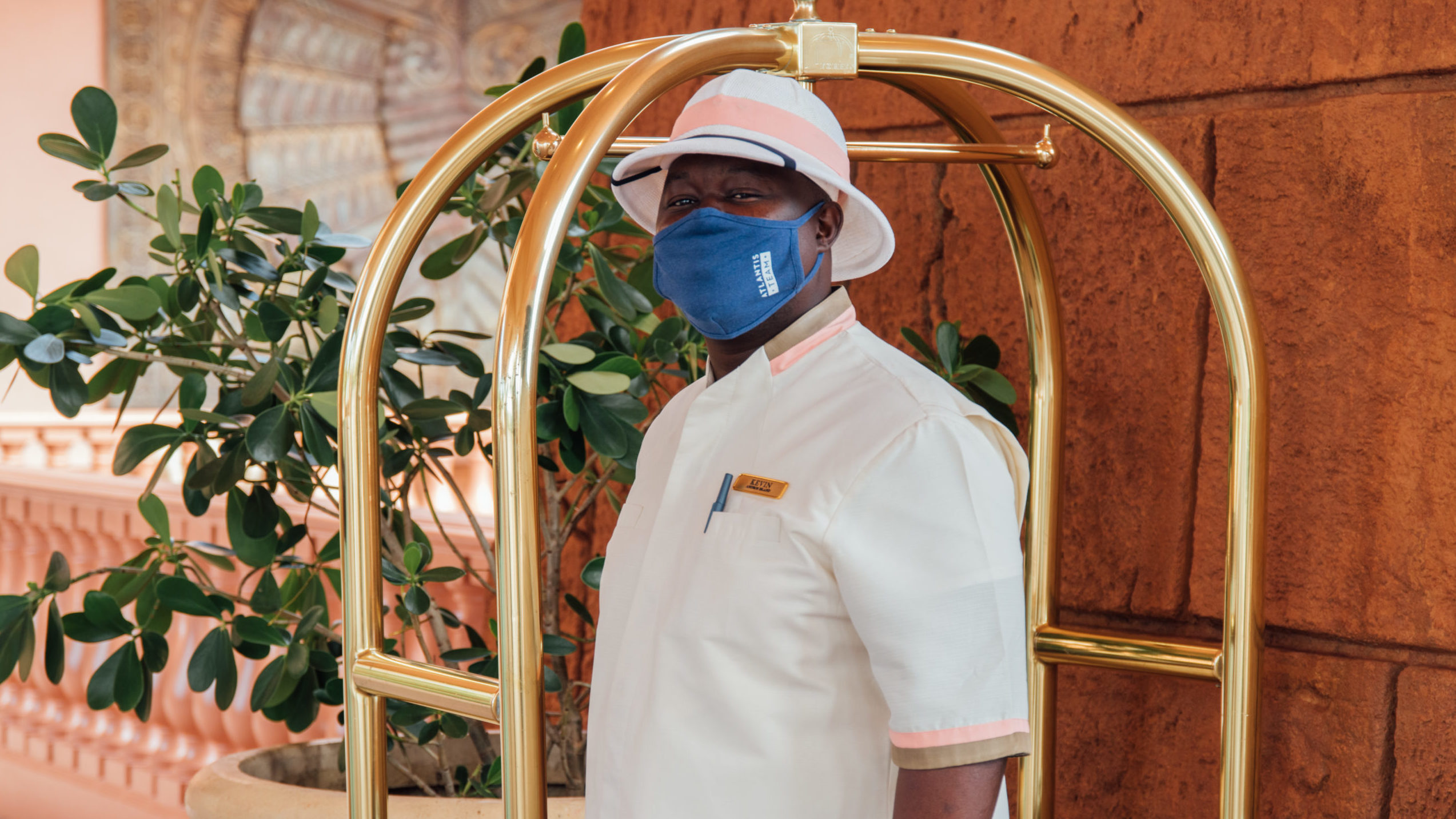 Upon arriving at the Royal Tower, I was greeted and escorted to the front desk, from 6-feet away, of course. Bell services are still offered, and you can see them trading out clean carts, sanitizing regularly and wearing PPE. Upon entry I went through a thermal scan before approaching registration, which was outfitted with clear line demarcations, each with hand sanitizer conveniently located prior to queueing. As I approached the discreet plexiglass partition, I could see the smile in the agent's eyes, welcoming me back to the property. There was a genuine feeling of hospitality and warmth exuded, even through PPE. The property and its employees are genuinely happy to be welcoming guests back and they take safety precautions incredibly seriously. You can tell they've been trained on the importance of following guidelines so we can continue to reopen and recover. There's a bona fide air of courteousness and respect for following the guidelines, which helps to put guests at ease and feel like they are part of the solution.
More: Will Constant Mask Wearing Save the Meetings Industry?
The rooms in the Royal Tower have been remodeled and they're beautifully appointed. While I was there, finishing touches were being applied on a refresh of the Cove and the Reef so everything is new, updated and clean. The property has also managed to discreetly work in sanitizing stations at nearly every turn. Upon entry to any outlet, you're asked to both sanitize and scan QR codes for menus to keep interactions as touchless as possible.
This quote from Bryan Gay, senior vice president of Group Sales at Atlantis Paradise Island, was the tipping point that made my decision to hold the gathering here an easy one: "Atlantis is working to set a standard in meeting safety with extensive health protocols in place, from innovative disinfection technology and contactless and alternating check-ins for high-volume groups, to reimagining our spaces for social distancing—all while maintaining the integrity of service and high-quality guest experiences the resort is known for. Authenticity and a sense of place continue to lead us, especially as folks have gotten used to being at home and traveling less, and we aim to deliver that through our authentic Bahamian hospitality and new local, bespoke experiences that are intimate and unique."
A Clean Green Focus
An exciting new initiative, which will carry over into meetings and events, is continued sustainability efforts. Upon check-in guests receive a branded aluminum water bottle. Filling stations throughout the property advance a plastic-free initiative.
With so many sanctuaries on site for marine life and conservation, Atlantis Bahamas has always worked toward minimal waste and a reduced carbon footprint. That is more apparent now in F&B options for both dining outlets and catering.
Event with a Purpose
SEARCH Foundation's annual strategic planning meeting Jan. 13-15 was the first group business welcomed back to the property since it reopened December 10. Not only did we have a lot of work to do to as a foundation to identify ways to continue to provide crisis relief to industry individuals in the midst of the largest crisis any of us have ever seen, but we had a group of some of the smartest professionals in the industry that could provide feedback and solutions for continuing to find ways to safely host in-person meetings.
SEARCH is a 501(c)3 that provides funding to hospitality industry individuals in crisis, with an average increased application rate of 48 percent annually. To date we have funded 100 percent of qualified cases and 2021 is on track to yet again distribute a record amount of grants, so increasing revenue streams and the generosity of our industry is paramount to our continued legacy of giving. This meeting helped significantly to identify these crucial resources, realistically budget and plan upcoming fundraising campaigns, events and partnerships while onboarding three new board members. Because not all 19 board members could attend, we provided a hybrid option for virtual attendees to still engage and feel connected.
Lessons Learned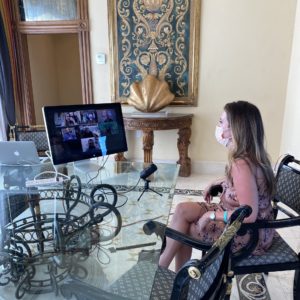 Hosting a physical meeting during a pandemic was a measured risk, but there are some key takeaways we learned from this experience:
We will never be able to replace the value of face-to-face meetings. Our industry was the first to pivot to virtual and provide technology solutions to stay connected, but the amount of work that was accomplished with an in-person meeting was tenfold. The team was better connected and more enthusiastic. There is no replacement for authentic human connection, and seeing my colleagues and friends interact in such a heartfelt manner showed me yet again just how valuable our F2F meetings are.
This is our chance to shine. When we bring back our teams, it will be important to train them in the art of elevated hygiene and service. Every staff member personally impacts the guest experience. This trip was one of the highlights of the last year for me because I truly felt appreciated by the staff for visiting. They were genuinely happy to welcome all of us back and were properly trained on how to interact with guests through PPE and still be gracious and warm.
Our livelihoods rely on finding the solutions to get us back to work, and this team was "all in" and showed their gratitude. Linda, Clement, Ted, Bryan and every staff member I interacted with made a lasting impression. They are just as committed to getting back to work as we are, and I appreciate that about our industry.
There is a (much needed) hyperfocus on sustainability coupled with healthier options. The last few years were full of buffets and displays staged with a more-is-more mentality. Covid is giving us the opportunity to reexamine these options and make better choices for the environment and for ourselves. Areas for examination and improvement include:
Portion control
Sustainable serviceware
Healthier options
Less waste
All things we should have taken more seriously are now non-negotiables. Investing in interesting serving vessels that are either reusable or compostable was one of my favorite things to see. As a former catering manager, I wanted to scream, "yes, finally!" As a guest, I felt like I was truly being catered to.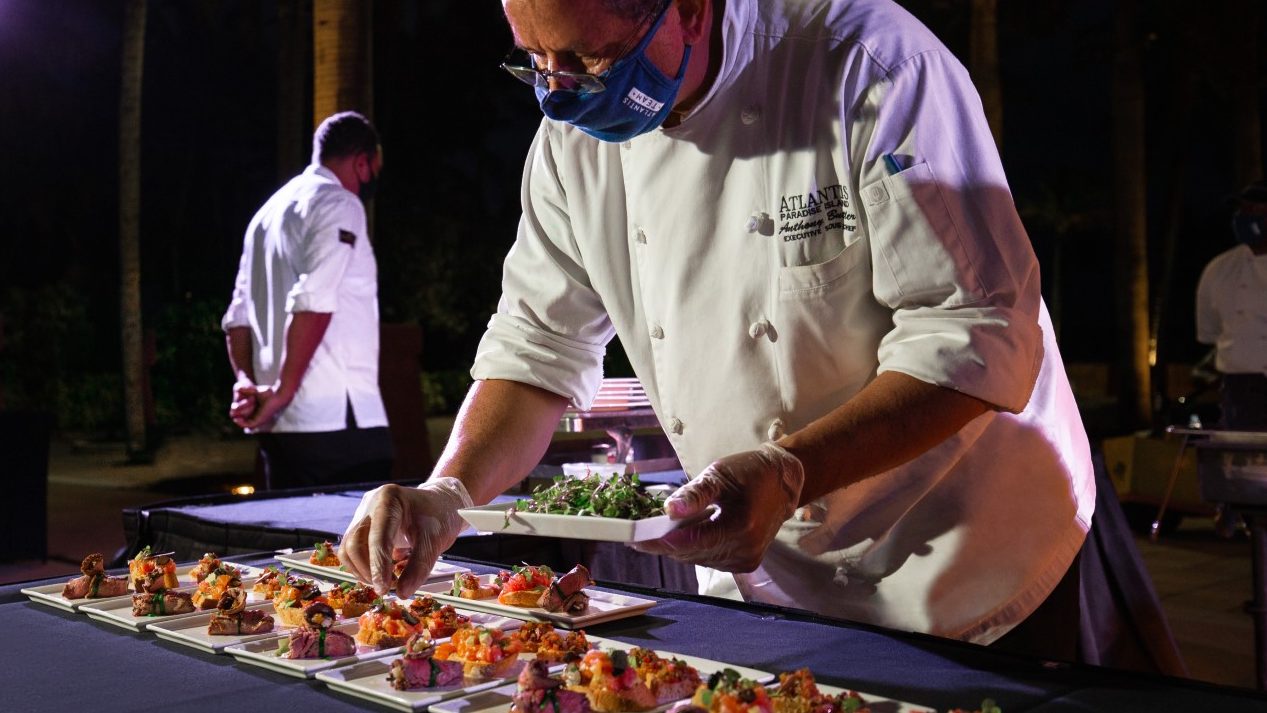 Invest in your tech. Have a point person. Check connectivity and signal. Build ways for the virtual guests to still have a VIP experience and feel connected with those sitting together F2F. We sent gift cards for food service delivery to virtual participants to join us in meal service and we conducted FaceTimes and Zooms during informal gatherings.
Allowing for smaller groups to break out together and have focused conversations on a specific topic before rejoining the group again was a key to the success of this hybrid event. It allowed for the virtual attendees to steer the direction of the conversation so they were active participants instead of semi-engaged bystanders.
Think outside the ballroom. While there was ample space in the ballrooms to meet, we've been given the opportunity to reimagine meetings. I think back to my first TEDx experience and how invested in the speakers I was when I was sitting in a beanbag chair instead of a ballroom chair. I was comfortable and relaxed, so they had my full attention.
We had meetings on patios, in a restaurant that wasn't open until later in the day, near fish tanks, and breakouts were on beach chairs. This team was more productive than any board I've worked with and I'm so proud that SEARCH Foundation is on track to yet again raise and distribute a record amount of funds for meeting and event industry individuals in crisis this coming year.
Safety. Planning. Communication. We tested it all: temperature scans, daily health screening from 42Chat, consistent monitoring from the Health Ministry, PCR and rapid tests, sanitizer, branded masks, wipes, color coded wristbands, best practices guidelines, liability waivers, a compliance manager and more. We were constantly watching to see where human nature bottlenecks us. We made open communication a priority so anyone can safely convey their comfort levels, preferences and give everyone ownership of properly following guidelines.
Were we perfect? No. Can we learn from this and make our recovery stronger? Absolutely.
I chose to bring a group on an international trip because I see the fatigue in our eyes during Zoom calls. I see us slowly disconnecting in small ways. I see the despair and need for people to want to help be part of the solution and get back to work safely. I trusted this group and this property to do it right…I was not disappointed. We are #HospitalityStrong.
Kate Patay is a hospitality consultant and international speaker with a focus on strategy and client relations. She is chair of SEARCH Foundation and ambassador for Meetings Mean Business. Follow her on LinkedIn for practical advice and Instagram for behind the scenes looks at her travels. Contact her for more information on speaking or consulting.