A press conference this week introduced plans for Majestic Las Vegas, a no-gaming, no-smoking, luxury 720-suite property with a targeted focus on health and wellness—the first of its kind—that will stand 620 feet tall and directly across from the newly expanded Las Vegas Convention Center. It will offer 35 Majestic Sky Suites on its top floors for use as corporate headquarters, convention and showroom space, with 16-foot-high ceilings and panoramic views of the Vegas skyline.
"There's a lot of very healthy people in Vegas," developer Lorenzo Doumani told Fox Business. "It's not just the casinos and the smoke and all of that."
Doumani acknowledged that Covid-19 will continue to affect tourism for some time, but said he expects a return to normalcy by the time Majestic Las Vegas is complete, in 2024.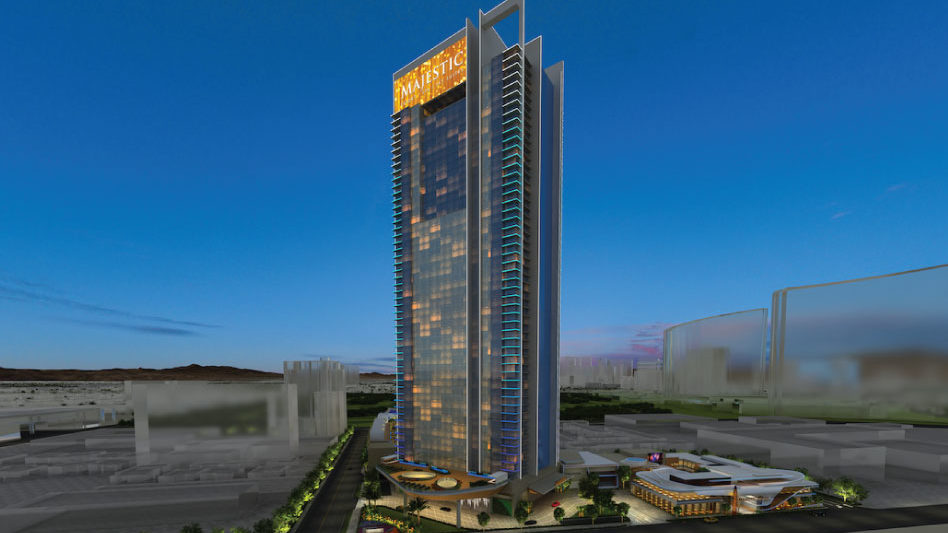 The new hotel will stand on the site of the former Clarion, one of several names the building held during its history, including a temporary naming after its former owner, the late actress Debbie Reynolds. Following bankruptcy, the hotel was bought in 1998 by Worldwide Wrestling Federation (WWF), which planned to turn it into a wrestling-themed hotel. That concept was never brought to fruition, and WWF sold it in 2000. Doumani bought the hotel in 2014 and imploded it the following year to make way for a new structure. He said he expected to break ground last year, only to have plans halted by the worldwide pandemic.
The hotel piazza will host five world-class restaurants, live entertainment, a state-of-the-art fitness center and a 70,000-square-foot wellness center that features a medical spa offering executive physicals, fitness, and nutrition counseling.
The project is expected to break ground this summer.