Both Uber and Lyft drivers in at least 10 major US cities turned their apps off in an attempt to fight for not only better wages but health insurance and driver safety policies from the companies on May 8. Some cities went on strike for as long as 24 hours, while others protested for as little as one.
Regardless of the time spent on strike, the drivers of the major ride-sharing companies all had one thing in common: they wanted to be heard.
Chief executive officer of Uber Dara Khosrowshahi and Lyft co-founders Logan Green and John Zimmer wrote a rare joint opinion column in the San Francisco Chronicle that was published on June 12.
"We can make independent work better if we update century-old employment laws. Many drivers are offering ideas to improve their experience, and companies like ours have a responsibility to come to the table prepared to do our part," Khosrowshahi, Green and Zimmer wrote in the column.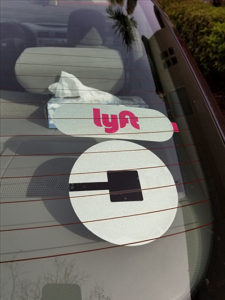 Uber and Lyft are faced with legislation in California that puts their business models at risk. That legislation would limit the status of the ride-share drivers from independent contractors to employees of the companies.
In the column, Khosrowshahi, Green and Zimmer said the reclassification of drivers from contractors to employees misses two major points. The first being that "most drivers prefer the freedom and flexibility" that comes with driving for the companies "to the forced schedules and rigid hourly shifts of traditional employment." Second, many of their drivers are supplementing income from other employment.
For months, the ride-sharing gigs, along with other companies, have been trying to obtain the support of California Gov. Gavin Newsom, labor leaders and state lawmakers for a deal that would shield them from the 2018 Supreme Court ruling, Dynamex, which makes it tough for firms to claim their workers aren't employees.
Under Dynamex, workers are considered employees and are entitled to state wage-law protections, unless they are doing work that is outside the company's usual course of business. This makes it difficult for ride-sharing companies, whose main service is transporting customers via drivers, to claim that their drivers are all contractors.
The Alternative:
The alternative that Uber and Lyft executives propose California should embrace is to allow ride-sharing companies to keep treating their drivers as contractors but guarantee a minimum pay to the drivers from the time they are picking up and dropping off riders, create an association for drivers to push for additional improvements and to establish a company-supported benefits fund for perks, including paid time off.
"Our companies are no longer upstarts. We are public companies that tens of millions of people rely on for mobility and for work. If there ever was a time for new policies, it's now," said Khosrowshahi, Green and Zimmer.
The Opposition:
"Uber and Lyft drivers are struggling as they work for billion-dollar companies. These drivers are not 'independent contractors'—they are employees who deserve rights and benefits. I stand in solidarity with them as they strike today for a dignified life," Vermont Sen. Bernie Sanders tweeted on May 8.
Last month, Democrats in Congress sponsored a bill that would make a test similar to Dynamex's, the standard for which workers under federal law have the right to unionize.
Yet, whatever happens in California is going to influence the national debate over the roles and rights of gig workers.
"While tomorrow will bring new and unexpected challenges, our companies are ready to provide additional protections that workers need and deserve today," the Uber and Lyft executives wrote. "We look forward to working collaboratively to help California lead the way."