Influential figures, such as actors, musicians, supermodels and athletes, have long signed multimillion-dollar deals to become the face of brands. Companies try to tap into the celebrity's fanbase to attract new customers. In a Forbes article published earlier this month, it was revealed that Dwayne "The Rock" Johnson charges a seven-figure fee to promote his movies on social media.
"Social media has become the most critical element of marketing a movie for me," Johnson told the publication. "I have established a social media equity with an audience around the world [and] there's a value in what I'm delivering to them."
In the hospitality industry alone, members of the glitterati have been plastered as the faces of hotel chains, travel websites, CVBs and airlines. With the introduction and growth of social media, a whole new crop of influential celebrities has emerged, and they are simply known as "influencers."
MMGY Global's Portrait of American Travelers survey will release findings in February about the "Profile of the Social Media Traveler." It will deep-dive into the impact of influencers on travel-making decisions. The company also conducts surveys on business travel.
Many travel influencers appeal to the leisure market, but that's not to say the luxurious and Instagram-worthy destinations they are visiting aren't applicable to meetings, as well. "Though MICE-specific influencers are not as common, working with the right influencers—even if it is consumer-facing—does influence meeting planners, simply because most planners, like many of us in the travel industry, frequently follow many of these influencers, and if they see something they like on social, they'll keep it in mind," said Cessie Cerrato, senior director of public relations for Palace Resorts.
People who work in the travel industry have gotten in the game, too, and raised their profiles by upping their web following. Emirates flight attendant Brigita Jagelaviciute has received press recently for accumulating nearly 80,000 Instagram followers and 20,000 YouTube subscribers. The 23-year-old Lithuanian told The Daily Mail that she's visited 74 countries and counting. News sites have also taken notice of several globe-trotting female pilots. The sky's literally the limit for these Instagram stars: Maria Pettersson @pilotmaria, Malin Nygren @pilotmolly, Lindy Kats @pilot_lindy, Sara Johansson @johsara and Eva Claire Marseille @flywitheva.
Tools to Make Events Influential
YouTube, Instagram, Facebook, Twitter and SnapChat allow anyone, attendees and meeting planners included, to be an influential star. As a planner, you regularly travel to luxurious places, conducting site visits and hosting meetings. The fab photos and videos you post along the way can influence clients and colleagues to book meetings in those destinations. If hotels and convention centers see RFPs and signed contracts as a result, the sales team will love you for the marketing boost you are providing.
"I am constantly traveling, so I truly enjoy showcasing that aspect of my job while on social media, while at the same time showcasing the product that I am constantly promoting—our brand," Cerrato said. "To be successful in 'selling' a product—in my case—you have to be that product's No. 1 fan, and there is no doubt that I am a fan of our resorts."
Cerrato adds, "It's one thing to talk about how amazing and incredible a resort's amenities are, but to show them is what makes the difference. People tend to trust the opinions of frequent travelers, so when they see you actually living 'The Palace Life,' it gives your audience a sense of FOMO [fear of missing out]. You can talk about how incredible the 24-hour room service is, but when you post a picture of a perfectly seared ahi tuna, with pesto risotto, delivered to your room at 10 p.m., people really understand what [it] is all about."
Meeting planners can use the influencer phenomenon to their benefit, too. You can encourage more people to register for your next event and achieve FOMO by becoming an influential planner. You can suggest that attendees post from the event, and invite an established influencer who has a large following to attend and post from the event. Emelina Spinelli, Instagram consultant and creative director, suggests inviting 10 medium-sized influencers to an event instead of one major influencer, to add diversity.
Smart Tips
Have a designated photo booth with a tablet that enables users to post immediately to their social media accounts.
Have a well-lit step and repeat wall.
Have a GIF center with props, such as hats.
Post signage and table tents around the conference room to inform people of the event's official hashtag and handle for each social media platform.
Spinelli recommends 26 to 28 hashtags in each post to make the event "more discoverable."
Geotag the location in all posts.
Create an Instagram story about the event.
Create a Snapchat filter for the event.
Award attendees with prizes in a social media contest for most likes and shares of their posts.
"There is always some aspect of fun tied to conferences. Whether it's a welcome cocktail, themed parties, interactive learning or downtime, there are so many ways to showcase your favorite parts," Cerrato said. "It could be a motivational speaker that provided some inspiring words, or delicious tacos al pastor, authentically served during a Mexican themed party, or it could be the 5K race the group participated in before their busy day."
Fairmont Scottsdale Princess in Arizona has taken matters into its own hands by hiring a full-time Instagram concierge. This social media-savvy individual works with groups meeting at the resort to capture photos and create hashtags that are most likely to gain traction. Pam Gilbert, director of sales and marketing, told Smart Meetings that the hotel's mural, which reads "Best. Summer. Ever," is a great spot for groups to snap a photo opp for social media.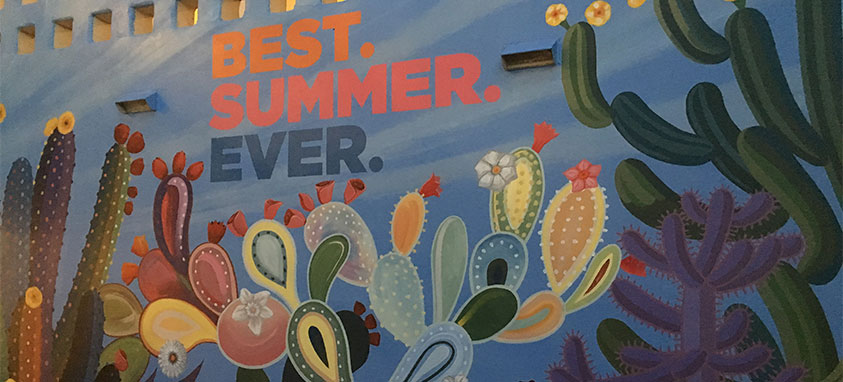 The concierge can also work with meeting planners to create custom Instagram walls, art installations and a social media feed wall. Gilbert emphasizes the value social media has on creating a buzz about an event and inspiring more people to sign up to attend the following year. The hotel even gifts selfie sticks in branded packaging as a swag bag item.
Do Hotels Give a Thumbs Up or Thumbs Down to Influencers?
Just like hotels and CVBs host fam trips for members of the media and meeting professionals, some also host influencers at their properties to share experiences through photo and video posts. Ace Hotel brand has a special form on the press section of its website for influencers to request a discounted media rate in exchange for posting, but it does not offer complimentary stays.
Starwood Hawaii, which has locations in Oahu, Maui, Kauai and Hawaii Island, offers a social media storyteller program with clearly defined requirements to participate, and a contract must be signed between the two parties. The resorts are looking for influencers who provide rich content, share on multiple channels and have more than 250,000 followers.
"We value the power of social media and its potential to build awareness and drive engagement in an authentic and unique way," the website states. "We are always open to working with social media storytellers to help reach new audiences and excite loyal customers by sharing new perspectives on the experiences we offer at our resort. Our resort shares social stories based on a variety of content themes and brand attributes to which a social influencer might align his or her own brand."
However, in a recent article published by The Atlantic titled "Instagram's Wannabe-Stars Are Driving Luxury Hotels Crazy," times may be a-changin'. Hotels are finding there are too many phonies out there who are just looking for a free vacation and changing their influencer policies to be more stringent, or ban them altogether. More important than quantity of followers, because many followers are often bots, is engagement. One thing hotels can do to assist influencers in holding up their end of the bargain is providing reliable Wi-Fi.
"Not all of them are authentic and they are saturating the market, making it difficult for brands to weed through the good ones," Cerrato said. "Their demands can be borderline outrageous, more than those of a traditional journalist. Many want to be compensated in addition to their complimentary stays and perks."
That's where meeting planners and attendees can swoop in and save the day. Planners can prove that their and their guests' posts bring monetary value. If they can provide this evidence through case studies, perhaps it'll be a bargaining tool when they enter the negotiation stage for a better price.
A specifically meetings-related influencer to watch is Kate Patay, who currently has more than 5,300 Instagram followers. The event and hospitality consultant and speaker was featured in the October 2017 issue of Smart Meetings as the guest Pinterest pinner.