Filet mignon and a multicourse chef's table certainly have their allure and glamour, but frankly, for many people attending events, hot dogs can't be topped.
July is National Hot Dog Month and July 18 is National Hot Dog Day, according to National Hot Dog and Sausage Council (NHDSC). The organization estimates that 150 million hot dogs will be consumed on Independence Day alone, and more than 19 million during the 2018 Major League Baseball season.
"At a time when so many issues divide us, hot dogs stand as a food that unites," says Eric Mittenthal, NHDSC president. "Whether people enjoy beef or pork, natural casing or skinless, hot dogs are truly beloved."
Contest
Attracting between 35,000 to 40,000 fans annually, Nathan's Famous Fourth of July International Hot Dog Eating Contest is a tradition on Coney Island, located in the Brooklyn borough of New York City. According to legend, the contest first took place in 1916, but the first recorded event was in 1972. Competitive eaters are given 10 minutes to guzzle as many dogs as possible. The event is so massive, it is broadcast live on ESPN. Current champion Joey Chestnut of San Jose, California, won by downing 72 hot dogs in 2017, and set the world record by eating 73 in 2013.
Planners can scale this down for a team-building exercise by hosting a hot dog eating contest of their own.
? Smart Tip: Sub in pigs in a blanket to avoid upset stomachs. Another contest option is to have a hot dog cookoff where teams compete to make the "best dressed" dog.
Dog Localization
Just like New York City has its thin-crust pizza and Chicago is known for its deep-dish pizza, hot dogs also take on different identities in different cities. This is a way for planners to hop on board the localization trend train to wherever their group is meeting. There's the Kansas City dog, Michigan Coney Island dog, Sonoran dog, West Virginia dog, southern style dog and New York style dog.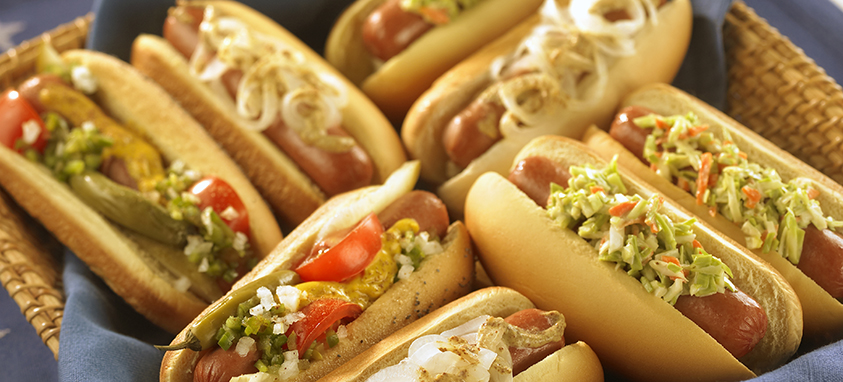 NHDSC is hosting the 2018 Annual Hot Dog Lunch on Capitol Hill on July 18 in Washington, D.C. The event is expected to attract more than 1,000 hungry politicians and staffers. The lineup of hot dog carts offers an assortment of varieties that tie in flavors from all over the country. In previous years there has been a hot dog baked inside an Idaho potato, guacamole-topped hot dogs for Texans and sourdough buns for reps from San Francisco.
Customization
Go wild and crazy with hot dog menus and names. Use this as a valuable opportunity to weave in your event's theme through gastronomy. In celebration of the Fourth of July, Pink's Hot Dogs in Los Angeles is adding the America the Beautiful Hot Dog to its menu. It's a 12-inch jalapeno dog topped with pastrami, bacon, lettuce and chopped tomatoes. An American flag is planted in the frank. It has also created special dogs for the World Cup, universities and television and movie-themed events. To honor Prince Harry and Megan Markle's nuptials last month, Pink's sold two hot dogs in a bun with a "spot" of chili.
Hot dogs have also become synonymous with ballparks, such as the Dodger Dog at Dodger Stadium in Los Angeles. There are some rookies joining clubhouses nationwide this season, including the Texas Rangers' Dilly Dog, Atlanta Braves' The Spec-Tater, Detroit Tigers' An Ode to Detroit Dog, Arizona Diamondbacks' Asada Dog, Colorado Rockies' Triple Play Dog, Pittsburgh Pirates' Pittsburgh Paella, Kansas City Royals' Teflon Dog and Tampa Bay Rays' Bacon Fried Doggy.
Topping Bar
Ice cream sundae bars have been a popular way to serve dessert at parties for years, and then along came mashed potato bars. Well, what about a hot dog bar with every topping imaginable? Richard Pink, president of Pink's Hot Dogs, recommends a buffet that includes chili, mustard, onions, shredded cheddar cheese, relish, bacon, chopped tomatoes, mushrooms, sauerkraut, sour cream, sauteed peppers, guacamole, lettuce, jalapenos, nacho cheese, pastrami, Fritos, coleslaw and American cheese. Some guests will appreciate ketchup, too.
"All the fixings can be put out individually on a table, under an old-fashioned hot dog umbrella for the guests to select from," Pink says. "It would be good to provide suggested toppings that go well together."
Catering
During the short lunch break between conference sessions, who has time to wait in a long line for food? Pink's offers catering packages, so they can come to you. Several package options are available.
Former boy-bander Joey Fatone is now in the hot dog biz. The N' Syncer has an Orlando-based food truck called Fat One's. If you're looking to arrange a food truck festival in O-town, Joey himself might just tear up your guests' hearts. That's one way to get your meeting trending on social media. His menu includes hot dogs named Gone Hollywood, Boy-Bander and Sloppy Joey.
If the stars align just right, the famous Wienermobile might be rolling through town while you're holding your meeting. There are currently six in the fleet, so they can cover multiple cities simultaneously. This month, the brand introduced Super Hotdogger, a jet-pack wearing hot dog delivery person.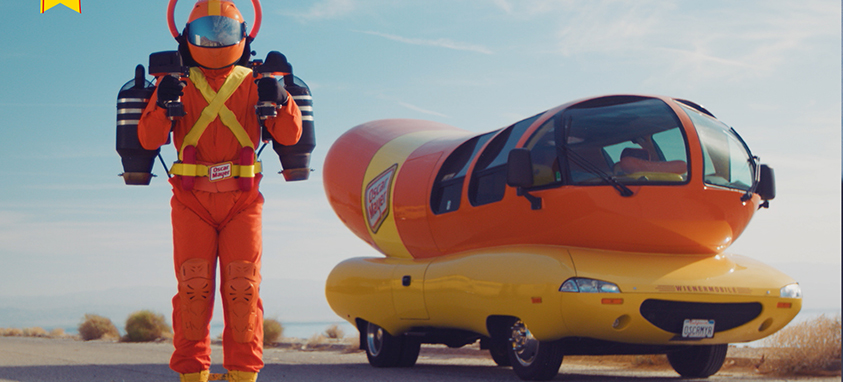 "Oscar Mayer will stop at nothing when it comes to providing quality hot dogs to fans everywhere, and our innovative WienerFleet is an integral part of our mission to get a better hot dog in every hand," says brand manager Matt Riezman. "With the debut of Super Hogger and last year's WienerDrone, the future of flying hot dog delivery is bright."
Catering costs often tip the scale, and planners aren't often offered something for free. Every weekend this summer until Aug. 26, the Hot Dog Bus will be serving free hot dogs to passersby in Brooklyn Bridge Park in New York City. Created by artist Erwin Wurm, the vintage Volkswagen Microbus was converted into a mustard-yellow food truck and commissioned by the Public Art Fund.