Whether hitting the road for meetings or pleasure, many travelers share their adventures and whereabouts on social media and through text messages within 24 hours of arriving. As the saying goes, "A picture is worth a thousand words," and more and more jet-setters are using emojis to describe their trips.
To commemorate World Emoji Day on July 17th, Booking.com surveyed over 18,000 respondents from 25 countries about which emojis they'd like at their fingertips. The results showed the top five most-requested are a smiley face unpacking luggage, referring to a map, taking a selfie, wearing a camera draped around its neck and lounging on a chair with an umbrella and cocktail.
In an effort to bring these travel emojis to life, Booking.com launched a petition on change.org to try to convince Unicode to add them to keyboards. So far, they are halfway to reaching their goal of 500 signatures.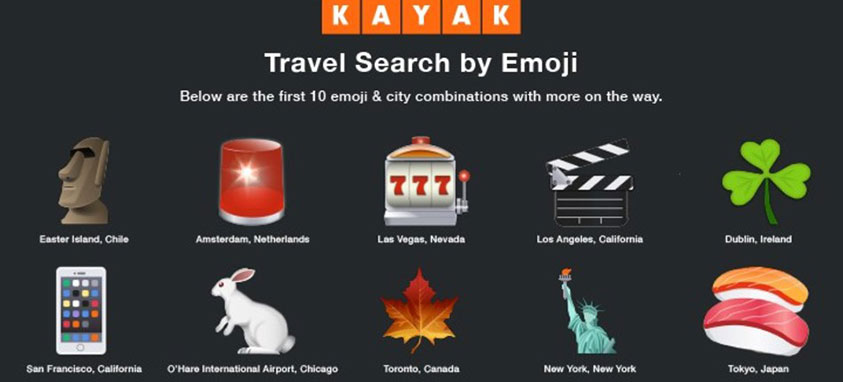 Photo credit: PRNewsfoto/Kayak
Booking.com is not the only big tourism name company to enter the emoji game. Kayak enabled the ability to conduct a travel search using emojis that represent 10 major cities worldwide, such as a slot machine for Las Vegas, the Statue of Liberty for New York City and a three-leaf clover for Dublin, Ireland.
"We are always looking for ways to make Kayak even more fun and easy to use—adding emoji to the search experience is a great way to do that," says David Solomito, vice president of North America brand marketing for Kayak. "However our users want to search, whether it's with emojis, bots or voice—we will be there."
Kayak intends to add more emojis to their repertoire in the near future. Over the course of three weeks, the travel site collected a whopping 170,000 votes to determine which emojis would be assigned to which cities. And the winners are:
Naples, Italy: slice of pizza
San Francisco: rainbow flag
Nashville, Tennessee: guitar
Green Bay: football
Seattle: coffee
These emojis and more, as well as 200 flag emojis, will be searchable on Kayak soon.