Event professionals of all types—corporations, associations, vendors and agencies—around the world are "very optimistic" about the outlook for the events industry in the coming year. That's one of the key findings from the just-released 2020 Global Meetings and Events Forecast from American Express. Following are four of the most important takeaways from the survey.
1. The Industry Outlook is Positive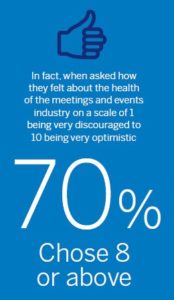 As noted above, the survey found that event pros are strongly optimistic about the industry in 2020. Though there are (always) challenges, planners and others believe events have "cemented their place" as drivers of communications, growth and engagement with customers, prospects, employees and influencers.
In the words of the report's authors," With so much possible upheaval looming in the near future—Brexit later in 2019, the U.S. federal election in 2020, ongoing global trade wars, to name just a few—it would be understandable if industry professionals were nervous. But they are notably more optimistic than they have been in recent years."
Respondents from all regions predict growth, with confidence that the events industry is "mature enough to weather any temporary storms" and offers "an abundance of opportunities."
2. Planners Focus on Attendee Experience
Given that the most important measure of event success is attendee satisfaction, it's no surprise that, per this report, "The attendee experience continues to grow in focus with meeting owners and planners."
While getting the logistics right is essential, "theming and content are beginning to take on more of the planner's mindshare, which is great news for attendees," according to the study.
As the industry expands, there's more competition for attendees. Prospective guests will attend events based on the quality of the networking (who else is likely to be there), the content and learning, and the overall experience. That has event planners increasing their focus on:
Personalization—giving attendees not just a choice of sessions and tracks, but the ability to customize an itinerary aligned with their individual objectives and interests.
Unique venues—destinations and structures that are distinctly different from the standard big city hotel or convention center.
Interactive technologies—games, visuals and activities that expand on and enhance the live event experience.
And of course, the biggest buzzword in the industry: "engagement." During events, planners are incorporating more local food and culture, offering unusual offsite activities and redesigning sessions to be more participatory and less passive.
Post-event, organizers are keeping attendees engaged with their content through mobile apps, chat channels and content—videos, podcasts, blog posts—that extends the value of the event.
3. Event Technology Continues to Expand
Though the event technology landscape now encompasses hundreds of solutions, the report speaks broadly of two categories of technology: logistics and experiential. There's some overlap, of course; for example, an online registration form is clearly in the "logistics" bucket, though it is also the first element in the event experience.
See also: 2020 Offers New Thinking on Technology For These 6 Meeting Types
Per the study, event pros are "excited to make use of new technologies, from back-end systems that make bookings easier to client-facing software that enhances the onsite experience."
Event organizers have a choice of core management platforms at multiple levels and a wide array of best-of-breed point solutions that can be connected to automate common tasks while optimizing the attendee experience.
Event mobile apps are now ubiquitous. Per the report, "one meeting professional referred to them as 'the new lanyards.' Survey respondents across the globe value them for many reasons, but the top reasons are their ability to improve communication and engagement, facilitate networking and deliver documents electronically."
Although the conference agenda remains the most popular function, event mobile apps are being used in increasingly creative ways.
4. Cost Challenges Persist
Though the industry is expanding and budgets are generally increasing, most of those extra dollars are expected to be consumed by rising costs among venues and suppliers. Consequently, planners will be challenged to "do more with less" while also meeting increasing attendee expectations for unique event experiences.
In response, planners are utilizing a number of tactics, including:
Changing the perception of events and meetings within the corporate marketing function and the organization more broadly. " When stakeholders such as marketing, HR and security are included in the planning process, it helps meeting planners get buy-in on budgets, improve communication and increase policy compliance," write the report authors.
Contracting for standard event elements at the beginning of the planning process. This means not just the space, but also all internal services, travel and supplies. According to the study, "The goal is to optimize all of those costs in one part of the meeting to free up money to increase the experience in other parts."
Making greater use of non-traditional venues and "B-locations" (second-tier cities). Warehouses, event centers, stadiums and universities are interesting alternatives to hotels and convention centers. And costs for almost everything from travel to food to space to services are generally lower in up-and-coming destinations like Minneapolis, Indianapolis, Austin and Charlotte than in the big coastal cities and Chicago.
As the report notes, "With new (air travel) routes being added domestically and internationally, planners have more options to try new meeting locations without necessarily requiring attendees to increase their travel time to get there."
A key barrier to increased event budgets is the lack of industry benchmarking data. While planners have dozens of ways to measure event value, they lack standard industry metrics for comparison. For example, a company may measure the ROI of event marketing activities or total financial return and compare those to preset objectives or prior years performance—but there's no way of knowing how their performance compared to competitors or industry peers.
In conclusion, event professionals are optimistic about the year ahead. Costs and attendee expectations may be rising, but so are budgets and the capabilities offered by evolving event technology. Budgets remain a challenge, but hardly a new one, and planners have developed tactics to address that. In short, the 2020 Global Meetings and Events Forecast from American Express offers a wealth of insights and statistics that paint a bright picture of the coming year.
Tom Pick is a digital marketing consultant who works with event management platform developer G2Planet to share the company's insights and knowledge with corporate event marketing professionals.