After 10 years at Sands Expo Center, IMEX America will move to Mandalay Bay Resort and Casino, a MGM Resorts International property, in 2021. Mike Dominguez, chief sales officer for MGM, shared his thoughts about this move—and MGM's close relationship with IMEX Group—in this, the second of a two-part interview.
Part 1: Dominguez Offers Illuminating Insights on IMEX America
IMEX America will be moving to Mandalay Bay Resort because IMEX wasn't able to lock in space at Sands Expo starting in 2021. What impact will this have?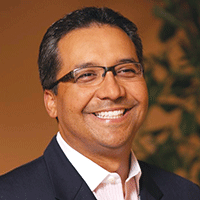 All the way around, I just think it is the right timing. We are excited about it and think it makes a lot of sense. It works for IMEX, and it works for us. Moving to a new location gives them a different feel: IMEX America will have been here a decade by the time it moves to us, and it will probably be time for a facelift, basically.
To make it all work, though, we had schedule the 2021 event in November, and then it settles back into more prime dates. But Ray Bloom [IMEX Group chairman] was willing to work with us to make it happen. I think it shows a little bit of the evolution of Las Vegas, because in 2021, we're going to have a stadium [tentatively called Las Vegas Stadium] on that side of The Strip. So, what has always been the South Strip, with no main driver, is now going to be the main driver, with the stadium there to anchor it. The stadium is going to be an entertainment venue in addition to a football stadium.
How will the relocation to Mandalay Bay affect MGM in general?
It's going to change from the standpoint that we'll probably have more people with us. So, we are going to have to place a little more emphasis on what we'll do while they're there. But what is more important to me is that it kind of changes my emphasis on what else I need to do in those buildings on an annual basis. IMEX America is kind of our Super Bowl, and since everyone there will be coming through our buildings, I have an opportunity to really promote and highlight MGM resorts.
I'm not sure how aggressive I'll be about hosting some other large shows. I'm not sure it's needed, because a lot of our money, effort and time is going to be going into IMEX America on an annual basis. But I also think it gives us the opportunity to really focus on which customers are going to be here in our buildings and how can we utilize them even more. From my standpoint, I would love to get some of them in earlier and later to talk about the industry.
I wouldn't be bringing them in for a fam—I would bring them in because I want to pick their brains. I want to know where they see us headed, and what's going on in their business. And it gives me a good opportunity to take a snapshot of different verticals. That excites me. I think I can get that done without pulling a lot of their time. That's the fun part.
Does MGM actively collaborate with IMEX Group before each IMEX America?
We sit down to meet with them every year. We're always throwing out ideas and ask where they need our help; it's a very open dialogue. With all the technology and everything we have now, you know what hasn't changed? We still do business with people we know and trust. I know Ray, I know Carina Bauer [CEO of IMEX Group]. I know who they are. And what I trust and what I know about them is that they have an interest that is much larger than just finance. They care about this industry, and so do I. And that's what, to me, makes the partnership and the relationships so brilliant. We just sit and talk, knowing that our biggest interest is in expanding the industry—and they have a platform that allows us to do it.
This spirit of partnership was evident on a larger scale following the mass shootings in Las Vegas from a room at Mandalay Bay just before IMEX America 2017. How did everyone come together?
We didn't call a press conference. We just made a couple of quick phone calls to say that all the industry leaders should talk about it and understand it. And more than anything, after everyone said they're standing with us, we wanted a visual—a picture of everybody standing with us. We weren't standing there alone, and we thought that was important.
The beauty of it is that all we did was ask the question, "Will you please support us?" and then everything started happening very quickly. All of our peers in the industry were all-in. It was a special moment in that regard, because after taking all the competitiveness away, taking all the business side away, at that point we were all united as being human beings.
This was so needed for this city, and so needed for the destination, and I always go back to that. Our ability to utilize that platform as something to catapult our healing was kind of special.