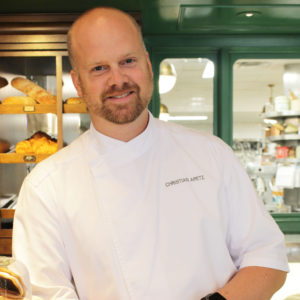 The most important trend I've seen in food and beverage in 2019 is customization. By curating the perfect menu tailored to guest preferences, event professionals can ensure a higher quality experience for everyone involved. Delivering personalized meals allows planners to stand out—and it can be fun. Here are some my top recommendations on how to utilize current food trends to create a memorable and lasting event.
More: 4 Ways to Make Sure the Food at Your Event Will Draw a Crowd
Over the Top Event Setups
One major trend I've noticed this year is over-the-top event setups that tie in both food and beverages seamlessly. For example, I've seen everything from outdoor bars that seem to blend into the environment to food displays that utilize the natural topography.
Guests are yearning for more out-of-the-box experiences and are not satisfied anymore with typical banquet rooms. My suggestion for meeting planners is to think creatively to provide something unexpected for guests, whether that means creating a themed menu or using a distinctive venue—or both. For example, I've curated menus for meetings and events held in theaters, under oak trees and on gondola landings of ski lifts. Those unexpected event spaces helped to mix things up for the dining experience.
Customization Can Make a Major Impact
I believe that events in our industry are heading toward customization on demand. We now have the ability to rapidly prepare meals for a very large number of attendees in a very short amount of time. Customizing the menus also allows the planner to avoid food and beverage offerings that may not have worked in the past and forces chefs to serve what's seasonally available as well as what's new and on-trend. I recommend staying away from "build-your-own" buffets, which tend to be a hot button for the planning team and can create a nightmare of long lines for attendees. Instead, offer curated enhancements that are simple and easy to apply that will help to create shorter lines and a more enjoyable experience for the planner and attendees. As a planner, don't be afraid to push your chefs to customize the event that you are envisioning.
Creating a Memorable Impact
My biggest piece of advice for building build in the culinary team is to meet one-on-one with the chef and some of the key players who will be involved in the planning process. For example, one of the first steps of the meeting and event planning process is getting together my team so I can obtain a sense of the group's needs and vision for their menus. A good culinary team can dream up new ideas without repeating the same old fare, giving the planner the opportunity for lasting impact.
Incorporating Eco-Friendly Practices
With green and eco-friendly practices getting quite a bit of attention lately, it is important to think about ways to help reduce the group's waste, which can be done easily in a food and beverage setting. Working in Texas, it can always be a challenge straying away from the "Bigger in Texas" attitude. However, creating smaller portions and focusing on controlling consumption can really make a difference. Live action stations where chefs are preparing food on demand is a great way to minimize over-usage and control waste, as well as ultimately help reduce the group's entire carbon footprint.
Chef Christian Apetz is the executive chef at Hyatt Regency San Antonio. He has more than 20 years of experience in the industry and has led culinary teams at properties throughout the country including Hyatt Regency Boston Harbor, Park Hyatt Beaver Creek Resort and Spa and The Driskill Hotel in Austin.