This year, 44 venues from the United States, Canada, Germany, France, Switzerland, the Netherlands, Singapore, Australia, Thailand, China and India participated in the 142-question Green Venue Report survey, providing the most comprehensive collection of results yet on topics ranging from food waste to energy efficiency and sustainability.  All of the participating venues hold a sustainability certification or accreditation.
North American venues that participated include the Atlantic City Convention Center in New Jersey; Austin Convention Center in Texas; Boston Convention & Exhibition Center; Calvin L. Rampton Salt Palace Convention Center in Salt Lake City, Utah; Cobo Center in Detroit; George R. Brown Convention Center in Houston; Georgia World Congress Center in Atlanta; Jacob K. Javits Center in New York City; Moscone Center in San Francisco; Mandalay Bay in Las Vegas; Oregon Convention Center in Portland and Sands Expo and Convention Center in Las Vegas, among many others.
Trends and Takeaways
Perhaps one of the most uplifting trends is the rise in the actual reporting of these green standards. More venues are reporting their efforts and recording their waste numbers so that they can measure their progress year to year and also so that planners who want to host meetings in green venues can evaluate the venue based on the center's practices.
More convention centers and other venues are getting creative with ideas to efficiently use once-wasted space, by converting roofs, for example, into green roofs, bee sanctuaries and gardens. (We've noticed this trend taking place with hotels, too!)  Additionally, 11 percent of venues have an apiary on their roof.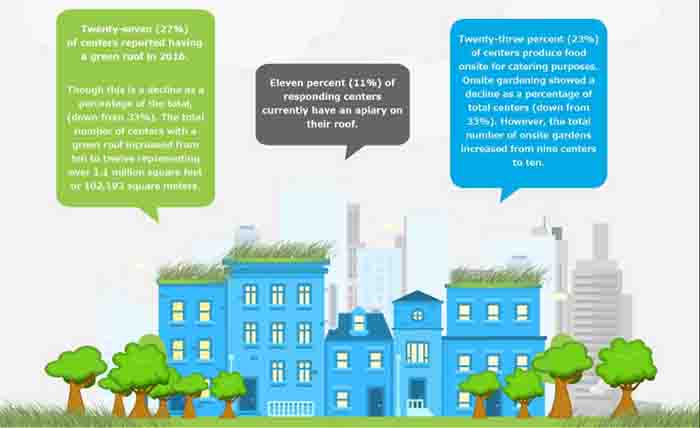 Venues Leading by Example: The Colorado Convention Center in Denver boasts 5,000 sq. ft. of garden onsite that produces fruits, veggies and herbs as well as beehives.
Venues are also getting more creative with how their catering departments can help the waste-reduction effort, by donating food, recycling kitchen grease tracking production waste, overage and spoilage.
The role of sustainability manager/coordinator has doubled from one year to the next, proving venues are making a serious commitment to sustainability.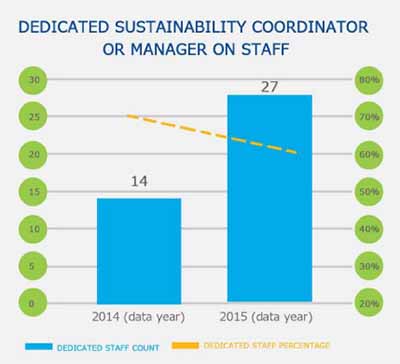 Capturing rainwater for reuse or storm water management rose from six percent to 21 percent, illustrating the growing awareness of water waste.
Waste, Water & Energy Efficiency 
Fifty-seven percent of the conference and convention centers polled have active manual waste-sorting programs in place.
In 2015, more than 52 percent of costs spent on F&B were considered local (within 250 miles).
On average, thirty-four percent of event planners answered that they discussed sustainability when talking with a venue in 2015, which is itself a 27 percent growth from the previous year.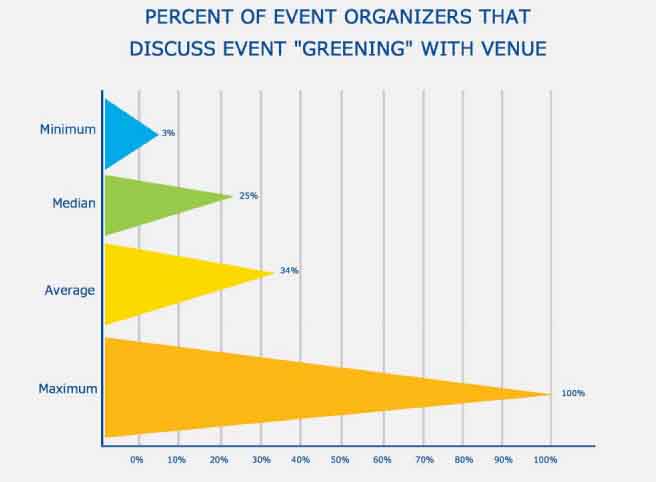 Twenty-one percent of venues claimed to capture rainwater for different purposes, figure that was only at six percent the previous year. Additionally, 89 percent use high-efficiency faucets and 66 percent use high-efficiency toilets.
Nearly half of the venues responded that they use solar panels, wind turbines or some other form of renewable energy technology.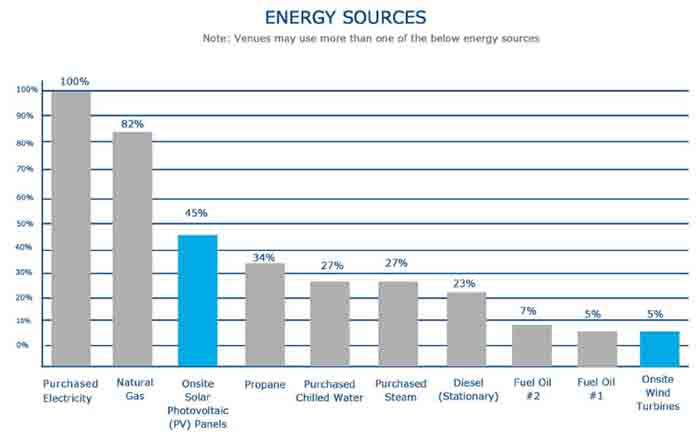 Venues Leading by Example: Mandalay Bay has an extensive waste management and recycling program, and offers planners the opportunity to not only sort their waste and recyclables from a particular event, but measure and report it. The center also boasts 26,000 solar panels on its roof, which will annually generate the equivalent energy needed to power 1,340 homes for a year.
Oregon Convention Center has enforced a specific waste diversion policy that prohibits foam core signage and single-use conference bags.
Saint Paul RiverCenter in Minnesota offers WindSource for Events, a renewable energy program that allows planners to choose to offset energy usage with the purchase of wind power in the region, thanks to 20 different wind farms in the state.
Reporting
Seventy-nine percent of venues are able to provide a waste diversion report to planners upon request, and 60 percent do so at no added cost.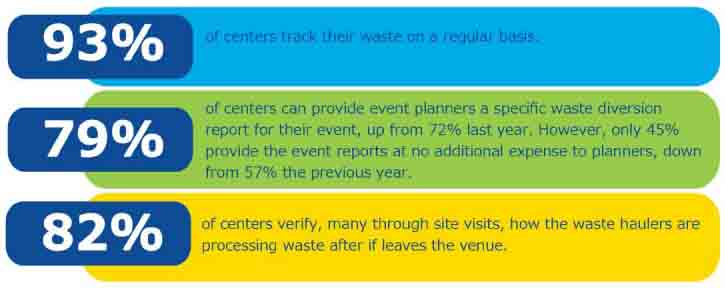 According to the survey, nearly all venues were able to provide annual impact data for their use of energy, water and waste.
Eighty-one percent of respondents said they track food waste management, including the amount of overage and spoiled food for events. An impressive 93 percent compost food waste.
Venues Leading by Example: Virginia Beach Convention Center provides meeting planners the online resources they need to find out about hybrid vehicles, carpool parking, green dining, efficient hotels and community outreach programs.
The Pennsylvania Convention Center uses a service called EnerNOC to track real-time electricity use and other metered data, which can be provided to planners looking to meet a specific budgeting or output goal.
Transportation
Ninety-three percent of venues reported that they're accessible by train, light rail or subway with an average distance of one mile.
86 percent claim to have public bike racks; 64 percent are within a half-mile of a city bike share station; 64 percent offer charging stations for electric cars; and 26 percent offer programs that encourage mass transit for event attendees.
Venues Leading by Example: The Palexpo in Geneva, Switzerland, provides all visitors arriving at the airport with a free ticket that's good for ninety minutes of transportation to their hotel.
Steps to a Greener Tomorrow
Green View, the organization that publishes the Green Venue Report, suggest 4 steps for venues to take for more sustainable events:
Build a "Green Team" responsible for discussing, planning and implementing green initiatives.
Reduce the amount of printed literature at your events.
Encourage exhibitors to take advantage of rentable and reusable booth designs.
Use sustainable products for things like signage that can be recycled to reduce landfill waste.
Venues Leading by Example: Metro Toronto Convention Center hosts annual Habitat for Humanity projects in which venue employees can attend without using vacation days.
See the full report, here.