There were more reasons than ever to attend IMEX America 2016, the biggest three-day exposition for incentive travel, meetings and events, which concluded yesterday at Sands Expo and Convention Center at The Venetian | The Palazzo Las Vegas. From new exhibitors to a wider away of education sessions and more networking events, there were plenty of opportunities for the thousands of meeting professionals in attendance.
"We've also added new zones, innovations and improvements to enhance the experience for all our attendees," says Carina Bauer, CEO of the IMEX Group. "Many of these we've introduced in response to research, delegate feedback and market trends. It all means we're offering more opportunities to do business, learn and meet new contacts than ever."
Here are six highlights from IMEX America 2016: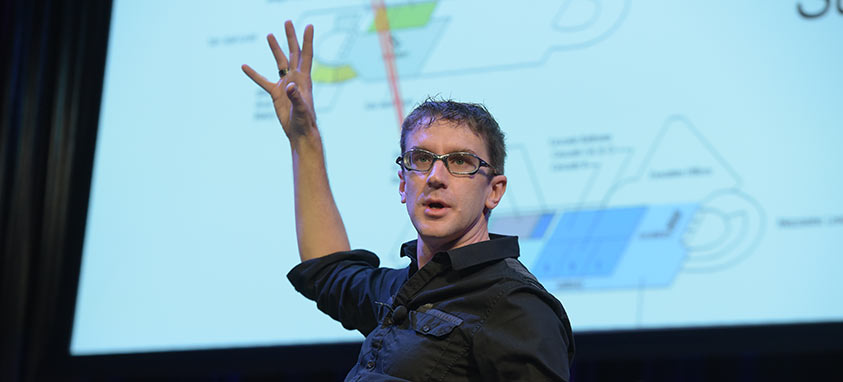 Innovation & Technology
Pablos Holman, hacker extraordinaire, encouraged disruption and invention within the meetings industry during one of the Smart Monday keynote sessions. How meeting planners can innovate in order to meet future developments and trends was a key theme throughout educational programing and the tradeshow floor.
Holman explained new technologies and their potential to address worldwide catastrophes and predicaments. Holman and his team at Intellectual Ventures Lab take on problems such as hurricane suppression and brain surgery to disease eradication and nuclear energy. The power of innovative problem solving stuck a chord with many of the attendees during the interactive session.
Innovation on the floor took the form of tours enabling planners to gain the advice of experts on how to use how tech, innovation and trends to create compelling experiences. Led by Glenn Thayer of Emcee Squared, the group met exhibitors such as Quick Mobile who advised on using technology to turn delegates from attendees to participants in order to boost engagement. CNTV explained how video can be used all year round as part of an event's marketing campaign of customized content and the trend towards live video.
Among the initiatives that IMEX America has introduced to meet this need is the EventTechTours. Taking place throughout the show, they were led by Tahira Endean, who was recognized in 2015 as one of the Top Five Women in EventTech and who now specializes in explaining the integration of technology into our lives, businesses and events.
Innovation Tours were led by Glenn Thayer of Emcee Squared. They demonstrated how tech, innovation and trends can be implemented into general sessions, as well as examining the future of meeting experiences.
IMEX America also features the TECHknowledge Area, powered by The Meeting Pool. Experts delivered targeted technology sessions and answering questions on hot topics such as Snapchat, Slack, OneNote and wearable technology, and guided buyers through the latest tech in the Gadget Lab.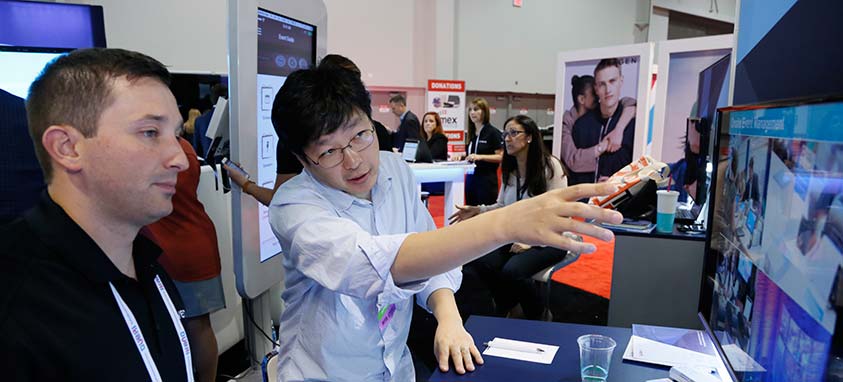 Event Technology in Action
According to research conducted by Meeting Professionals International (MPI), 61 percent of meeting professionals agreed that currently available event technology makes event management much easier and that it will develop and change dramatically over the next 10 years, however 92 percent admit that meeting planners are not making the most of such technology solutions. It also revealed that when buying event technology products and services, only 21 percent of those surveyed approached the project with confidence.
"We believe that having technology demonstrated by experts face to face is a highly effective way for buyers to get to grips with technology and discover how it could help them," Bauer explained.
Las Vegas Convention and Visitors Authority (LVCVA) drew crowds to its trade show booth with a citywide interactive screen, which allowed users to access to hotel, convention and event spaces through the power of touch-screen technology.
Vegas Interactive featured four, 55-inch touch screens with more than 4,000 pieces of content, including 360-degree videos, time-lapse photography and still images for guests to experience the destination. LVCVA developed the trade show booth over the past year in partnership with Inhance Digital.
"Our new trade show booth creates a unique and memorable brand connection to Vegas," said Cathy Tull, senior vice president of marketing of LVCVA. "The technology allows travel professionals who plan or sell leisure vacations, business meetings and events to better understand what the destination has to offer."
The trade show booth interactive map is scalable, from a wall mural to an individual touch-screen device. Not only is it versatile, but the imaged-based content eliminates the need to translate pages of text for international shows.
Industry Trends
How shifting trends will impact meetings and hotels in 2017 was the hot topic debated by a panel of five meetings and hospitality leaders led by Dan Berger from Social Tables. Experts from Maritz Global Events, Accor, Hyatt and MGM Resorts International discussed how meetings will change and what will drive growing demand in the year ahead.
This covered delegates' expectations for personalization, right down to food and beverage, as well as keeping up with evolving technology and addressing security needs. Experts also discussed the trend towards increasing collaboration between venue and planners as delegates' appetite for a customized experience grows, as well as the need for "white space" in between sessions for relaxation and networking.
"This session covered ways in which we, as planners, can balance an increasing workload with the need to deliver an innovative and personal experience for delegates at every one of our events." said Karen Ruiz from Au Courant Events, who attended the session.
Focus on Associations
For the first time this year, IMEX America, in conjunction with American Society of Association Executives (ASAE), hosted a dedicated leadership stream for senior management to address the challenges facing association leaders including governance, volunteer management, cyber security, membership engagement and growth.
John Graham, FASAE, CAE, president and CEO of ASAE, introduced a packed afternoon of sessions focusing on different aspects of leadership, designed to help association CEOs and senior executives to empower and motivate their boards, volunteers and staff to achieve growth and to achieve their strategic mission.
Planning and organizing association meetings and events involves numerous challenges involving clever negotiation, a sensitive approach to cultural differences, and a creative flair to keep formats fresh and engaging for members. Case studies and examples of best practices were shared in the Meetings & Events stream of Association Focus. Martin Sirk, CEO of ICCA, introduced a series of in-depth and interactive 40 minute sessions covering sponsorship, creativity and innovation and building relationships with convention bureaus.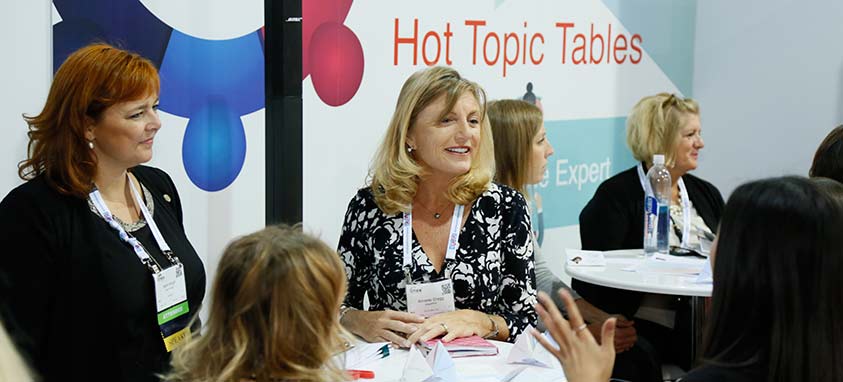 The Sharing Economy
An eager crowd of around 70 meetings industry professionals gathered to hear a cosmopolitan line-up of business executives talk about the disruptive possibilities of the sharing economy. Throughout the discussion some startling statistics were revealed, not least that Airbnb predicts it will be handling one billion room nights per year by 2025.
Audience responses to the speaker questions varied, although generally IMEX America attendees were more trusting and receptive to the potential of sharing economy services than those who attended a similar discussion at IMEX in Frankfurt earlier this year. Reservations still revolve around trusting these new service providers and issues of risk, compliance and individual safety. Also sharing their stories and advocating for a shift in thinking and, potentially, buying behavior among meeting professionals were Nancy Branka, chief content officer at Bizly and Gary Schirmacher, senior vice president of Maritz Global Events.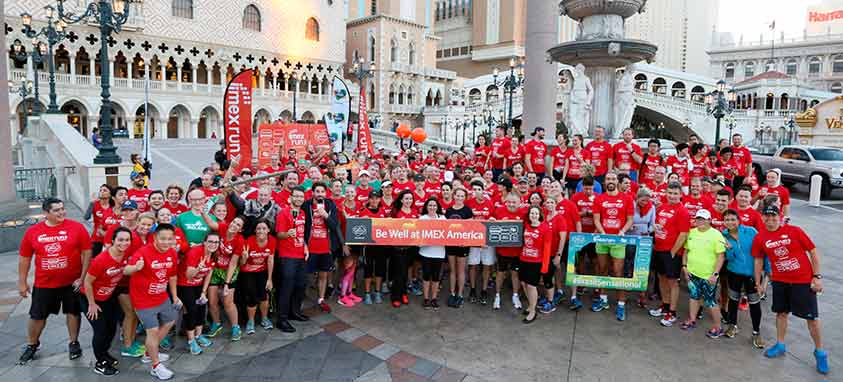 Health & Wellness
The Be Well program carried on the success of last year's health and wellness initiatives at IMEX America. Bauer emphasized that wellness should not take a back seat to business on the tradeshow floor. A series of wellbeing and CSR activities included the second edition of the IMEXrun; around 800 planners and exhibitors took part in a fully booked run along the Las Vegas Strip.
Also back by popular demand is the Be Well Lounge, sponsored by Hilton, a relaxing retreat led by the inspirational Lee Papa. Each day begins with yoga and continues with meditation and relaxation classes, all designed to ensure attendees stay fresh. Well being is explored further through the comprehensive education program on the show floor with sessions showcasing both new and proven health and well being concepts—inspiring meetings and events planners with ideas they can include in their own events.