Aria Resort & Casino
Green meetings are not just good for the Earth. They're good for all of us.
Planners and event participants just feel better when the air is cleaner, the light is natural and the food is locally sourced. From reducing and recycling waste to high-tech innovations that save energy, today's grand meeting resorts and convention centers are embracing sustainability with fervor.
Here are 8 of our favorite large green meeting venues:
In a city known for extravagance, Las Vegas meeting and event properties have established very lofty green standards, with many achieving the highest sustainability rankings possible. Las Vegas' CityCenter is aspiring to be the "world's largest environmentally sustainable urban community."
This grouping of green properties features the amazing Aria Resort & Casino, which is a LEED Gold certified resort with 4,004 guest rooms. It just wrapped up a refresh of its 300,000-square-foot convention space, including such features as new media walls, charging stations, registration areas and more. Aria actually ranks as the largest building in the world to achieve LEED Gold certification. Here are a few of its green initiatives at work:
• The world's first fleet of stretch limos powered by compressed natural gas (CNG). In addition to abundant domestic reserves, CNG is one of the cleanest-burning alternative fuels available
• Design incorporates sustainable features including the extensive use of natural light
• Has reduced lighting power requirements in guestrooms and water-saving fixtures throughout
• Achieves more than 30 percent improvement in energy efficiency
• Saves an estimated 31 million gallons of water each year. This equates to an overall savings of 40 percent within the building and 60 percent in outdoor landscaping over existing building codes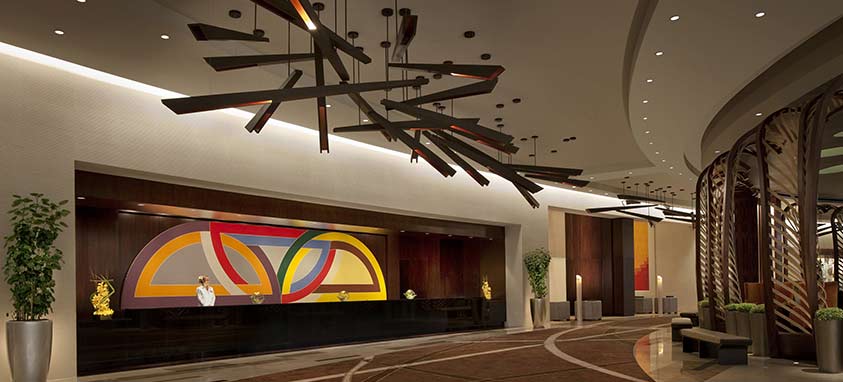 Vdara lobby
Vdara Hotel & Spa is another LEED Gold certified hotel in Las Vegas' CityCenter, adding 1,495 guest rooms and 16,500 sq. ft. of meeting space to this highly respected green oasis. With similar initiatives in place as Aria, Vdara's sustainability goals are reflected in the use of wood products from responsibly managed forests; high efficiency water use, both inside the building and outdoors; alternative fuel options for limousines; and an improvement of more than 30 percent in energy efficiency over standard building codes.
Wynn Las Vegas and sister property Encore helped gain Wynn Resorts, Ltd. recognition from Newsweek as one of the top green companies in the United States in 2015. Both properties are LEED Gold certified. The connecting properties combine for 4,750 guest rooms and suites and 260,000 sq. ft. of meeting and event space. Green components that are routine include saving thousands of pounds of paper through paperless checkout, and water reduction thanks to turf grass and high-efficiency toilets. The linen reuse program is also saving resources in addition to energy consumption controls in all guest rooms.
JW Marriott Marquis Miami has adopted a water conservation system in the laundry area that helps to conserve more than 1.5 million gallons of drinking water per year, prevents 1.5 million gallons of chemical laden waste water from returning to the environment, prevents more than 2,100 pounds of total organic carbon from being released to the waste water treatment plant per year, and keeps more than 200 tons of green house gases from entering the atmosphere in the form of C02. Energy saving thermostats in each guest room cut down on energy use exponentially at both hotels. The system senses human movement or non-movement and turns off automatically when the guest is not in the room. Green meeting features include 100 percent post-consumer recycled note pads, pens made from recycled materials, water service with no plastic water bottles, in-meeting room recycling, online event menus, several menu options featuring local and organic foods, organic flowers (upon request), and paperless e-billing. The JW Marriott offers 313 guest rooms and 80,000 sq. ft. of meeting space.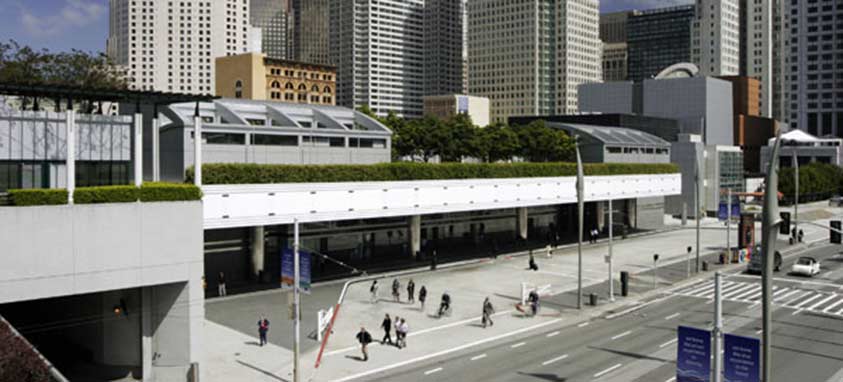 Moscone Center
Moscone Center in San Francisco was one of the first convention centers in the country to institute a recycling program back in 1998. Since then San Francisco's premier meeting venue has two buildings that have earned LEED Gold certification. When Moscone's current renovation and expansion projects are complete, the expectation is that those buildings will earn LEED Platinum certification. With a commitment to sustainability and education, Moscone helps planners hosting events at its venue to be as green as possible. For example, when Salesforce took over Moscone last year for its annual Dreamforce event, 10,000 pounds of compostable and recycling materials were salvaged during the three-day convention. Food sourcing is another key way to keep it green. Moscone tracks food miles, trying hard to buy locally. For example, Hall found a company in nearby Napa to get ginger puree rather than importing the product. He also relies on a company in Sacramento that makes soy sauce. And vendors who deliver their goods in boxes are required to return to pick up their containers. Moscone has an amazing setup for composting and recycling with a sorting station. All bins placed throughout the campus are delivered to the sorting station and employees go through the bins by hand (with gloves) to make sure that discarded materials are correctly classified.
Quebec City is a recognized leader in sustainability and a perennial must-visit destination as a foodie hot spot and UNESCO World Heritage Site. Quebec City Convention Center (QCCC) was the first in Canada to be LEED certified. All events held there are eco-friendly, and the center is committed to reclaiming 80 percent of the waste created at them. The center works closely with event organizers to not only execute environmentally conscious events, but also make sure participants and stakeholders are aware of the green effort. A big part of greening up the hospitality industry involves getting the message across. Recycling is an obsession at QCCC—everything from containers to name tags gets reused. Surplus food is donated to local charities, and kitchen waste and scraps are composted. Meals are served on washable porcelain, water pitchers replace plastic bottles and bulk dispensers negate individual packaging for optimum waste reduction. QCCC even offsets transportation emissions by working with recognized partners.
Portland's Oregon Convention Center (OCC), LEED Platinum since 2014, features one of the largest solar paneling arrays in the conventions industry. The new array covers half the rooftop and generate enough power to offset 25 percent of the total energy usage. The remainder will be purchased through Pacific Power's Blue Sky energy program, ensuring that all power derives from renewable sources. OCC is also incentivizing the reuse of convention materials.
In Nebraska City, Nebraska, Lied Lodge & Conference Center, operated by the Arbor Day Foundation, completed a $9 million green reboot last year. By recycling the carpet, repurposing wood and donating the old furniture to local charities, they upgraded the property and minimized the carbon footprint of the renovation. The Arbor Day Foundation influences much of the lodge's activities, with environmental programs that focus on conservation, service and trees. Lied Lodge even offers team building with the Employee Forest program—teams plant seedlings in public spaces in coordination with local community groups.