Profiles on five woman chefs of color leading the culinary industry
Chef Alice Seo, DM of Wolfgang Puck Catering in Seattle, was one of five incredible woman chefs of color in a leadership position who spoke to Smart Meetings about their careers.
In her interview with Smart Meetings, she recalled watching an interview of Madeline Albright, the first female U.S. Secretary of State. Albright said that her 7-year-old granddaughter had asked her why she was such a big deal—after all, all the secretaries of state were women! But Albright was the first; for her, it was a difficult path to pave her way in a role that no woman had ever held before. For her granddaughter, being a woman in this position was no big deal; it was simply her reality.
"I want that for my daughter," said Seo. "I want that for every daughter."
According to Zippia, a website that displays data cross-compared across the U.S. Bureau of Labor Statistics, U.S. Census Bureau, current job openings and more, as of 2022, 25.2% of chefs identified as women, up from 22.15% in 2010. Even fewer are executive chefs, at 12%. Women chefs on average earn $0.91 for every $1 male chefs earn. Additionally, 55% of chefs are white, with 17.1% being Hispanic or Latino, 11.4% being Asian, and 10.3% being Black or African American.
Five woman chefs of color in leadership roles across the United States spoke to Smart Meetings and shared stories of their careers, their inspirations and their passion for great food. Next time you plan a meeting or take a group on an incentive trip at one of these locations, look to visit these restaurants and book these catering services led by driven, passionate and talented women building a bright future in the culinary industry.
Read More: The Story Behind Smart Women in Meetings Awards 2023
Malyna Si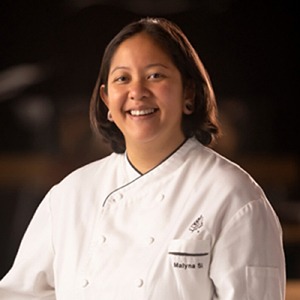 Orlando, Florida
Chef Malyna Si did not set out to become a chef. She worked at an ice cream factory, in chemical sanitation and at a financial advisory firm before she began working at a restaurant at 24, during her training as a glass sculptor. A senior cook recognized her enthusiasm and mentored her. "I quickly became enamored with the rhythm and energy in the kitchen, and with the seemingly endless potential in exploring cuisine," says Chef Si.
Called to the profession, she worked tirelessly to gain as much experience as possible. In 2017, she joined Four Seasons Orlando with the job title of cook one, a chef who works to prepare, cook and dispense food, cleans work areas and equipment and receives and stores supplies. In 2019, she was promoted to chef de partie at Capa; in 2020, sous chef. Post-Covid, she acted as chef tournant, managing the resort's seven kitchens, before returning to Capa to lead the team.
It's no secret that being a woman in the culinary industry presents a unique challenge. "I believe part of my success has derived from the need to prove myself to be twice as efficient, creative and focused as my male counterparts," shares Chef Si. But diversity in leadership has grown significantly. "Compared to five years ago, I am surrounded by far more women in leadership than I ever was before."
"Changing attitudes, shifting economics and evolving culinary preferences" allow Chef Si to explore diverse, global flavors and techniques while staying true to Capa's signature Spanish cuisine. For a long time, she felt motivated to have more control over the cuisine she cooked. At Capa, she does. She and her team worked extensively to determine the best type of wood to use in the restaurant's steak grill. They decided on American oak for the unique flavor it imparts. And although Cambodian and Spanish ingredients largely do not overlap, one item on the menu is directly influenced by Chef Si's Cambodian heritage. It is a dish that her mother made for her as she grew up: A tomato sauce with steamed vegetables. "I love the contrast of the gentleness of the vegetables with the pungent flavor of the sauce."
Chef Si's dedication to her craft, attention to detail, and passion for producing menus that people truly savor shows how closely tied being a chef is to being an artist.
Elgin Woodman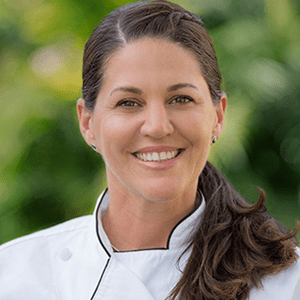 Miami Beach, Florida
Chef Elgin Woodman grew up cooking in Lima, Peru, where she learned recipes and techniques that influence her menus today. "Peruvian food is very diverse and dynamic in its flavors," she says. "There is a lot of acidity and a lot of spice. Anything I prepare has to have that balance. If not, it's always missing something." In modern Peruvian cooking, Italian, Japanese and local Andes food all merge. As executive chef at Constellation Culinary Group, she plays an important role in creating outstanding event experiences through large-scale catering menus.
To Chef Woodman, catering is all about "learning, changing and bringing something new to the table. It's the only way that you can stay ahead of the game." And catering is distinct. "It's not only about the food. It's about the whole experience."
Chef Woodman found pushing herself beyond her comfort zone to be inspiring. She worked under mentors who encouraged her to work harder and more creatively. "You can always do a lot more than you think you can."
At Constellation Culinary Group, Chef Woodman has found an incredibly supportive environment, but shares that it also hasn't always been that way in the industry. In conversations with female chefs older than her, Woodman has heard stories about how difficult it was for them to get into the business. She sees younger women entering the industry have an easier time than she did. She is happy to be a role model for them. "I want to give them hope that they can become the executive chef of such a large company."
Read More: Food Rules to Effectively Navigate Your Meeting Menus
Ruby Oliveros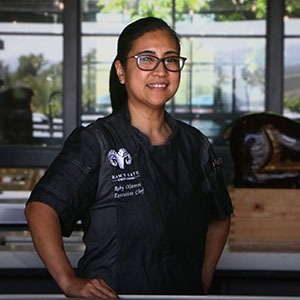 Sonoma, California
Chef Ruby Oliveros shows us just how far initiative and confidence can take women in the industry. She began her career as an intern at the Mandarin Oriental. When they had an opening for a sous chef, she thought, "Well, what do I have to lose?"
She spoke to her head chef and told him that she had never had experience in the kitchen or in a managerial role. However, she was committed to being part of his team, and she would work hard and learn quickly. He recognized her drive and decided to give her a chance. Chef Oliveros moved quickly through the roles of junior sous chef, then sous chef, then executive sous chef. Now, she is the executive chef at Ram's Gate Winery, where she develops creative menus to pair with the property's wines for exclusive tastings.
When she entered the industry, Chef Oliveros remembers, "It was all male. Everyone." Today, she shares that more women are in the industry than ever. "The biggest challenge is overcoming this stereotype that this industry is only for male chefs," she says. Stereotyping and harsh treatment were common at the beginning of her career, but Chef Oliveros says it forced her to take initiative and grow more confident and assertive.
She also shared that professional cooking is heavily based on French techniques, and though this is almost always expected, she makes an effort to add her own flare. "I will always work an Asian ingredient in a dish. It's my roots, I'm proud of it, and I understand the flavors." Just because a dish is French, that doesn't mean it should be limited to French ingredients and flavors.
Chef Oliveros has the expertise of flavor and texture to know what international ingredients enhance a dish. This often makes her meals pair even better with the wines. She knows that menus do not have to fit in a box. Creativity, expertise, and self-confidence open up a chef's world.
Sharon Nahm
Director of Operations and Executive Chef at E&O Kitchen & Bar
San Francisco, California
Chef Sharon Nahm didn't start cooking until college, but while studying biology, friends who saw her passion in the kitchen encouraged her to pursue cooking professionally. Now, she is the director of operations and executive chef at E&O Kitchen & Bar in San Francico, California, where she has worked since 2006.
When she started out as a line cook, her strong work ethic and genuine excitement about being in the kitchen made her stand out to her supervisors. When asked about being a woman in a male-dominated industry, she says "I didn't necessarily try to de-feminize, but you definitely don't want to accentuate the fact that you are a female in the kitchen. I tried to focus on working hard and doing the best I could. I spent my spare time learning other aspects of the kitchen on my days off to learn something new."
She fondly recalls working under a woman chef who approached her job through mentorship and observance. She was committed to bringing out the best in her team. Nahm says, "Knowing that she could do this was very positive and encouraging. The opportunities are out there."
Chef Nahm emphasizes that in culinary school, French culinary techniques took center stage, even if chefs were not necessarily going to be cooking French food. Nahm has had a range of experiences, in professionally cooking French, Italian, and American cuisines. Being Korean-American, she gravitated towards Asian food, yet she did not find cooking it professionally at the front of her mind; she says it instead fell into her lap when she began working at E&O.
In recent years, Chef Nahm has found that times have changed for the better. Modern chefs are more expressive, not only in cooking more global cuisine but also in expressing their individuality through their cooking styles and their own culinary interpretations to provide people with a distinct experience. The white coat used to be a requirement; now, the focus is on the food.
She believes in leading by example. Fostering an environment that nurtures teamwork and collaboration is a must in order to create an amazing culinary experience for chefs and guests alike. That's exactly what she does now at E&O.
Alice Seo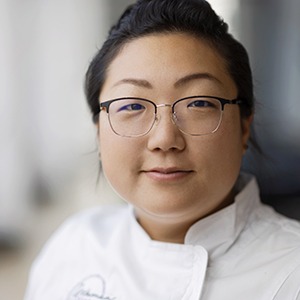 Seattle, Washington
Chef Alice Seo has two major passions: cooking, of course, and global health. She had just returned from an extended time working at a nonprofit women's and children's education program in India and Nepal when a former manager invited her to a culinary job fair. There, she met someone from Wolfgang Puck Catering who was putting together a team of chefs with experience in Japanese, Korean, Chinese and Indian cuisine. Her Korean-American background only added to her experience with these cuisines. The job was perfect. Chef Seo began as a sous chef, then became an executive chef. From there she became a general manager and now is district manager in Seattle.
Chef Seo expresses just how advantageous diverse cultural backgrounds are to chefs. She recalls a breakfast service for an international clientele during which a customer asked for gravy. Her team was confused. They weren't serving biscuits, only toast, so sausage gravy didn't make sense. She asked her office manager to find out who the customer was. The customer was from India, and Chef Seo knew from her time there that gravy refers to curry. She and her team made a tomato-based curry, and the customer was thrilled with their service. "To me," says Chef Seo, "that's an example of what cultural awareness is. Rather than just assuming, we should ask questions and be curious."
Read More: The Joy of Inclusive Cooking
In terms of being a woman in the culinary industry, Chef Seo says that though she feels confident now, there are still moments when she faces both external and internal pressures to outperform constantly to make sure her skill is noticed.
People would often confuse her for a pastry chef; Though she loves pastries, she never was. When she went on maternity leave, almost everyone asked her if she was ever coming back. She had never considered not returning, but these questions put the idea in her mind. "It's these contexts that women have to navigate, and men don't," she says.
She has seen improvement in the industry throughout her career. "I don't think, when people see me, they're surprised to learn that I'm a chef. Ten, fifteen years ago, absolutely, they would have been."
She shared one piece of advice she wished she had known from the beginning: "Take a seat at the table. Don't wait for someone to invite you. Take up space and show up for what you believe in."
She finds a lot of inspiration in her multidimensional background, not only in numerous global cuisines but in her eclectic education and the support system she finds in her family. She is committed to guiding talented chefs who work under her, and at the same time she continues to work in global health. "You can do both! You can be whoever you want to be."
Read More: Empowered Women Take Center Stage