Wouldn't you rather forget where you are for a moment and feel like you're there? Spinning slowly in a grandiose ballroom or stepping inside a hotel suite, the ocean view through the doors to the balcony—the next generation of virtual reality (VR) can deliver so much more than pretty worlds through clunky goggles.
For event planners, reality-shifting exhibitions are about experiencing a space, destination or concept, as the virtual exists as a thin film does, covering, challenging and contesting reality. The crux of merging VR media and technology with the event and hospitality industries is in their shared inclination and motivation to effect experiences.
Smart Meetings talked to Scott Schoeneberger, managing partner at Bluewater Technologies Group Inc., a multimedia design and tech company, to map out best practices for putting the technology to work in the conference center, and he shared experiences developed alongside event organizers who understood the possibilities.
Planners Step into Another Space
Among growing collectives of software engineers and artists, Bluewater, Parallel, Odyssey and Skullmapping are emerging virtual reality (VR) technology companies finding ways to generate and exhibit cost-effective, Covid-safe and immersive virtual realities for businesses. "VR is not just for entertainment," said Schoeneberger excitedly. And it's past the point of meaning a nauseating pair of goggles over your eyes, reanimating the world from your direct line of sight to your peripheral.
VR is about immersion, and software engineers are finding that it doesn't take removing the space around us to alter realities. The evolving VR technology supports experiences that teach and connect people—a practice at the heart of event planning.
Parallel, a partner platform that works in tandem with Bluewater as one, unified support for entirely virtual events, says it isn't about "[replacing] real-world events," but extending them.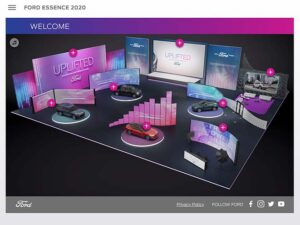 With Parallel, Bluewater is pivoting once major in-person events to successful virtual ones with undeterred audience engagement. The tech company developed and built an entirely new, fully virtual booth for Ford Motor Company to attend the 2020 Essence Festival. The VR programming gave participants the ability to virtually explore the interior and exterior of Ford's vehicles and watch the on-demand virtual Ford stage for speakers and presentations. The result was a company able to deliver unique, fulfilling experiences. VR was a key in the hand of Ford's event planners.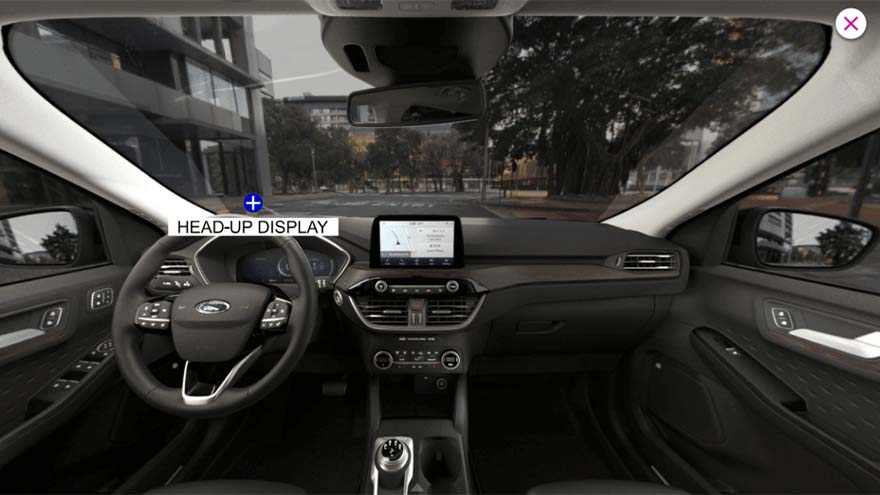 National Nail, the commercial and industrial construction company, needed a big space for a big virtual kickoff event. So, Bluewater hosted event organization personnel at its production studio in Grand Rapids, Michigan, where planners and presenters virtually hosted the event. The stage was set up with audio and visual recording equipment and glowed under an imposing stretch of backdrop covered in LED lights.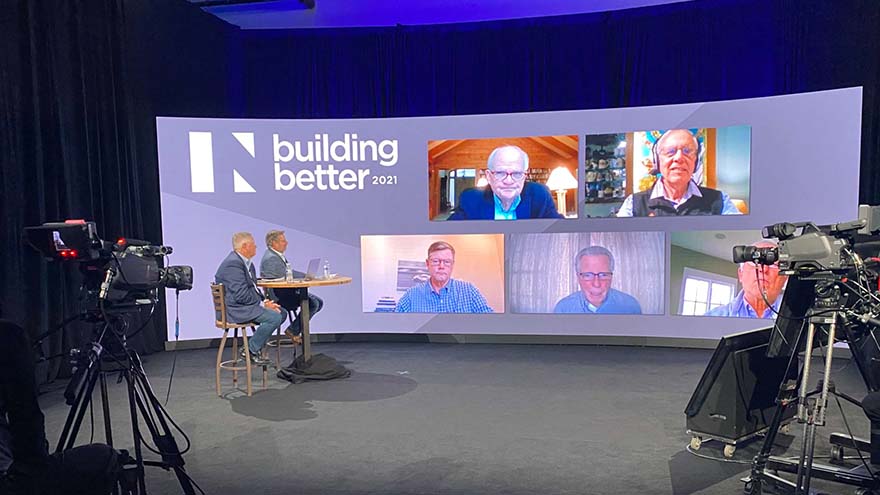 Bluewater also helped host a virtual event for The National Association for the Advancement of Colored People (NAACP) shortly after partnering with Parallel.
The opportunities for virtual and hybrid events are nearly endless with the right VR tech. Not only are leading virtual tech companies opening doors through software development—they're creating brand new spaces around, with and for event organizers.
Odyssey, an expansive, in-world virtual meeting platform, is hosting large-scale, entirely virtual conferences within an entirely virtual reality. Attendees at conferences, events and meetings supported by Odyssey can walk around with an "in-game," as Schoeneberger puts it, avatar to different individual, divided meeting spaces. Participants take their virtual seats next to their colleagues' avatars and jump right into the conversation happening in that room. It can all happen at once, and it can all happen from behind the remote screens of meeting professionals, ready to engage.
Read More: Create Experiential Moments That Bring Your Meetings to Life.
An Accessible Tool: How to Start Small in a Pandemic-Stricken Event Climate
But VR, as we understand it now in an irrevocably altered, virtual world, is still young and still making friends in the industry. A couple of questions are bound to creep into mind for planners curious about the benefits of VR in events—how do I navigate the complexity of incorporating this novel tech? And what about the expense? Virtual events are clearly integral right now, and hybrid events are king as we return to meetings. But what does it take to access VR tech?
Nationwide, QR codes raised similar questions before restaurants started using them in place of menus and businesses began incorporating them into ads. Schoeneberger explained that QR went nowhere until a reliable means of accessing them emerged, until mobile phones in the U.S. had the software needed to utilize QR codes through the phone camera.
This is no-headset-needed VR. Whether arriving to the event through a virtual program such as Odyssey or visiting a site through virtual 3-D rendering at an in-person meeting or event, VR in meeting and event design is about creating collective immersive experiences.
The VR headsets were cumbersome, motion-sickness inducing and not nearly as accessible as our mobile and desktop devices. But while the novel software may have started out by gaining a bit of a bad rep, VR is changing and expanding fast. As the technology gets more accessible without the requirement of a headset, as more businesses and organizations use VR in their virtual and hybrid events, VR tech and services become more feasible in the minds of planners—and more affordable. To participate in an event hosted by Odyssey's Sims-like, VR meeting platform, for instance, the cost is $6 per attendee.
Virtual Storytelling Gathers Communities in the Physical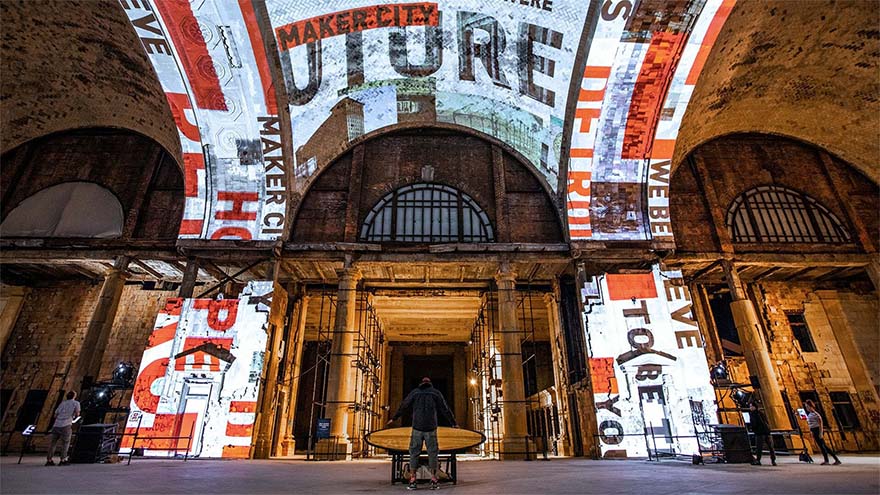 We've also been seeing the success of VR in artistic and cultural spaces, even amid the pandemic, such as Otherworld Immersive Art Experience in Columbus, Ford-sponsored "For Detroit" at Michigan Central Station and SPECTRE, a Detroit art and classical music installation—projects supported by Bluewater. These exhibitions have managed to fully incorporate immersive and interactive VR into their marketing and events—and it has enhanced their goals and their means to meet them.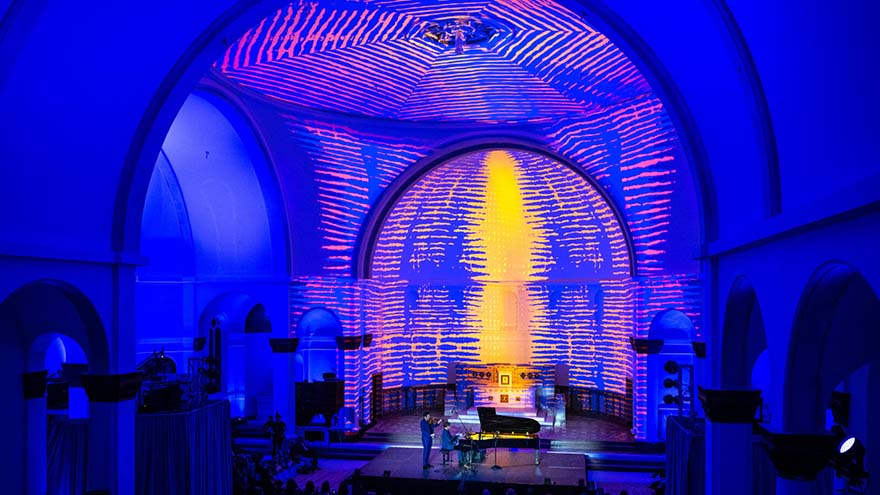 Regarding projects like "For Detroit," with its LED walls, projections of blown-up words and images plastering the ceiling and relics from history on display, the support of VR can help to establish and define an artistic or historical narrative. Other events, such as Columbus' Otherworld, tower over those that visit, covering them in twinkling lights and morphing projections. Software programming and digital fabrication with large-scale sets build a curious, idea-evoking "alternate realm" around its audience.
Participants in these exhibitions follow a story led by a sort of string into another frame of mind, inciting quick learning and provoking critical thought.
VR has the immersive capacity to affect and engender not only event experiences, but narratives that inspire original, industry-progressive ideas.
Planning Immersive Experiences for Experiential Learning
As planners, we want to captivate audiences with our welcome. VR event design features can entertain reception guests while reinforcing topics covered during the event. It can bring properties and destinations for events-in-planning to the table with virtual 3-D rendering. A VR-supported presentation can transform your event, itself.
VR does several things that the simple, yet beloved PowerPoint presentation cannot. It adds a learning component, making VR presentations a "canvas for message delivery," said Schoeneberger. Its back-learning quality is achieved by immersing attendees in the information and the message, effecting an environment built for experiential learning.
Depending on its production, VR can make events more flexible while offering event managers more control over the situation. The entertainment aspect "breaks up the monotony" of meetings, as each VR-involved presentation and performance is uniquely transportive.
Immersive events also attract media attention. After all, social media hinges on the hand-held self-creation of and participation in virtual realities. And planners know, social media attraction also means exposure, ticket sales and company growth.
Creating experiences and the desire to create engaging ones is written into events and hospitality's DNA. VR in meetings and events urges us to reflect comparatively, to consider the space, concept or presented information through a comparative and critical lens. It helps establish a consistent narrative that drives the message home and activates attendees with a clear vision.
VR support in events lets our ideas wander through new spaces and lets us continue to share the heart of meeting planning through the immersive experiences we build.
VR in F&B
The international growth of Le Petit Chef 3-D Dining Experience is thanks to the artistic collective Skullmapping. The company has been redesigning the hospitality industry's food and beverage scene for several years, and dinner's the entertainment. Le Petit Chef, restaurants by The Culinary Institute of America (CIA) at Copia, opened its first location in April of 2015 and now has 27 locations around the world.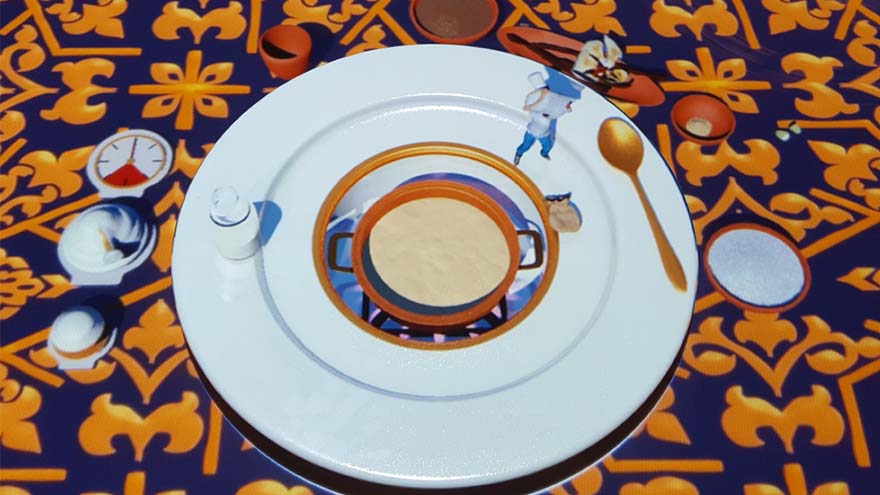 Through programming and design by Belgian co-founders at Skullmapping, the fine-dining restaurant chain features 3-D animations, including a very small, pixelated chef projected onto guests' plates. The pocket-sized virtual chef acts as a miniature six-course dinner guide. Co-founder Filip Sterckx's work on projection mapping and animation with co-founder Antoon Verbeeck's paintings and other visual art have allowed CIA to expand the restaurant far beyond its humble beginnings and transform dining into an adventure.
The little, virtual chef serves as a storyteller, weaving together experiences and why they matter.
Be the First to Know
Everything you need in one beautiful print and digital magazine