Classic Blue has been chosen as Pantone's 2020 Color of the Year, signalling that it's likely to be increasingly turning up at meetings and events during the coming year.
That's because planners often make a deliberate effort to incorporate the fashionable and trendy—whether it be colors, food or hashtags—into their gatherings to stay current and relevant.
The Color of 2020
Pantone is best known for its Pantone Matching System, a proprietary color-space system used in a variety of industries—notably graphic design, fashion design, product design, printing and manufacturing—and for supporting the management of color, from design to production. 2019 saw Living Coral as the Color of the Year and in 2020 Pantone kept with an under-the-sea theme by choosing Classic Blue (19-4052).
Ahead of the announcement, Laurie Pressman, vice president of Pantone Color Institute, disclosed in February that the 2020 color is inspired by the sea. She mentioned blues can be backed by browns and greens to represent driftwood, seaweed and white-sand-tinted hues.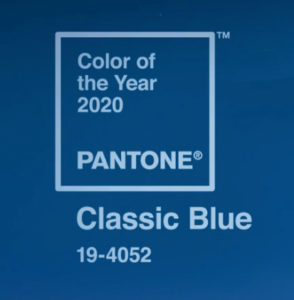 Texture and Layering
In addition to using the sea to inspire a color palette, Pressman also touched on the importance of texture and layering in 2020. The mysteriousness, fluidity and countless different textures found in the ocean can be portrayed through combining and layering colors on objects of varying textures.
How to Use It
Every event needs a color scheme, and while planners can stick to company colors, they can also draw inspiration from Pantone by having a sea-inspired 2020 event. For a subtle nod to fashion and design trends, planners might opt fora blue-green-based aesthetic. Classic Blue is sleek and elegant, and some greens and whites can be mixed in for a fun, colorful vibe; or, planners can choose navy blues and silver for a dignified, luxurious aesthetic.
When incorporating color into your events, everything from linens to flowers, to decorations should be considered. Naturally colored food, such as blueberries or blue potatoes, and colorful blue cocktails is another way to go above and beyond with blues while sticking to your color palette.