Five European cities are the world's most sustainable destinations, according to the recently released 2019 Global Destinations Sustainability (GDS) Index.
Every year, the GDS-Index provides the list and gives awards to those that show the most innovation, leadership and improvement. Here are the leading destinations, worthy of close consideration when planning your next environmentally conscious event.
More: Want to be a Sustainability Expert?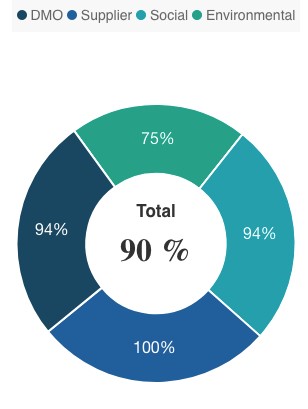 Top Five Most Sustainable Destinations
Gothenburg, Sweden, 90 percent
Copenhagen, Denmark, 88 percent
Zurich, Switzerland, 85 percent
Aalborg, Denmark at 76 percent
Glasgow, Scotland at 79 percent
Methodology
To determine which cities are the most sustainable, the GDS references 70 indicators, which are spread across four key areas: city environmental performance, city social performance, supplier performance and destination management performance.
More: International Meeting Safety Checklist
The indicators range from the physical to the social and political, and include everything from air quality, waste and transportation to corruption and governance practices. The percentages listed above are determined by aggregating the total number of points a destination receives for each indicator, then dividing it by the total number of points possible.
Other Destinations in the Top 20
In case the top five destinations listed above aren't in the cards for you, here are the remaining 15 most sustainable destinations, to give you more options when planning sustainably.
Reykjavik, Iceland
Malmo, Sweden
Sydney, Australia
Uppsala, Sweden
Melbourne, Australia
Dublin, Ireland
Stockholm, Sweden
Aarhus, Denmark
Lausanne-Montreux, Switzerland
Galway, Ireland
Brussels, Belgium
Ljubijana, Slovenia
Oslo, Sweden
Helsinki, Finland
Kerry, Ireland