The global phenomenon of Harry Potter all began with author JK Rowling scribbling notes on a napkin. Those notes turned into books, which turned into a film franchise, Broadway show, theme park and so much more. The Wizarding World of Harry Potter first opened at Universal Orlando Resort in 2010 and has been expanding since. Diagon Alley at Universal Studios Florida and Hogsmeade at Universal's Islands of Adventure are connected by the Hogwarts Express train ride.
Millions of Potterheads flying on broomsticks to Universal have increased the demand for on-site hotels. The brand-new 600-room Aventura Hotel opened Aug. 16. It doesn't have meeting space, but provides overflow rooms. Endless Summer Resort, comprised of Surfside Inn as well as Suites & Dockside Inn and Suites, is currently under construction. Upon completion, it will join the three Loews—Loews Sapphire Falls Resort, Loews Royal Pacific Resort and Loews Portofino Bay Hotel—properties, along with Aventura, Hard Rock and Cabana Bay Beach Resort, bringing the total to eight hotels by 2020.
"Universal Orlando has experienced unprecedented growth in recent years, which has allowed us to further commit ourselves to providing an unparalleled meetings and events experience," says Vince LaRuffa, senior vice president of resort marketing and sales for Universal Orlando Resort. "Since the opening of The Wizarding World of Harry Potter-Hogsmeade in 2010, we've seen a tremendous growth, both for our in-park events and hotel meetings. This demand has allowed us to more than double the number of hotel options we now offer on-site, including the addition of The Loews Meeting Complex, which offers planners 247,000 sq. ft. of meeting space."
Diagon Alley and Hogsmeade both re-create the film franchise's famous sets. The areas can be rented for private in-park events full of wannabe wizards. Earlier this year, The Nighttime Lights at Hogwarts Castle became available to meeting professionals as an event enhancement. Lights and images are projection-mapped on the exterior of the magical building where Potter, Hermione Granger and Ron Weasley attended school.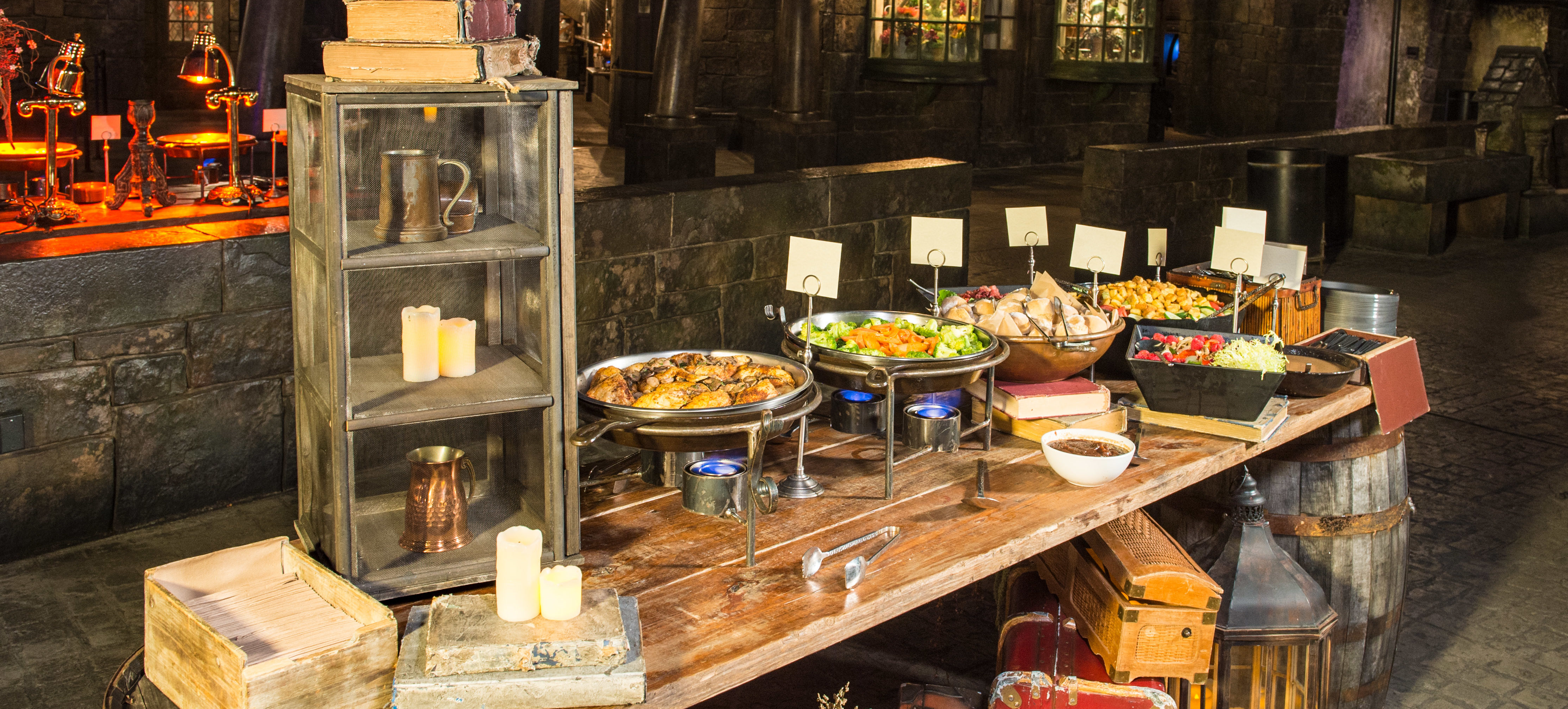 Planners can serve butterbeer, elixirs, Bertie Bott's Every-Flavour Beans, Exploding Bon Bons and other magical foods and drinks to all your muggle guests. For a fun team-building competition, sort attendees into the story's four houses—Gryffindor, Slytherin, Ravenclaw and Hufflepuff.
A sign hanging on a fence in Hogsmeade reads, "Notice: Magic at Work. Your Patience is Requested." That's because an all-new attraction is under construction. Very limited information has been released regarding the theme of the roller-coaster, but it's expected to open in 2019.
There is currently 295,000 sq. ft. of meeting space in partnership between Universal, Loews and the John Tisch family, and that is all thanks to Rowling, who was a single mom on welfare with a creative mind. She has also written on an airplane air-sickness bag and a dress hanging in her closet to jot down brilliant ideas. Bring a pen wherever you go.
Read more about Greater Orlando in Paige Feigenbaum's story in the upcoming October issue of Smart Meetings magazine.