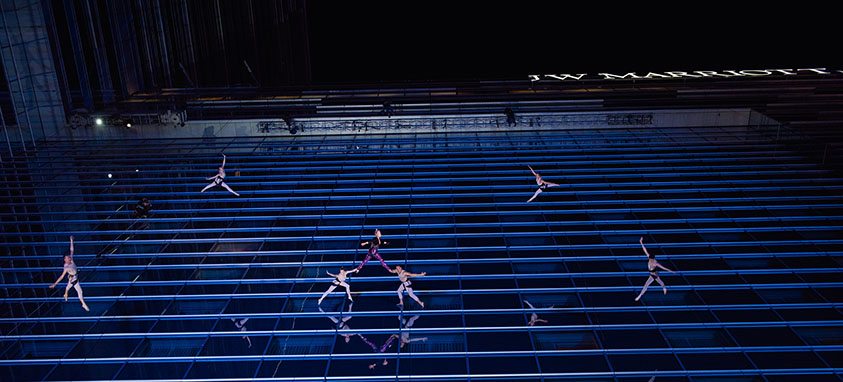 Katherine Barcsay
On a scale of one to Pink, the pop superstar's American Music Awards performance on Sunday night was off the charts at 26. Twenty-six stories, that is. That's how high up the songstress and her dancers were dangling off the side of the JW Marriott Los Angeles L.A. Live as they scaled the hotel during an intricately choreographed, jaw-dropping routine to her hit song "Beautiful Trauma." The exterior of the 878-guest-room hotel served as their dance floor. Pink and her entourage waved to some unsuspecting lucky guests who scored front row seats from their room windows. So, just how can meeting professionals draw from this awe-inspiring performance?
BANDALOOP
The sky isn't even the limit for Oakland, California-based BANDALOOP, which performed alongside Pink. They have set up their rigging on skyscrapers, bridges, cliffs and the Seattle Space Needle as well as inside ballrooms and convention centers. Meeting professionals can hire them to wow the crowd for a fully customizable show. It takes a lot for Mother Nature to stand in the way. The mountain-climbing trained troupe can withstand most inclement weather conditions, including wind and a blizzard in the Arctic Circle. "They are as strong as the audience," Rika Iino, founder, producer and director of artist development for Sozo Artists, the agency that represents BANDALOOP, tells Smart Meetings.
A representative from the vertical dance company conducts site inspections to determine how best to perform at your event and work out the logistics and technicalities, including rigging, lighting and sound. They assess safety measures and risk management. The performers rehearse on-site for two to three days ahead of the event and the quantity of dancers and entourage, as well as the duration of the performance, varies show-to-show.
An immersive aerial experience can turn attendees into marionette puppets and help your team bond. Sir Richard Branson, who appears on the cover of the November issue of Smart Meetings, gave The BANDALOOP Experience a shot with members of his Virgin Galactic Spaceport staff. He described the exhilarating workshop as "delightful, fun, professional [and] artistic."
The half- or full-day class can take place at their Oakland studio or any place that can accommodate rigging. While dancing on walls, participants will learn valuable lessons about innovation, communication and risk management in a customized curriculum designed to reinforce the meeting's goals. It is amazing how quickly barriers break down when the CEO is challenged to scale a sheer wall.
BANDALOOP artistic director Amelia Rudolph is available to deliver keynote addresses to discuss how she conceived this concept more than 26 years ago by marrying the artforms of climbing and dancing. Considered to be a pioneer of vertical dance, Rudolph has used it to build and enrich communities. In her address, she shares her personal story and the goals of the dance troupe. Rudolph's resume includes speaking engagements at TEDx in Yosemite and Sonoma County.
Cirque du Soleil
World-renowned Cirque du Soleil has a global events company called 45 DEGREES that enables meeting professionals to book acts for private appearances. Planners can also take groups to Cirque resident and touring shows and arrange for priority seating and exclusive behind-the-scenes tours. In Riviera Maya, Mexico, their dinner-theater show, JOYÀ, combines all five senses to create an immersive culinary and performance experience for the audience. Groups can dine and sip champagne as they take in breathtaking entertainment.
https://vimeo.com/140197603
Headquartered in Montreal, Cirque du Soleil invites teams into their training gym to experience a day-in-the-life of a performer, including learning choreography, costume fitting and auditioning. Meeting professionals can further educate attendees with a presentation called "The Business of Cirque: Creating Magical, Memorable, and Immersive Customer Experiences," which provides a backstage tour and conversations with performers, technicians and management.
Las Vegas plays host to countless meetings and is home to numerous Cirque du Soleil residencies. The company offers SPARK Sessions in Sin City as a team-building exercise. It gives participants the once-in-a-lifetime opportunity to get on the equipment used by the skilled performers in the shows and learn from the experts. The sessions place emphasis on operational excellence, customer experience and employee engagement.
At Club Med, a popular destination for all-inclusive meetings, 45 Degrees installed an elaborate circus-themed playground called Creactive by Cirque du Soleil at resorts in Punta Cana and Opio en Provence in France. Trained staff members teach guests the art of trapeze, trampoline, aerial silks and tightrope walking.
Trapeze School New York
If you want your meeting guests to fly through the air with the greatest of ease, consider scheduling a team-building outing to Trapeze School New York (TSNY). With locations in New York City, Los Angeles, Chicago and Washington, D.C., TSNY builds team spirit, cooperation and group dynamics while helping new flyers conquer fears. They can swing and flip their way to success and hone a newfound sense of bravery to take on the world. Pink herself has even been spotted training at the Santa Monica Pier location and a "Sex and the City" scene featuring Sarah Jessica Parker as Carrie Bradshaw was filmed at the Pier 40 set-up in NYC.