Star Spangled 200 (All photos courtesy of Fireworks by Grucci)

Visualize looking up at the dark night sky and seeing your event or brand logo bursting in color. Now imagine looking at the expression of awe on the faces of your event's attendees. Incorporating fireworks into a meeting can be impactful, but there are several boxes to check before pressing start.
"I think the lasting effects of a good firework show are forever," Phil Grucci, president/CEO of Fireworks by Grucci, Inc. and Pyrotechnique by Grucci, said. "Four hundred feet from the White House or roof of a billion dollar building. That experience can extend from a big open field…to the world's tallest building like the building in Dubai…[The] sky is the limit, literally."
Branding
To promote your brand, you can have a name or logo emblazoned in fireworks. A professional firework company can make that happen a couple of different ways. A stationary set piece can feature the logo surrounded by pyro. Or, in new technology developed by Grucci, a technique called "sky etching" produces a series of dots in the sky to spell out a word.
Hire Professionals
Meeting professionals wishing to entertain guests with a firework display first and foremost need to hire a licensed, insured and reputable professional pyrotechnic company to execute the performance. "[A] firework company should be a one-stop place to handle everything," Julie Heckman, executive director of American Pyrotechnics Association, said. They're responsible for acquiring necessary permits, insurance, being aware of noise curfews in the area and alerting local authorities who may need to close streets and manage traffic.
The firework company will also clean-up the launch zone. "You should have a company that …leaves that site exactly as it looked like when they got there," Grucci said. The only housekeeping the meeting professional takes on is raking up fallen paper near the discharge site.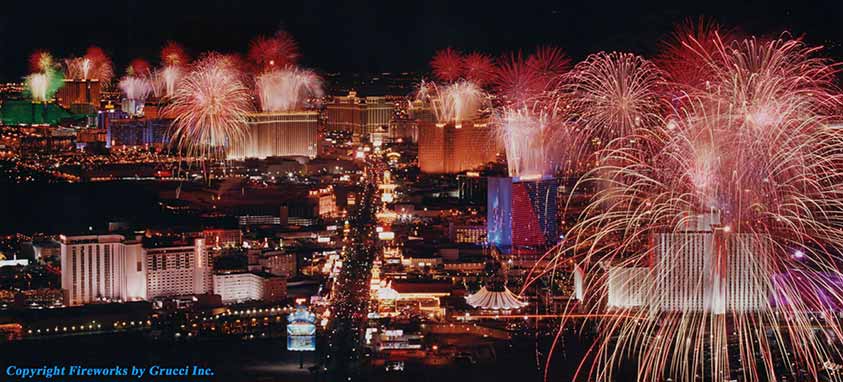 Las Vegas Strip
By Land And By Sea
Keep in mind that fireworks being set off from barges in the water come with additional complications. The firework company will need to work hand-in-hand with the U.S. Coast Guard and navigable waterways may need to be closed to other boat traffic. Pyrotechnicians aboard the barge need to take proper safety precautions, such as wearing life vests, having adequate lighting and safety ladders present. Meeting professionals should oversee safety measures from the shoreline to prevent spectators from falling in the water.
If you plan to keep the party indoors, be advised that some cities, states, buildings and fire codes prohibit pyrotechnics inside, hand-held and cake-mounted sparklers included. Grucci suggested checking with the local fire authority to confirm that sparklers can be used without a permit and to learn if a pyrotechnician needs to be present to supervise.
Logistics
Once you decide as a meeting professional to treat attendees to a beautiful fireworks show, you need to get down to the nitty gritty of when in your program you'd like to schedule them, duration and music selection.
For the American Pyrotechnics Association annual convention, Heckman likes to go out with a bang with a big firework show as "our closing event." At their 2005 conference at the Hyatt Regency in San Francisco, she contacted the local CVB ahead of time to see if any other groups would be having events at the same time. It turns out Oracle was throwing a big party too, so she invited their attendees to enjoy the fireworks in exchange for her guests getting to go to portions of Oracle's event.
Music choice depends on the theme of the event and the reason for celebration. The meeting professional can certainly have a say in this and work with the firework company to "customize" the tunes, Heckman said. Duration of a firework show can vary, but it's important to keep your audience captive. You don't want them to lose interest if it goes too long, but you also don't want to cut it short. So, what is the sweet spot? "Anything over 20 minutes tends to get boring. I would say that a 12-16 minute show is plenty," she suggested. Grucci added that firework shows in Vegas are typically only six minutes in length to get gamblers back in the casino quicker.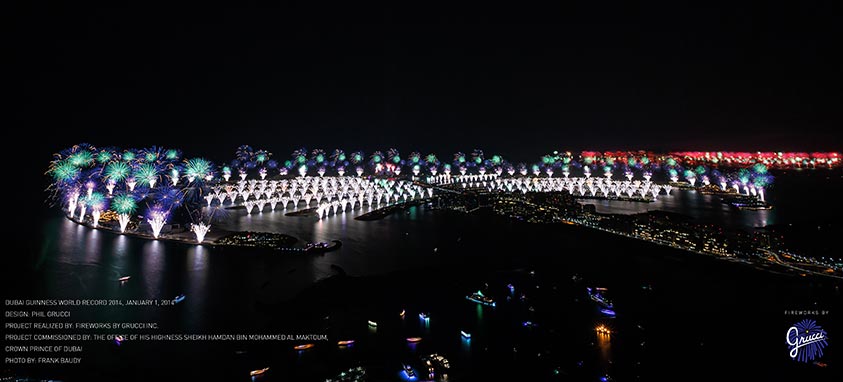 2014 Guinness World Record; Dubai, United Arab Emirates

Budget
Fireworks do not come cheap and there is a widespread price range depending on the complexity, duration and location of the show. Grucci classifies their offerings into four categories. Traditional firework shows can cost anywhere from $4,000 to $40,000. Elaborate displays choreographed to a music soundtrack can run up a tab of $40,000 to hundreds of thousands to millions. He said the most expensive firework show ever produced was $10 million!
Inclement Weather
Event professionals do run the risk of losing thousands or millions if the unpredictable Mother Nature gets in the way. Grucci said many contracts with professional firework companies come with a 100 percent payment clause that requires full payment if everything is already loaded by the time an event is cancelled. It costs his company more to pack everything back up and bring it back to their storage facility than it does to blow it up. To minimize financial damage, planners may want to consider taking out event insurance.
Grucci explained that different cities have different protocols when it comes to wind speed. For instance, if winds reach a speed of only 10 mph in Las Vegas, a firework show must be cancelled or delayed. Some places experiencing a period of drought might restrict or prohibit open flames.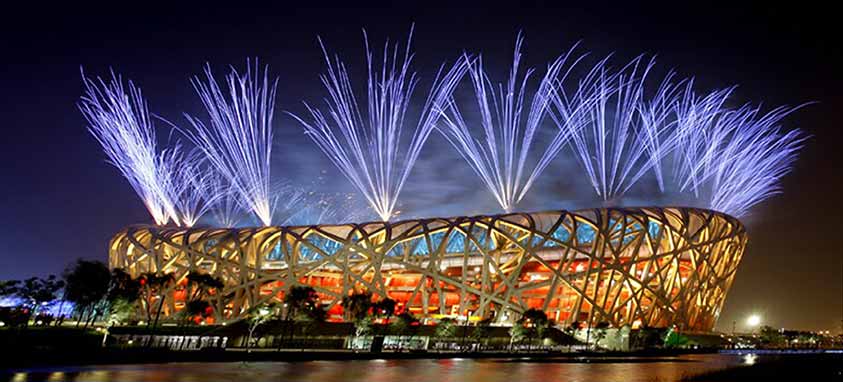 2008 Summer Olympics opening ceremony, Beijing
Safety
Heckman explained that the firework industry abides by the safety regulations set forth by the National Fire Protection Association Standard 1123 titled "Code for Fireworks Display." These guidelines contain a mathematical equation to determine the distance spectators need to be from the point of discharge. Some locations may have additional requirements, which the hired professional firework company will be aware of.
Most firework shows nowadays are set off electronically. "You still always have a pyrotechnician monitoring the system at all times," Grucci said. "[There's a] dead man switch in the event you need to immediately stop the program."
A safety lesson can be learned by event professionals in the aftermath of the tragic Station nightclub fire in which 100 victims perished after fireworks ignited a blaze during a concert in February 2003 in Rhode Island. It is very important to confirm that the building where you are holding an event is up to code, is not constructed of flammable material, fire extinguishers are easily accessible, the venue has a sprinkler system and there is an evacuation plan in the event of an emergency.
Event professionals should also consider posting proper signage that pyrotechnics will be used to notify guests who may suffer from sensory issues, such as autism or seizures.
Smart Tips:
Plan ahead because fireworks require permits that cannot be obtained at the last minute
Secure an appropriate venue and consider bringing a firework expert venue shopping with you
Hire a professional firework company with well-trained staff
Make sure firework company carries a minimum of $5 million insurance in general liability
Meeting professionals should be listed as an "additional insured"
Make sure firework company is licensed to operate in jurisdiction where meeting is being held