How a celebrated chef is like a smoked salmon pizza
Wolfgang Puck
He was, arguably, America's first celebrity chef. Before Emeril. Before Nobu and Bourdain. It all began improbably enough. A mop-haired, 25-year-old immigrant made his way to Los Angeles, and in 1975 takes over the cramped kitchen of a threadbare restaurant on unfashionable Melrose Avenue. This was Ma Maison, with a tented dining patio on its asphalt parking lot that was less fancy than parklets that have sprouted up outside dining establishments of the pandemic. It had secondhand folding chairs and was carpeted in AstroTurf.
And yet, as word got around, there was ovoid Orson Welles at his daily table near the restroom, where the kitchen snuck him samples of new dishes being perfected. And there, on the bright patio, dined table after table of Hollywood megastars like Jack Nicholson and Elizabeth Taylor, many other A-listers, on screen and off, even the occasional world leader such as Moshe Dayan, defense minister of Israel. They were air-kissing each other and table-hopping between bites.
Artists like Andy Warhol and David Hockney painted menu covers.
Out front on the parking asphalt, Rolls-Royces lined up facing Melrose like chariots of the gods. Inside, the phone was ringing off the hook for reservations. The number was unlisted.
That chef, of course, was Wolfgang Puck.
Born Wolfgang Johannes Topfschnig in a river valley in southern Austria in 1949, he later took the surname of his stepfather. His mother was a pastry chef. After apprenticing in well-regarded kitchens in France and Morocco, he came to the United States and took a job at a stuffy French restaurant in Indianapolis. Then he moved to the City of Angels.
He teamed with Patrick Terrail, of the family that owns the four-century-old Parisian landmark La Tour d'Argent, and they made Ma Maison L.A.'s hottest dining ticket until, in 1982, Puck decamped to launch the original Spago on the Sunset Strip. His upward trajectory was set.
So was his zest for being a soupcon ahead of his peers. When he opened Spago at the Forum Shops at Caesars (now relocated to Bellagio) in Las Vegas in 1992, at a time when dirt-cheap buffets and restaurants mired in yesterday still ruled, nobody came at first. Puck is said to have wondered aloud if he had made a huge mistake. The rest, as you already know, is history—as Puck led the parade of contemporary fine dining that has made Las Vegas into a culinary destination, while opening six more restaurants in that neon-lit city.
He also did farm-to-table before the term was coined. His technique may be French-trained, but his California cuisine has always been centered on relationships with the best local growers and producers. Before this became easier to do—and the norm for many chefs—he scoured the state to find the freshest and finest ingredients.
Today the Puck empire is vast and varied. Wolfgang Puck Fine Dining Group encompasses more than 20 upscale restaurants in the U.S., from Atlantic City to Maui. Wolfgang Puck Worldwide Inc. includes a portfolio of company-owned and franchised casual dining and fast-casual restaurants, as well as consumer products like kitchen and food merchandise, cookbooks, canned foods and coffee products, and other licensing and merchandising projects.
Most apropos to the meetings industry is Wolfgang Puck Catering (WPC), established in 1998 with partner Carl Schuster (who also serves as secretary-treasurer of LA Tourism). Perhaps its most marquee client is the Academy of Motion Picture Arts & Science, as official caterer for the Academy Awards Governors Ball. However, WPC is also working right now to reinvent visitor food service for Space Center Houston, in addition to having offices in seven U.S. cities. WPC provides food service, catering or both for such iconic venues as L.A. LIVE, AT&T Performing Arts Center in Dallas, University of Chicago Gleacher Center in Chicago, Museum of Science and Institute of Contemporary Art in Boston, Newseum in Washington, D.C. and Georgia Aquarium in Atlanta, as well as many others. Its catering spans events with 30,000 attendees to private dinners for two.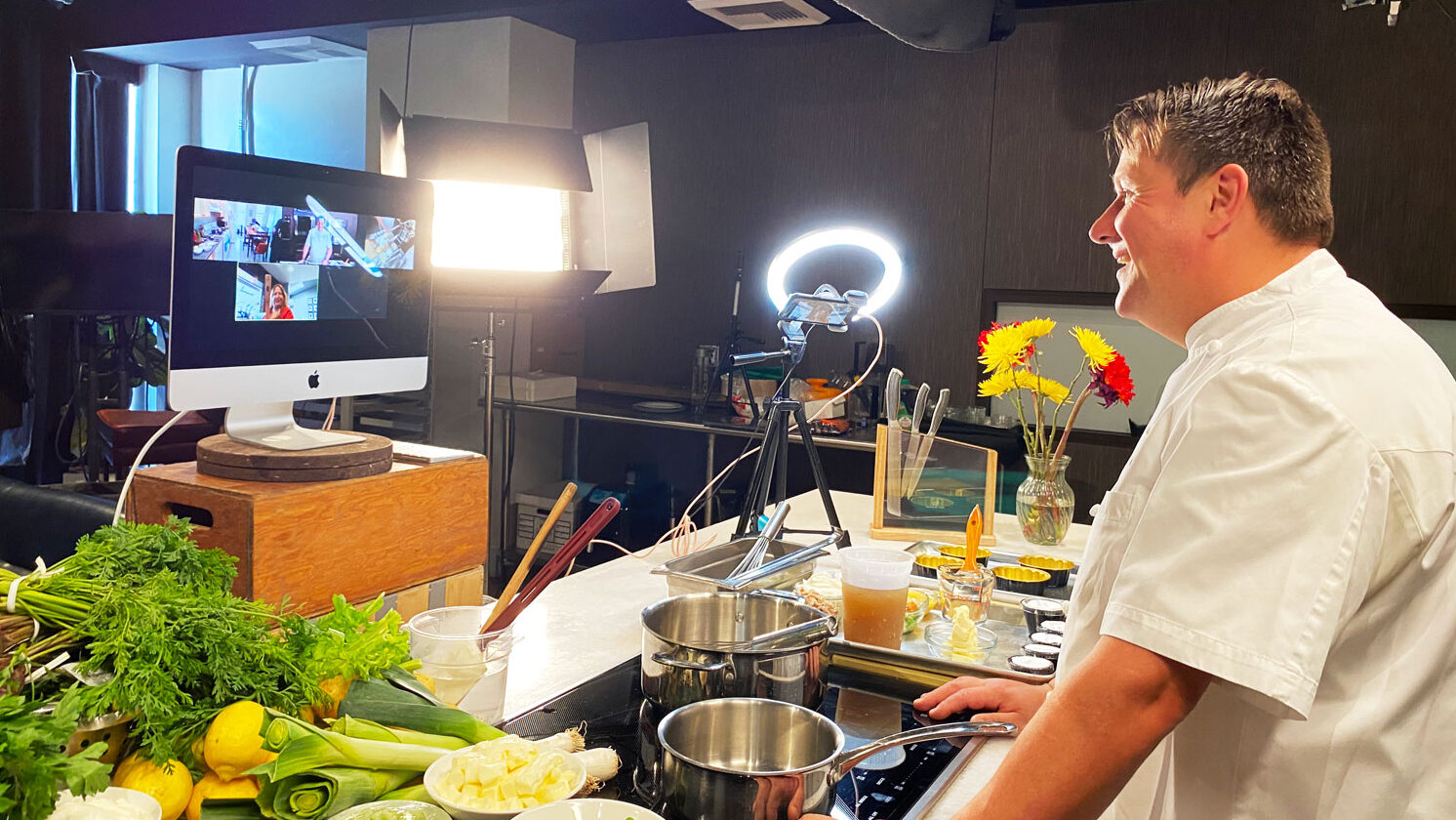 During the pandemic, WPC launched Virtual Chef for team building and celebrations, where attendees are sent meal kits and get to cook risotto or chicken pot pie along with Puck or another WPC chef.
In this, too, he has led. No other celebrity chef in this country has immersed himself so widely and deeply into the panoply of events.
Duck, Deconstructed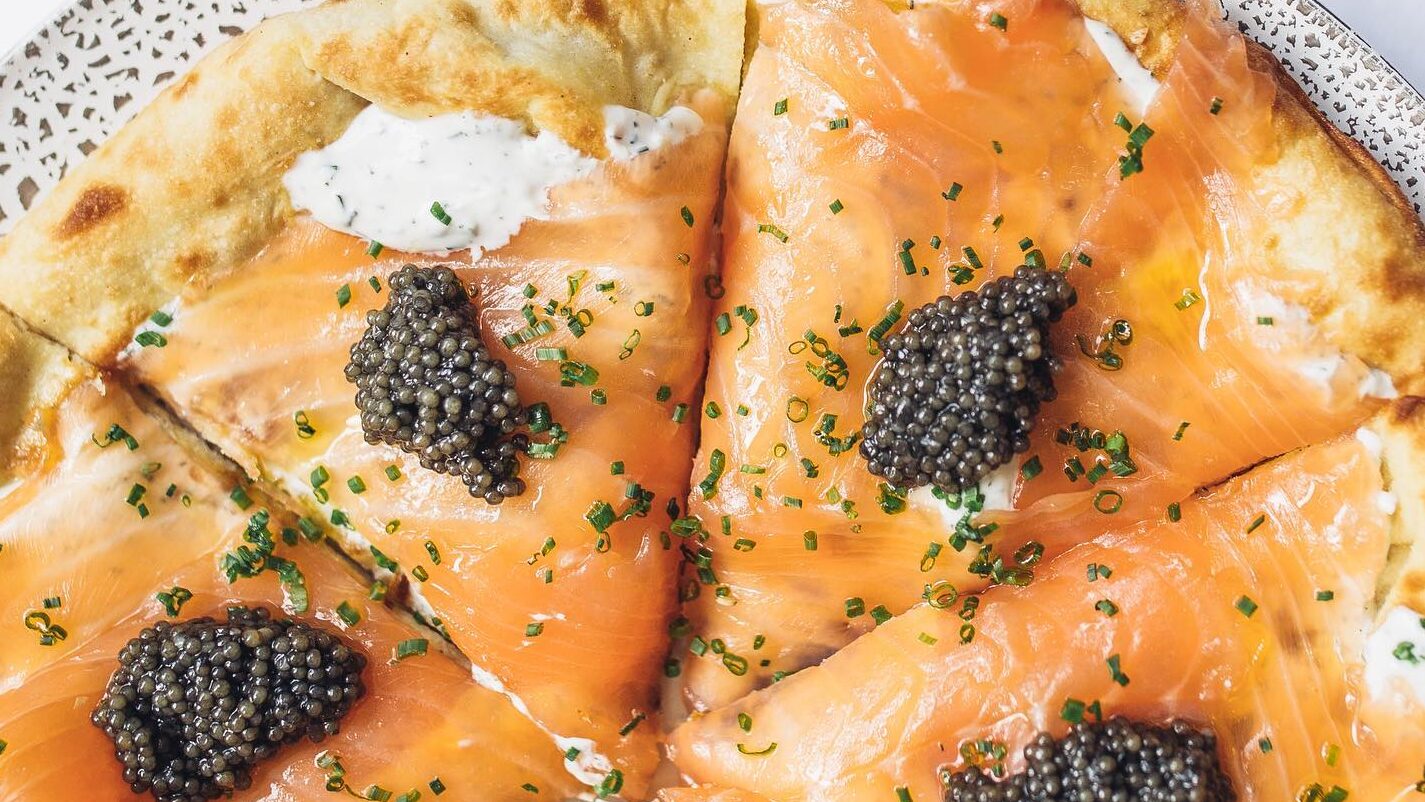 The man won two Michelin stars for Spago. He's personally worth, by one estimate, in the range of $120 million. By dint of talent, personality and perseverance, he has accomplished more than the lowly Austrian dishwasher he once was could ever have imagined. Yet he'll turn 72 in July. Though showing few signs of slowing down, he's inescapably entered that stage of life in which thoughts turn to legacy, what lasting imprint is left behind.
You know he has to be thinking about it.
When he answers the phone, the voice is unmistakable. It is the voice of a thousand Food Network shows and cameos as himself on Frasier, Las Vegas and Tales from the Crypt. It is 1 p.m. on a recent Monday, but if you're wondering what a world-famous chef had for lunch, your curiosity will remain unsatisfied.
"It's early, I eat late," he says, before adding that he plans to drop in at his latest dining venture, The Pendry West Hollywood, a new boutique hotel by Montage Hotels & Resorts where his oldest son, Byron, oversees the Puck-managed F&B, including two restaurants and room service. "I might have lunch with him."
OK, then, what's his secret sauce? WPC, like all its competitors, suffered through furloughs and layoffs over the past year, yet it keeps winning new accounts and its future appears bright. Why? Puck is asked.
"We give people an experience," he responds. "I tell everybody our presentation is the most important thing. We don't compete on price. We compete on quality. I think that's why we're still doing well. Spago is open for 40 years, and it's still very much relevant, and also it's doing better than it ever did, even now through the coronavirus."
Asked about the pandemic's legacy for how F&B is done at meetings and events, he is surprisingly upbeat. "I really believe we will manage better now, you know? Because when everything is going well, you don't really look so much at where you can save money or where you can do a better job." He doubles down on the differentiator of experience, how each cog in the wheel of service has to be right. "You go to a department store," he says. "If they're not super polite, if they don't show you hospitality, I can go somewhere else. I can shop online."
As we return to restaurants and meeting rooms, what will lead the way in service and culinary style?
"Well, a lot more people are concerned about animal rights," Puck says. "I think for sure vegetarian and vegan things will continue to grow. And then I really believe there will continue to be a mixture of innovation but also tradition."
The Loyal Team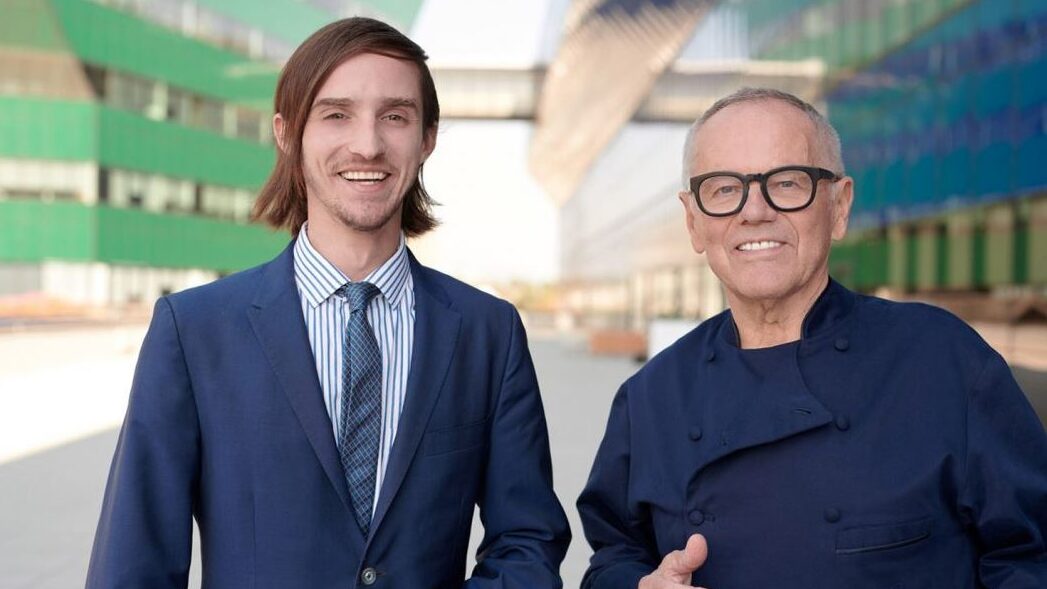 Puck mentions that his core team has been with him forever. One of these is Pamela Brunson. She's worked with Puck for 36 years, starting at Spago as a political science major out of UCLA. Since then, she's worn many hats, including being Puck's personal assistant. Today she's chief creative officer for WPC.
"Even though I don't wear the white coat, I feel privileged I have been given the opportunity to just go for it," Brunson says. "I think that's really who he is. With the culinary team there's guidance but freedom. He really thrives on that collaborative process, the give and take.
"He's just super curious. I've watched many situations where he's tried something he wasn't sure would work," she says. "He likes to be in it, in the game. This past year he's tinkering with everything."
Ashley Lampe, another WPC veteran, is senior director of catering sales. She agrees that Puck is "very" involved in his empire. "He's approachable. He's part of the team, part of the process. He cares about his people," she says.
Puck's culinary philosophy, in fine dining and catering, is to buy the best ingredients and "try not to mess them up," Brunson continues. "For him it starts with that seasonality and quality of product. He still likes to go to the fish market all the time, the farmers markets, too." Wherever WPC goes, it works to build those supplier relationships, she says.
At the same time, Lampe adds, WPC benefits from the fan base Puck has built for his classics like Chinois chicken salad and black truffle chicken pot pies. "We always do these for the Oscars, which says a lot about their lasting popularity," she says.
"As a national company," Brunson says, "it's been very interesting to try to work through the variety of environments we've had going over the last year. In Texas the social business in particular has continued steadily. Atlanta is the only market right now we're seeing corporate bookings. Seattle has a little for the fall."
Like Puck himself, she sees the silver lining in this. "It's given us a really good opportunity to think about what's important to our clients. Because we don't come in with 'this is the way we do it.' It's taking the right consultative approach. It's creating menus that are inclusive, where you don't have to have separate dishes for gluten free. Plus, our logistics-operations team is really A-plus-plus. I like to joke we love a parking lot. You can start from scratch and build anything."
Like the culinary legend that began on the parking lot at Ma Maison? She laughs, summarizing the Puck way as "approachable luxury," yet she also emphasizes that WPC offers "a whole range" of event styles and budgets.
At the original Spago, Puck delighted the foodie world by imagineering what has become known as the California pizza, spawning countless imitators around the globe. "You look at his smoked salmon pizza," Brunson says. "It has a little caviar on it, but it's still a pizza. I think that's Wolfgang, too."
That Legacy Thing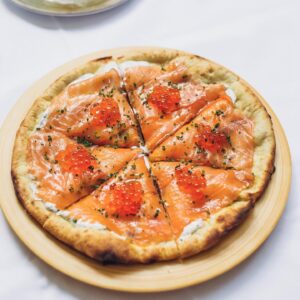 So, what's the cherry on top? After nearly five decades, what's the Wolfgang Puck legacy? When asked, his longtime team members, Brunson and Lampe, both volunteer it's his particular approach to hospitality. Puck says he was shy in the early days at Ma Maison, but being surrounded by all that megawattage must have freed him of that reticence for good. It wasn't long before he was table-hopping and chatting up his famous guests as if he were one of them. And then he was.
And perhaps from those early days came his lifelong habit of trying to make every guest feel comfortable. "He goes around to every table, he touches every table, to make sure they're enjoying themselves," in the words of Lampe. In short, he broke that mold of the imperious chef who barks at his harried cooks from the safety of the kitchen. It's not uncommon today at fine dining establishments to have the esteemed chef appear to ask how you're enjoying your meal, but it wasn't always so.
Others mention Puck's longtime commitment to sustainability. WPC, while not zero waste, has a long history of donating surplus food and providing compostables for soil enrichment, as well the usual recycling and reducing of nonfood waste when possible.
Puck himself puts it like the inveterate tinkerer he is: "How can you make money and leave the world in a better place? Hopefully, we will continue to make improvements in how we run things, what we throw in the garbage, how we package things. There are so many things we can improve on."
He reveals his own most-wished-for legacy.
"I must say the young people are much more into this than the older people. I'm very excited because my son Byron is really into it. He's 26, and maybe in six years, eight years, he will take over the company. And hopefully it stays a family company. He went to Cornell, to the hotel management school, so I hope really that will be my legacy. My dream is to look down from heaven and say, 'Oh my God, the kids are doing much better than I did.'"