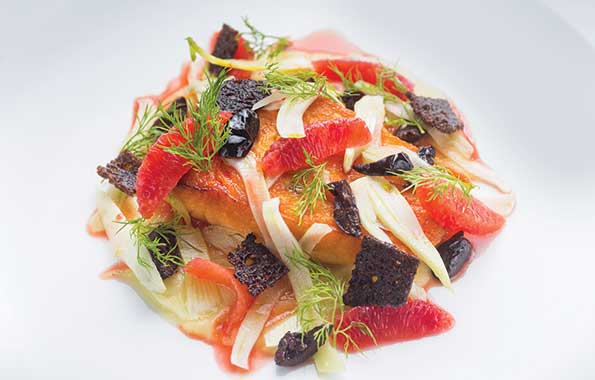 Spring, unfortunately, might not begin for another several weeks (if the groundhog has anything to say about it), but that's all the more reason to dig into some old-fashioned stick-to-your-ribs grub. Restaurants and hotels around the country offer special seasonal selections all winter, so make sure to get your fill of some hearty fare before that freezing nip in the air goes away.
Wayfare Tavern – San Francisco
The mild California winter doesn't stop Food Network superstar Tyler Florence from changing his menu for the season. One of the many highlights is poutine, the legendary Quebecois pub food with french fries, gravy and cheese curds, optionally topped with sauteed mushrooms or braised oxtail. Two dining rooms are available; the largest seats up to 80.
Hyatt Regency – Chicago
Head chef Robert Lang, who's been with the Hyatt for 25 years, uses only local, fresh ingredients for his winter event catering menu. Butternut squash bisque, mustard-peppercorn tenderloin and warm apple cobbler are only some of the offerings for catered meetings, with 228,000 sq. ft. available.
Macon Bistro & Larder – Washington, D.C.
Located in the historic Chevy Chase Arcade building, Macon Bistro & Larder is half restaurant, half food shop: Many of its delicious treats, such as coconut macaroons, cheese coins and biscuits, are available for purchase to snack on later. In the winter, executive chef Tony Brown offers delicious oyster stew, based on the recipe his family used at Christmastime.
Washington Duke Inn & Golf Club – Durham, North Carolina
Inspired by the winter offerings of the finest Carolina farmers, the onsite AAA Four Diamond Fairview is serving seasonal specialties including roasted winter squash, chicken and dumplings, and pork confit grilled cheese sandwiches. The property has 271 rooms and 25,000 sq. ft. of meeting space.
Park Avenue Winter – New York City
This Manhattan establishment does more than change its menu with the seasons: It changes its name, too. It's fitting for a restaurant devoted to the freshest seasonal foods, no matter the weather. This winter, enjoy a private dinner with up to 50 that features braised short ribs, arctic char with blood orange, and broccoli with Cheetos. (We're not joking about that last one.)