Darren Woodson embraces hard change on and off the field
We had the good fortune last month to have Darren Woodson as our luncheon keynote speaker for the Smart Meeting Southwest event at the Dallas Cowboys World Headquarters in Frisco, Texas. I was so inspired and felt so congruent with Woodson's message that I am excited to share it with you. I could tell the minute I met Woodson that he is a polished pro—his dress, mannerisms, great handshake, warm smile and humble approach embody someone with class and dignity.
Of course, everyone in the room was taken with his persona. But even more importantly, attendees flocked to our head table to get closer to Woodson—he has a strong presence that attracts folks to him. Sitting next to him, he had a boyish charm and asked me to hold his wallet and phone when he took the stage so that his suit would not bulge. I was happy to oblige.
The minute Woodson hit the podium, his message resonated with me. He related his insights about leadership and how they served him during his long, illustrious career as a safety with the NFL Dallas Cowboys from 1992 to 2004. He spoke about the changes that took place as leadership switched from longtime coach Tom Landry to coach Jimmy Johnson and owner Jerry Jones. Their leadership styles were very different, and some of the old-time players struggled to adapt.
"You must embrace hard change," Woodson told the audience. "You must be able to take honest confrontation, and you must be coachable."
In fact, some of the players were cut from the team as they were unable to comply with an extended practice season, longer hours and more rigorous disciplines put in place by the new coach. Week after week, teammates would watch recorded games and trained while being critiqued. Woodson spoke about how they were often harshly criticized in front of each other. Being told to play differently on the field was a hard pill for many to swallow—if they could not take the feedback, they had to go.
"It's about trying to share yourself and having someone that's going to hold you accountable for your actions—and not only that, but changing from within, looking at yourself in the mirror and being able to accept criticism from yourself and from others," he explained.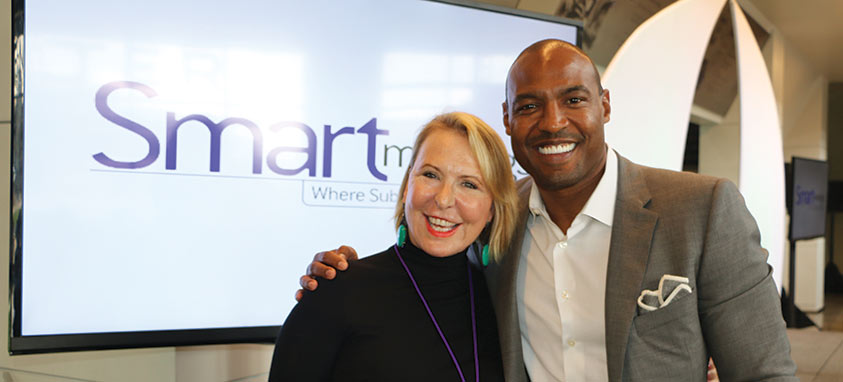 As a result, Woodson learned that he had no choice but to accept difficult changes and healthy competition. He witnessed too many football players settling for mediocrity, and this was unacceptable for the successful team. Woodson became one of the best safeties in NFL history, and was a three-time Super Bowl champion and five-time Pro Bowl honoree.
Now an NFL analyst for ESPN, Woodson continues to be inspired to do better, rise up and give it his all. One of his toughest moments on television came when he was asked to give an instant sound bite about 49ers wide receiver Jerry Rice. After several takes, he was finally able to encapsulate a large part of his career spent covering the Hall of Famer.
His message at the event was straight up, simple and very powerful. He wove in lots of humorous jabs at his wife and was an all-around likeable guy, one you felt you could be friends with. After his speech, I got up from the table to sort the line that had formed to take a photo with Woodson. I felt inspired and vindicated.
My parents always used to say to my sister and me that mediocrity is the worst thing that you can ever settle for in life. It was told to us so often that we now share the same mantra. My former bosses taught me to better my game with their hard feedback, and I listened intently to anyone who coached me and earned my respect. Lastly, I have learned to love hard change. When I am disciplined and goal-focused, I believe there is always something great on the horizon.
I want to thank Woodson for reminding me to get back on my horse and keep demanding excellence. Sometimes I feel beat down by those who don't play fair within the terms of healthy competition, and I am hard-pressed to steer my ship in a new direction and encourage my team to change. Woodson reminds me that I do have a solid path—one that will pay off when I stay on course. I am inspired to keep making Smart Meetings the winningest media company on the planet!
---
Marin Bright is CEO and founder of Bright Business Media, LLC, which publishes Smart Meetings magazine. She was honored during Folio's 2015 Top Women in Media Awards as a corporate visionary. Her monthly leadership column appears online and in print.