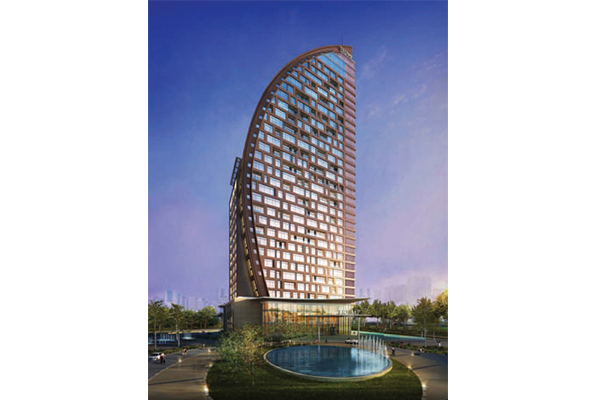 Trump International Hotel & Tower Baku, Azerbaijan
Trump Hotel Collection just completed a busy year, marked by opening its first hotel in Europe, new planned developments in South America and Western Asia, and the redevelopment of properties in Washington, D.C., and Miami.
"This has been an incredible, exciting year for Trump Hotel Collection," says Jim Petrus, chief operating officer. "Our brand growth and presence strategy is simply to be in the best markets, and we are concentrating on acquiring iconic properties and development opportunities in key gateway cities and resort destinations globally."
Since its launch in 2007, the Trump Hotel Collection (THC)—under the leadership of Donald Sr. and Ivana Trump's children, Donald Jr., Ivanka and Eric Trump—have placed an emphasis on customizing travelers' experiences.
"We have found that discerning travelers—whether coming for business or leisure—are looking for services and amenities that have been customized to them as well as wanting to feel their loyalty is being rewarded in a meaningful way. Our success is rooted in catering to this demand for personalization, and it is unrivaled in the market today," Petrus says.
Each of the properties offers Trump Attache service, which records and references each guest's preferences before every visit, and the Trump Card Privileges Program, a loyalty program.
THC has nine properties, divided into urban locations (two in New York City, and one each in Chicago, Toronto and Panama City) and resort destinations (in Miami, Las Vegas, Honolulu and Doonbeg, Ireland).
Urban Locations
THC's urban destinations all have a unifying cosmopolitan style, but their designs are contextual to represent each distinctive location. The most recently opened urban property is Trump International Hotel & Tower Toronto.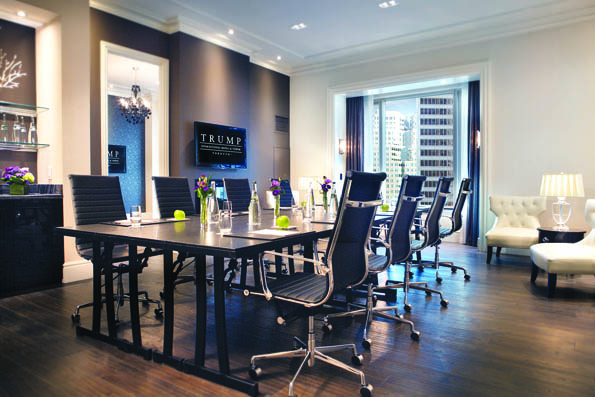 This hotel, which opened in 2012, is situated in a 65-story downtown building. The recipient of a Forbes Five Star rating and ranked the 10th best hotel in the world in 2014 by TripAdvisor, the property boasts 261 luxurious guest rooms, a 12,000-square-foot business center, the 15,000-square-foot Quartz Crystal Spa and a heated, indoor saltwater infinity lap pool.
THC plans to open three properties in urban areas during the next two years. Trump International Hotel & Tower Baku, Azerbaijan, slated to open in June, will be in the Nasimi District near Heydar Aliyev Center, which is a cultural institution designed by the prominent Zaha Hadid Architects. The hotel will offer spectacular views of the Caspian Sea.
The luxury property will provide 189 guest rooms, including 72 ultra-luxury residences; a signature restaurant; a 15,166-square-foot spa with indoor swimming pools; a 4,305-square-foot fitness center; a 20,990-square-foot business center; 1,582 sq. ft. of retail shop space; and 30,139 sq. ft. of meeting and event space.
Trump International Hotel, Washington, D.C., is scheduled to emerge in 2016 as a $200 million redevelopment of the Old Post Office, an iconic Pennsylvania Avenue landmark. The renovation will result in the newly dedicated Old Post Office Museum, an exhibition gallery, interior and exterior gardens, award-winning restaurants and a world-class spa.
The hotel will offer 271 guest rooms averaging more than 600 sq. ft. and 16-foot ceilings, the largest in Washington, D.C. The former offices of the postmaster general will be converted into two presidential suites that will offer 5,000 sq. ft. and 3,600 sq. ft., respectively. They will be among the largest three-bedroom suites in the country.
Trump Hotel & Tower Vancouver, also scheduled to be unveiled in 2016, will be situated in the heart of the Golden Mile, which offers couture shopping, fine dining, entertainment and a buzzing financial center. The Trump structure will be a 616-foot tower with 57 stories, making it the second tallest building in Vancouver's skyline.
This British Columbia property will feature 147 guest rooms that offer stunning views of Vancouver and the North Shore. It also will boast a signature restaurant, champagne lounge, the city's first pool/bar nightclub, a 6,000-square-foot spa and 15,000 sq. ft. of meeting space.
Resort Destinations
All of THC's resort destinations are spacious, sophisticated properties that offer groups plenty of amenities and options, including attractive, state-of-the-art meeting spaces.
THC acquired Doral Golf Resort & Spa in Miami in June 2012, renamed it Trump National Doral Miami and embarked on a dramatic restoration project. "The Trump family has made a significant investment in this property and personally has overseen the plan to recapture and then surpass the resort's former grandeur," Petrus says. "The transformation has touched every aspect of the property."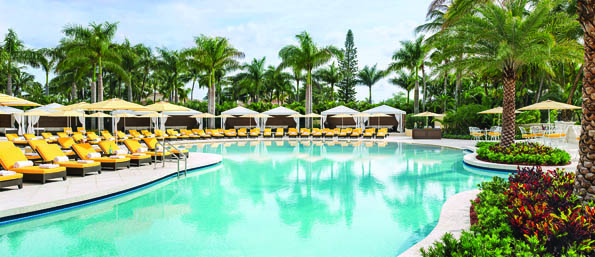 The renovation, which at press time was in its final stages, will result in 647 completely remodeled guest rooms designed by Ivanka Trump, in cooperation with Wimberly Interiors of WATG (one of the world's leading design consultants for the hospitality, leisure and entertainment industries), and more than 100,000 sq. ft. of meeting space.
"Transformation milestones that have debuted, such as the new guest rooms, championship golf courses (including the legendary Blue Monster), and indoor and outdoor meeting venues (including luxurious ballrooms), have received tremendous feedback thus far from meeting planners and guests," Petrus says.
Trump obtained The Lodge at Doonbeg—a 400-acre property fronting 2 1/2 miles along the Atlantic Ocean in Ireland—in February 2014 and renamed it Trump International Golf Links & Hotel Ireland. The Doonbeg resort, which opened in the fall, offers 218 suites, several restaurants, an expansive spa and an 18-hole championship golf links course designed by Greg Norman.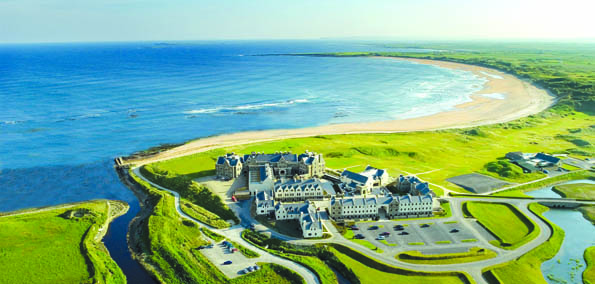 The property boasts four meeting rooms, including the Pavilion, which provides full catering facilities and accommodates 150 theater-style. The others are Piano Room (24 board room-style and 50 theater-style) the Tartan Room (16 board-room style and 20 theater-style) and the Clubhouse Room (11 board-room style).
Trump Hotel Rio de Janeiro is scheduled to open in 2016 in time for the Summer Olympics and will be situated in the upscale Jardim Oceanico sub-district of the famous Barra de Tijuca neighborhood, facing one of Rio's most magnificent beaches. The property will feature 171 expansive guest rooms with ocean or mountain views; a 4,000-square-foot nightclub; panoramic beach-front views; a 4,000-square-foot pool deck with private cabanas overlooking an infinity pool; a 2,200-square-foot spa; and nearly 10,000 sq. ft. of meeting and event space.
"We are incredibly excited to bring the Trump Hotel Collection to South America for the first time," Petrus says. "There is no doubt Rio is a key strategic destination for our brand, and with the anticipation of the 2016 Summer Olympics on the horizon, we are enthusiastic about its position as both a thriving business market and tourist destination."
Down the Road
This year, THC plans to continue exploring new development opportunities while enhancing existing programs.
"As the Trump Hotel Collection continues to grow strategically, we are actively seeking development deals around the world, and will be announcing additions in the near future," Petrus says. "We also are looking at several new programs to announce in 2015, as well as make enhancements to our current Trump Express Meetings offering.
"We launched Trump Express Meetings a few years ago as a solution for short-term, smaller groups through pre-packaged meetings."
Several THC properties offer these pre-packaged meetings, which are unique to each place. For instance, Trump International Hotel & Tower Toronto offers the Express Meeting Package, which is ideal for groups seeking a daylong venue. The package includes breakfast, lunch and two breaks daily; complimentary room rental; complimentary Wi-Fi in meeting and guest rooms; 20 percent savings on audiovisual rentals; and luxury guest rooms and suites.
THC also is aiming to further streamline its entire booking process to make it as simplified as possible for meeting planners to review and book meetings and events.