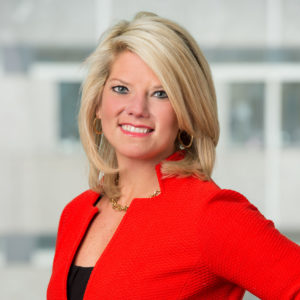 Name: Tori Emerson Barnes
Title: Executive Vice President for Public Affairs and Policy, U.S. Travel Association
Education: George Mason University, Miami University and Stanford University Graduate School of Business
Update: On 10/15, U.S. Travel Association released a statement Applauding the introduction of the U.S. Senate's bipartisan Hospitality and Commerce Job Recovery Act of 2020.
From her vantage point in Washington, D.C., Tori Emerson Barnes understood earlier than many in the North American meetings industry that the coronavirus was going to have a devastating impact on the economy. She has spent the last six months talking with elected officials about the importance of supporting the industry. Smart Meetings sat down for an update on the effort and how individuals can help.
What is the biggest advocacy win you have had in your career and what lesson did you take from that experience?
I've been blessed to have learned from some of the best in the business. Early in my career I was part of the team working to help save the U.S. automakers—and GM specifically—during the 2009 financial crisis.
From a technical policy standpoint there were two important wins that I led for GM. One was the enactment of the electric vehicle tax credit for consumers, which gave the company an advantage over other automakers. I am most proud, however, of the coalition that I built and championed to allow companies such as GM, Goodyear and American Airlines with alternative minimum tax credits [a prepayment of tax] be monetized to the extent [their] investment was done in the U.S. This multiyear effort brought hundreds of millions of dollars back to GM.
In my nearly three years at U.S. Travel, perhaps the most fun and complex win, with multi-committee jurisdiction, land mines in unexpected places and a divided Congress, was the early reauthorization of Brand USA for the longest period [seven years] since its creation. It was an almost surgical process requiring significant collaboration from all sectors of the travel industry.
How bad has the industry been hit and what have we lost?
The travel industry, which helped employ one in 10 Americans last year, has been hit hardest by the economic fallout of the pandemic—having lost half its jobs already and on track for a drop of more than $500 billion dollars in traveler spending by year's end. Since March, more than half of the 15.8 million pre-pandemic jobs supported by the travel industry have disappeared, leaving workers and small businesses in every pocket of America vulnerable to the economic pain of this public health crisis. Those hard workers lost their livelihoods, customers and revenues through no fault of their own.
Meetings support many other parts of the economy through business trade shows, scientific conferences and medical meetings. We have also lost the mental health that comes with anticipation of travel. We need to get back to the excitement and joy of booking a trip.
What needs to happen to preserve the industry?
This economy is not going to be able to make it up off the mat without bold action by Congress to provide significant, comprehensive and meaningful relief, protection and eventual stimulus to prevent the travel industry depression from going on for years.
The CARES Act [passed in March] was a lifeline put in place quickly to help get money to businesses, but it did not work for many of the nonprofit, association, trade-show groups and quasi-government agencies that support the industry. The next version needs to be broadened so the Paycheck Protection Program includes destination marketing organizations and crucial liability protection that will get businesspeople traveling again. When businesses, hotels and meeting organizers are doing everything they can to ensure the safety of those who choose to attend, they should not be subject to lawsuits.
What is standing in the way of progress on a bill to help the industry?
Congress doesn't understand how complex and how affected the industry will be, and how long it will take to get back to business.
How do you stay resilient when you face setbacks like we are in now?
This is obviously an unprecedented time for travel, and the situation we are in is nothing less than catastrophic. The travel industry is made up of good, hardworking people, and many livelihoods are in jeopardy, through no fault of their own. It really motivates me to work harder than ever and to stay focused on helping to get them a lifeline and the relief they need and deserve. This is also the United States of America. The freedom we have to explore, to learn and to experience happiness through travel is part of who we are. If we don't bring back travel, the core of who we are as a nation is in jeopardy. Fighting for this industry is what keeps me marching forward.
What can individuals do to make the case?
We are activating grassroots work, going out to businesses to help them ask Congress to act quickly. Call, mail and engage your elected officials.