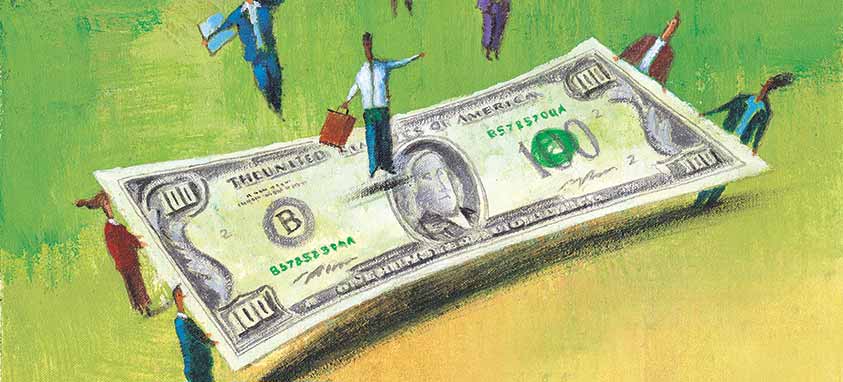 4 cities that offer affordable meeting options
As every planner of meetings and conventions knows, budgets are among the least flexible elements of the job. Negotiating with hotels and suppliers is part of coordinating any event, but going back to your boss and asking for more money to spend can be a dicey proposition.
Fortunately, some destinations are able to deliver attractive hotel, transportation, entertainment and culinary options to groups so that they can hold an effective and memorable meeting while sticking to their spending limit. A few favorable cost elements are shared by destinations, while other elements are unique to each city.
Here's a look at four cities that have plenty to offer planners without draining their budgets.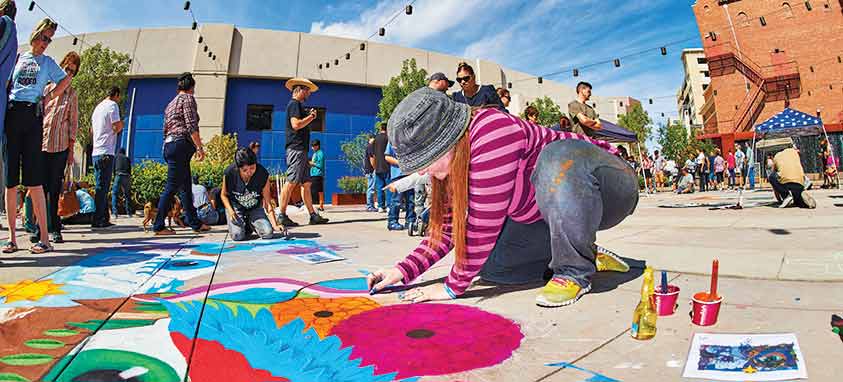 Arts Festival Plaza, El Paso, Texas
El Paso, Texas
Given the huge event market within Texas, the convention center size and hotel inventory is set up to accommodate 85 percent of the state's convention activity, notes Brooke Underwood, director of convention development for Destination El Paso. Underwood is also able to lure sizable national events to the city: The U.S. Bowling Congress came there in 2015, converting the 133,000-square-foot El Paso Convention Center into a 62-lane bowling facility with tiered spectator seating, family attractions and various concession booths.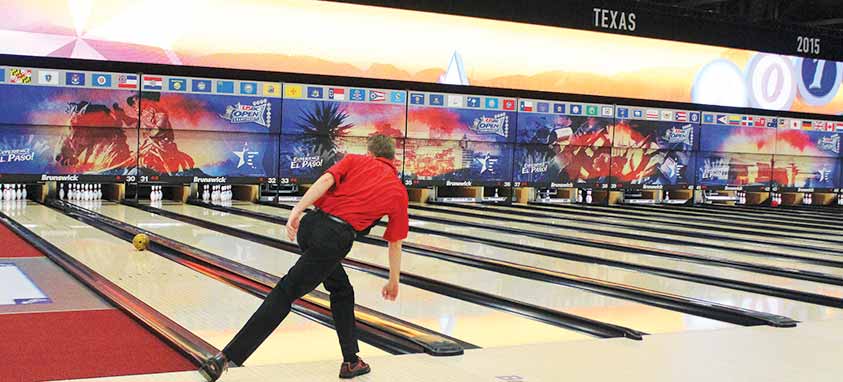 2015 U.S. Bowling Congress at El Paso Convention Center, Texas
A main selling point for El Paso is low cost, matched with convenience. The convention center and Destination El Paso are run by the same management team. "We can make deals pretty easily based on total room nights plus F&B spend. Planners are negotiating only with us," Underwood says.
The city's 320 days of sunshine and warm winters allow for outdoor events at inexpensive venues. Arts Festival Plaza, one block from the convention center and between El Paso Museum of Art and Plaza Theater, features a man-made waterfall and lush greenery. In addition to private receptions, the plaza hosts the free Alfresco music series every Friday from early May until late September. Southwest University Park is home to the El Paso Chihuahuas minor-league baseball team, and groups can easily walk from the downtown hotels to the stadium.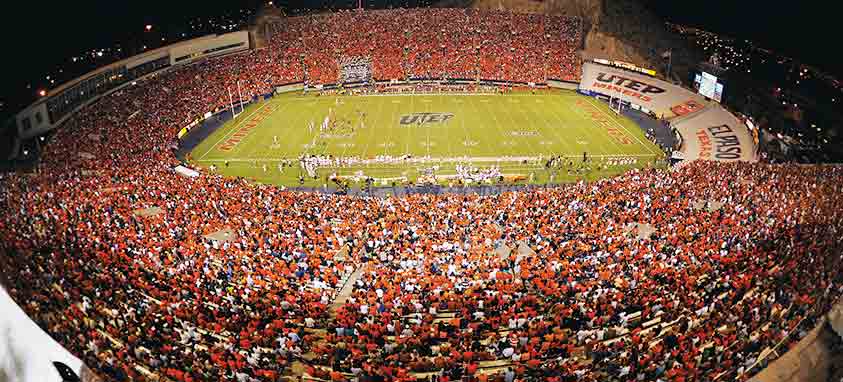 University of Texas-El Paso (photo by UTEP)
The city is refurbishing several 1930s street cars that will soon run on a new track through downtown, past the convention center to University of Texas-El Paso, where groups can hold special events. A new aquatic center and several new sports fields are also in the works to accommodate the sports-tournament market and team-building events.
Southwest Airlines is the major carrier for El Paso, but Delta, American and Allegiant have a sizable number of flights, as well. The city is located along Interstate 10, so the drives from Phoenix to the west and Albuquerque, New Mexico, to the north are easy.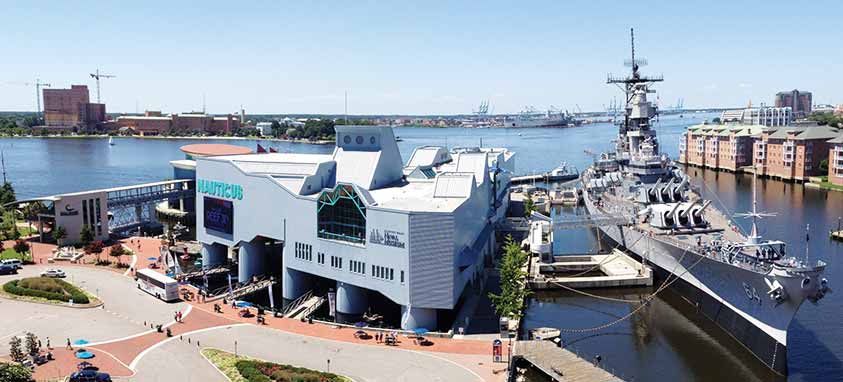 Nauticus, Norfolk, Virginia
Norfolk, Virginia
"I've sold other urban areas in my career, but Norfolk has all the amenities that groups look for in an affordable destination: accessibility, walkability, plenty of things to do and a moderate climate," says Donna Allen, vice president of sales and marketing for Norfolk Convention and Visitors Bureau.
Norfolk is a reasonable drive from everywhere on the East Coast between New York City and Charleston, South Carolina, while American, Delta, Southwest and United provide ample airlift into the city.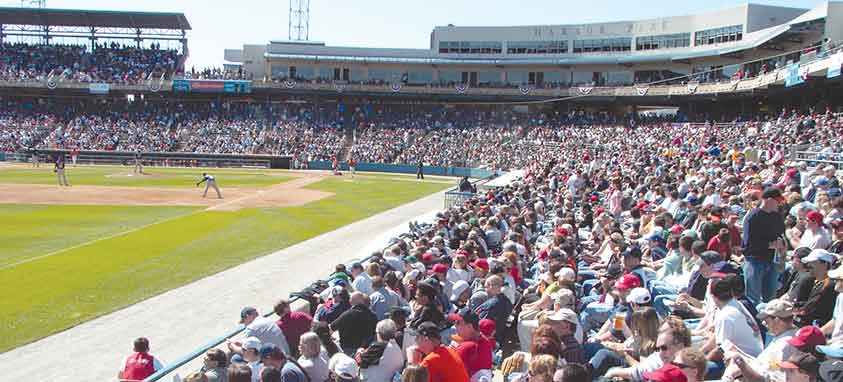 Harbor Park, Norfolk, Virginia
The fact that the downtown area, with several group-oriented hotels providing more than 1,500 committable rooms, is just steps from the sprawling Elizabeth River waterfront means that various spaces along the promenade can be used for special events that require no transportation costs. And the Waterside District is a 150,000-square-foot entertainment complex that is set to reopen in 2017. It will provide dining and entertainment options on the riverfront so that attendees can also enjoy an "on your own" evening when there's no scheduled event.
A short walk from there is Nauticus, a unique maritime-science center with 19,000 sq. ft. of event space and USS Wisconsin, with 7,600 sq. ft. of event space on its Grand Rotunda and Promenade Deck. Minor-league baseball takes place from May to September at Harbor Park in the downtown district, with dedicated group areas available in the stadium. Naval Station Norfolk is a short ride from downtown hotels, and offers inexpensive tours several times each day.
The many outdoor festivals in Norfolk also provide opportunities for groups to enjoy local experiences at little cost. And in a city with warm weather for eight months a year, it's no surprise that there are more than 120 food, music and art festivals annually.
One bit of important advice from Allen: "The more information and budget detail we receive from a group, the easier it is for us to tailor the options that would be possible for them. This makes the planning process quicker and less stressful."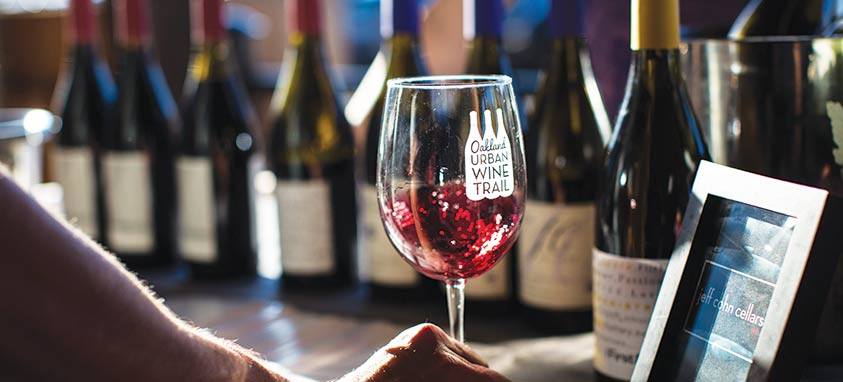 Oakland Urban Wine Trail, California
Oakland, California
"We are among the most affordable spots in the entire Bay Area for meetings," says Natalie Alvanez, vice president of marketing and business development for Visit Oakland in California. "The value you get from the sheer number of experiences you can have here is pretty high."
Oakland International Airport (OAK), just 5 miles from downtown, is not only a hub for Southwest Airlines: It's also the exclusive Bay Area gateway for six of the other 12 carriers that fly there. Travelers can also reach downtown Oakland from San Francisco International Airport (SFO), via the BART train system. And for an evening in San Francisco, meeting groups based in Oakland can use BART for a speedy and low-cost trip.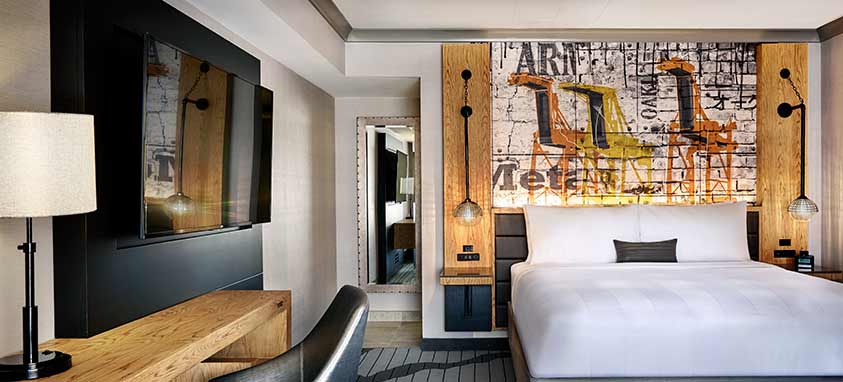 Oakland Marriott City Center, California
On the other hand, Oakland offers so many interesting activities and venues that attendees don't have to go more than a few blocks from their hotels to be entertained. The downtown corridor, anchored by Oakland Marriott City Center, which is connected to Oakland Convention Center, is walking distance to Old Oakland and its variety of restaurants, shops and a farmers market that's held every Friday.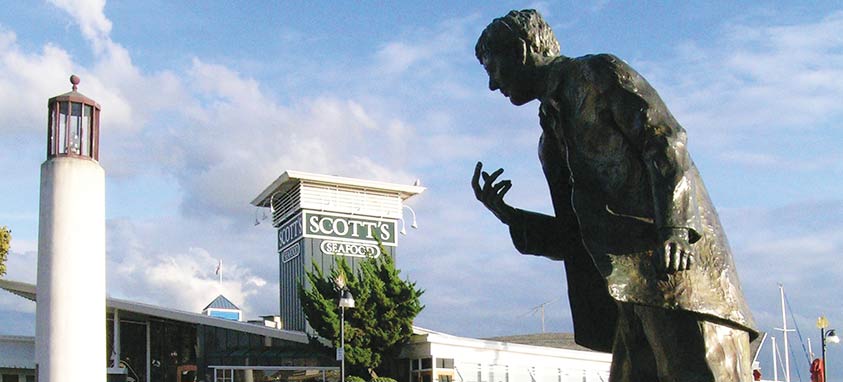 Jack London Square, Oakland, California (photo by Louis Benainous)

Just a few blocks north lies the Uptown neighborhood, with the Fox Theater as its centerpiece, plus music clubs and several storefront art galleries. Six blocks south of downtown is Jack London Square on the scenic Oakland waterfront. Besides a plethora of restaurants and bars with live music, the area is home to Plank, a bowling alley, arcade and beer garden with outdoor bocce courts overlooking the water.
And to provide a taste of Napa and Sonoma wine culture without having to leave the city, 10 wineries have set up shop in renovated city warehouses to create Oakland Urban Wine Trail, which welcomes groups for private receptions.
In the airport district, the meetings-friendly Oakland Hilton Airport hotel is surrounded by Holiday Inn and Red Lion properties, and it's within five minutes of the city's baseball, football and basketball arenas. Those hotels are also less than 10 minutes from the Oakland Zoo, which can host outdoor receptions year-round in this generally sunny and warm destination.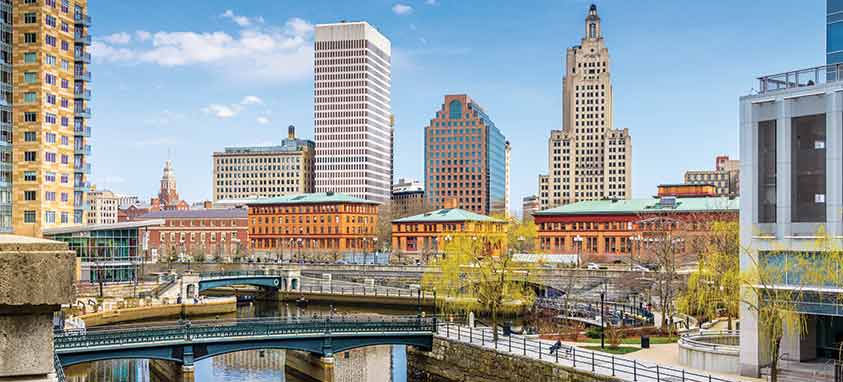 Waterplace Skyline, Providence, Rhode Island
Providence, Rhode Island
For meetings that need to be held in a large city in the Northeast, Providence—one hour south of Boston and 2.5 hours northeast of New York City—provides a significant discount compared to those two hubs on room, food and beverage, and other meeting costs.
Providence, with a population of some 180,000, is also just as accessible as its enormous neighbors, with more than 20 percent of the U.S. population within a six-hour drive. Southwest Airlines holds 42 percent of all airline seats going into and out of the city's T.F. Green Airport (PVD), yet every major carrier flies nonstop to Providence from their hubs, too. The commuter rail connects the airport to downtown, and Amtrak's Northeast Corridor trains stop near the major hotels.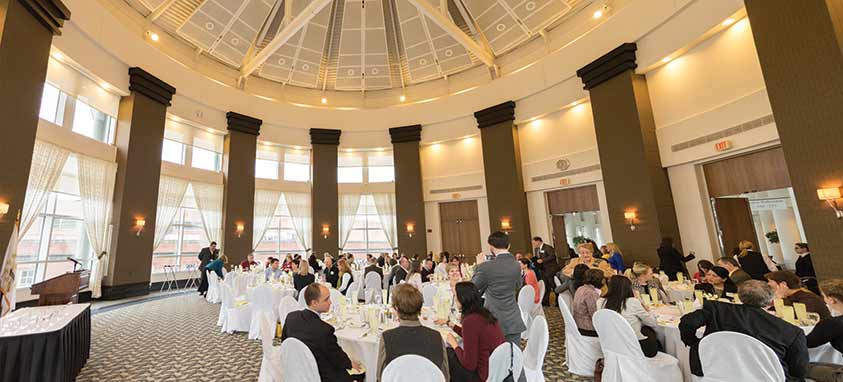 Rotunda at Rhode Island Convention Center, Providence (photo by Providence Warwick Convention & Visitors Bureau/Nicholas Millard)
Thomas Riel, vice president of sales and services for the Providence Warwick Convention & Visitors Bureau, notes that his city has a dozen colleges and universities in the immediate area, from which meeting groups can obtain knowledgeable speakers and presenters at low cost. And Rhode Island Convention Center provides 167,000 sq. ft. of event space.
"[In addition], there's a lot of personality in Providence," he says. "We provide big-city amenities, but with authentic New England charm."
Like Norfolk and Oakland, Providence boasts a short walk to bustling dining and entertainment districts from its meetings-focused hotels. And Providence's restaurant scene was recently featured in USA Today; several restaurants are on the city's riverfront.
"It's become a big differentiator for us among event planners," says Martha Sheridan, president and CEO of Providence Warwick CVB.
For a low-cost half-day excursion, groups can take a 35-minute bus ride to the exclusive seaside city of Newport and enjoy a mansion tour, or simply wander around the quaint shops and impressive marinas that overlook huge Narragansett Bay.
---
6 Strategies to Keep Meetings Affordable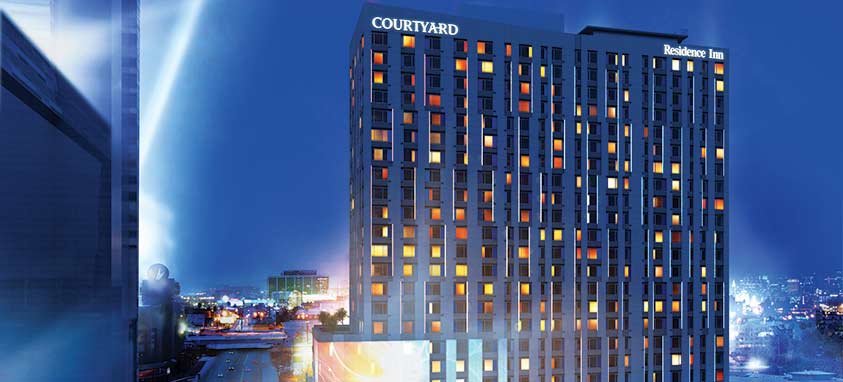 1. For a multihotel meeting, use different brands run by a common corporate entity. The largest hospitality companies—including Hilton, Hyatt, IHG, Marriott and Wyndham—have multiple brands at different price points. So one hotel could serve as the event headquarters, while hotels from other brands under the same corporate umbrella could house attendees at favorable rates, and perhaps even provide shuttle service to and from the headquarters hotel.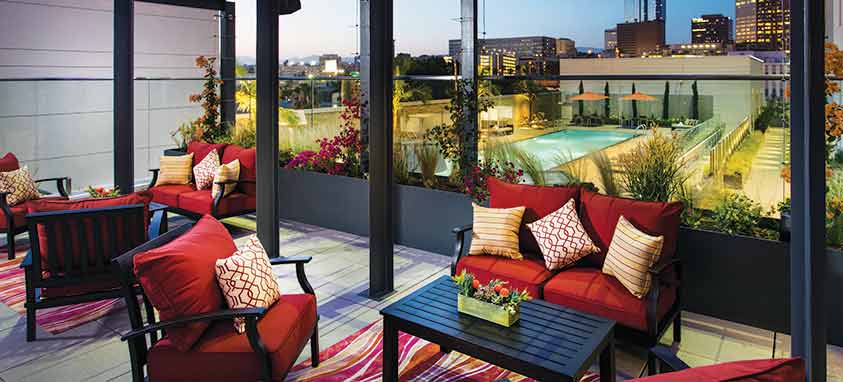 Some related brands are even embarking on colocation projects. For instance, Courtyard Los Angeles L.A. Live has 169 guest rooms plus an outdoor pool deck; the adjacent Residence Inn Los Angeles L.A. Live (pictured), another Marriott property, offers another 219 guest rooms, and the properties provide 15,661 sq. ft. of combined meeting space.
2. Hold simultaneous regional meetings rather than one national meeting.
Doing so eliminates most air transportation costs. With some of the savings, planners could spend on video technology that allows attendees in all locations to experience the same keynote speaker and other important presentations.
3. Meet in the suburbs of large cities with good mass-transit systems.
Besides giving attendees the ability to get from airport to hotel via lower-cost mass transit, some suburbs allow planners to use the nearby big city as much or as little as they choose for entertainment options. And the cost of the meeting could be 25 to 40 percent less than what it would be if held in the city.
4. Meet in capital cities.
They're often not the biggest cities in a state, but all the government-private sector interaction that takes place when the legislature is in session requires several meetings-friendly properties in these cities. So when the legislature is out of session, other meeting groups can get good value at hotels plus dining, cultural and entertainment outlets.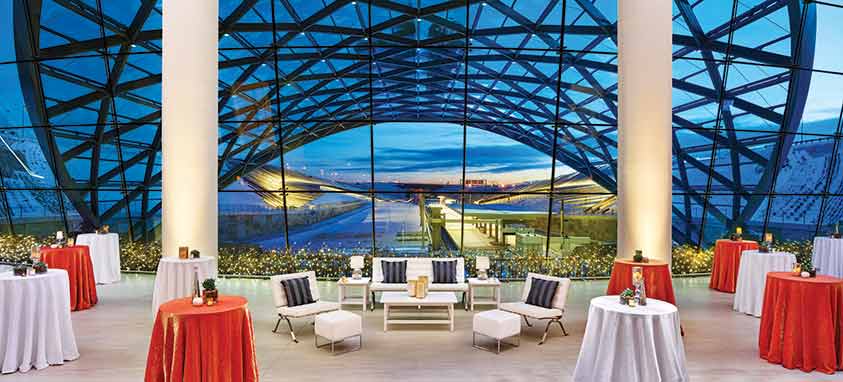 5. Use airport hotels.
Doing so saves money on transportation from airport to hotel. Also, many airport properties now have interesting leisure and entertainment offerings to go along with their meeting space. For instance, Westin has created wellness-based programming at The Westin Denver International Airport (pictured above) and The Westin Los Angeles International Airport (pictured below).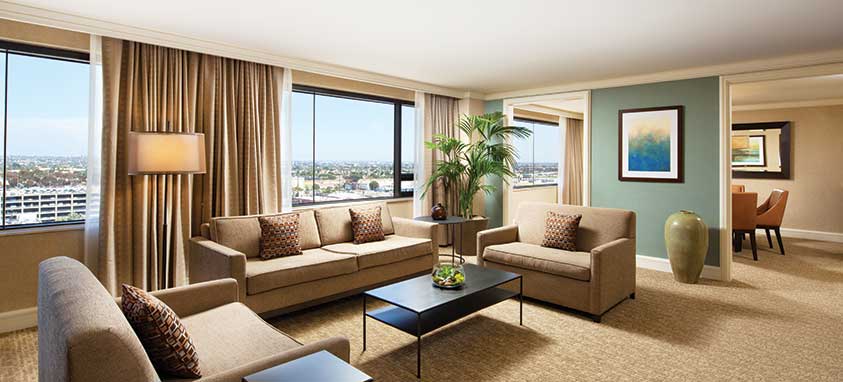 Don Kerr, director of sales for Sheraton Detroit Metro Airport (pictured below), suggests that planners take advantage of packages available to groups.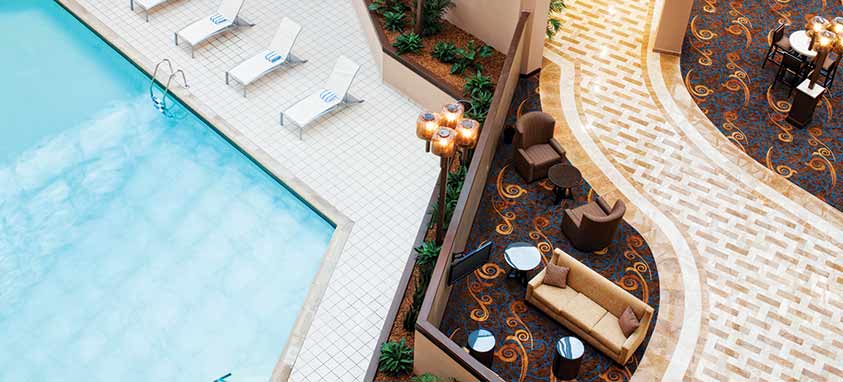 "Some planners think they can do better by putting all the components together on their own. But we create packages to save planners time and to save ourselves time, which saves money," he says. "Because we offer set elements—room rental, two meals, two breaks, certain audiovisual elements—we know the costs and can do it at good value. It's a win for both parties."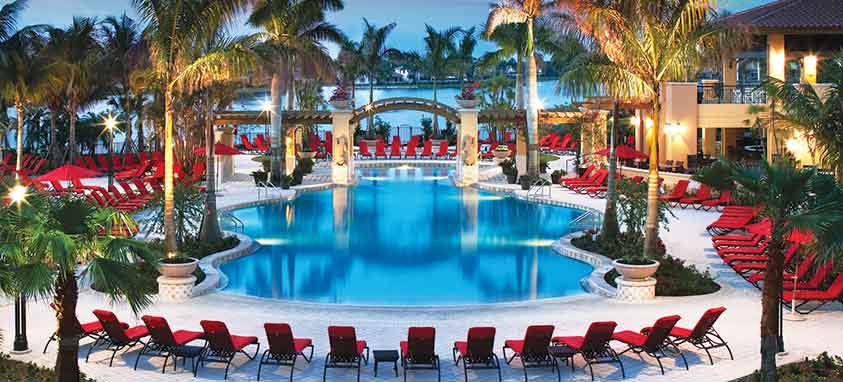 6. Go to meetings-friendly resorts in their offseason.
Desert destinations offer great value in the summer. At some properties in Scottsdale, Arizona, room rates are roughly $500 per night in winter months, but in the low- to mid-$100 range during summer months. And while it is very hot during the day, meeting itineraries can be arranged so that outdoor activities occur in the early morning or at sunset.
For groups that prefer the tropics, PGA National Resort & Spa (pictured above) in Palm Beach Gardens, Florida, routinely offers a summer meeting package that includes free rounds of golf or spa treatments for groups, along with low room rates.
The 14 Great Wolf Resorts (pictured above) around North America provide a slew of dining and entertainment options—including huge water parks—in a year-round climate-controlled atmosphere. And their business is very predictable, says Rhonda Khabir, corporate director of group sales. "When kids are out of school, we're busy. But when kids are in school, groups can get terrific rates and a lot of value-added elements because we have so much under one roof."
Besides the ample meeting space at most Great Wolf Resorts, the special-event options available make planning and budgeting easy.
"We'll provide exclusive use of the entire water park for a group to hold a reception," Khabir says. "Our restaurants are along the periphery of the park, so we'll set up food and beverage stations and open all the waterside cabanas that have oversized cushioned seating and big-screen TVs for people to lounge."
---
Rob Carey is a business journalist and principal of Meetings & Hospitality Insight, a content marketing firm for the group-business market.