4 things to consider before booking aerial photographers
Drones have revolutionized the way moments can be captured and shared. Just a few years ago, the only option for aerial photography was hiring a plane or helicopter. Drones allow us to capture crystal-clear aerial perspectives for a few hundred dollars. With today's drone technology, high-definition footage of any occasion can be obtained at a very reasonable price.
The accessibility of drone photography has brought us into the future of event planning, where even the smallest gatherings can be turned into great memories. Before hiring a drone operator for your next event, there are a few things to consider.
How Much Footage Do You Want or Need?
Aerial photography is the perfect way to capture breathtaking shots of your event venue from above and get creative with the way it is filmed. Show off all the best aspects of your event without worrying about a photographer and where they should be set up.
If you're considering hiring a drone photographer for your event, you must decide whether you want them to shoot your whole event, including the ground production, or to take aerial shots. If you only want a few aerial pictures and video, prices are considerably cheaper. For full air and ground production, you should expect to pay $400–500. When hiring an operator for full production, it is common for them to cut you a deal on editing.
How Will You Use the Footage?
Deciding how you will use the footage will help determine how much you want filmed, and where. Drone footage makes for amazing marketing or event recap videos. Large-scale trade shows and outdoor receptions take a lot of planning to run smoothly. Drone photography is the perfect tool to make sure your hard work is noticed. With an aerial perspective, event planners can show off venue locations, crowds of people and their setup like never before.
What are You Getting for Your Money?
Cost will depend on several things, including the amount of footage needed and the hoops the photographer must jump through to be approved. The more attendees at an event, the greater the liability factor; in some cases operators might have to get additional insurance to be able to fly their drone. A planner should always check with the venue's event management team for approval before hiring a drone photographer/operator, and be sure you fully understand when and where it can be used, if permitted. Some convention centers prohibit its use in common areas, for example, but allow it on the expo floor.
Though companies vary, you can expect to pay $200–500 per hour for an event, and that typically doesn't include editing. Pricing will likely increase to $500–600 per hour if an operator has to get special permits, and if you want full air and ground coverage, which requires multiple cameras. Even with a small budget, you can capture amazing moments. Paying for an hour of an operator's time usually includes 20–40 minutes of flight time, which will produce about 25 unedited images and about 10 minutes of unedited video.
Editing can cost $75–200 per hour. You should expect an hour of editing to equate to 15–20 images or one minute of edited video.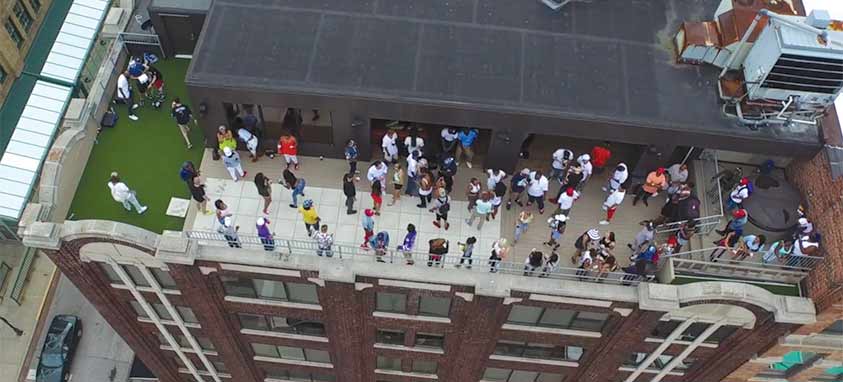 What Should You Expect from the Photographer?
"A client should expect [the photographer] to scout the location of the shoot," says Matt Austin, owner and operator of Aerial Imaging Resources. According to Austin, this can be done in person or using a tool such as Google Earth. He says expert drone operators make sure anything unwanted that could be in the shot is moved or they take note to avoid it when shooting later. Another important consideration for an operator is researching the sunlight conditions for optimal light on what they want to showcase in their footage.
Once at the job, operators go through a preflight checklist and setup, ensuring everything is in working order.
"It usually takes about 20 minutes depending on the setup and if you are running manual or automatic controls," Austin says.
You should also expect to help acquire the shots you envision. If clients provide specific information about what they want, operators are able to incorporate that vision in their process, from storyboard to post-production.
"We usually go through the jpeg photographs with the client and see which ones they want post-produced," Austin says.
When contacting an operator about a job, you should know ahead of time if you want your photos and videos edited. Give operators an idea of the length and purpose of the video before the shoot to ensure the best shots. Drone photographers usually offer a 24-to-48-hour turnaround time on the projects they are hired to shoot and can offer to expedite that process for an additional fee.
---
Victor Montalvo is co-founder of HiFly Photography. Websites such as hiflyphotography.com can help you find professional aerial photography, no matter your location, project or budget.