Hotelier Harris Rosen's humble roots fuel his passion to help others
Hometown: New York City
Title: Founder, chief operating officer and president of Rosen Hotels & Resorts
Education: Bachelor of Science degree from Cornell University's School of Hotel Administration
Family: Four adult children—Jack, Joshua, Adam and Shayna, all living in Orlando
Business Philosophy: "We are not the stereotypical type of organization. At Rosen, we like to think of ourselves as a family, and refer to our staff as associates, rather than employees. We try to keep things simple by treating associates and customers the same way we treat members of our own family who we love and cherish."

It's no secret that Orlando has become one of the top meetings destinations in the world, with the second-largest convention center in the United States. But virtually no one knows that both distinctions were facilitated by none other than Marilyn Monroe.
To realize her pivotal role, we need to turn the clock back to the 1950s, when Harris Rosen, now the president and chief operating officer of Rosen Hotels & Resorts, was 10 years old. He helped to distribute the beautiful table place cards his father created for events at Waldorf Astoria in New York City, where he worked as a safety engineer. They commonly took the hotel elevator to reach the floor where a gathering was taking place, and by chance, sometimes would ride up with celebrities. One day, they found themselves riding up with businessman and politician Joseph Kennedy, father of former President John F. Kennedy.
"We met him in the elevator," Rosen says. "And who was with Joseph? A beautiful, beautiful blonde lady, and I asked Dad to introduce me. He said, 'Harris, I would like you to meet Marilyn Monroe.' Marilyn smiled; she was so, so sweet. She then came over and hugged me. I can feel that hug today—there's no doubt about it, I close my eyes, and I can feel Marilyn hugging me.
"I said to myself, 'If you can meet someone like Marilyn Monroe in an elevator where you work, maybe I need to start thinking about working in the hotel business.'"
Even at that tender age, Rosen displayed some of the artistic talents of his father, however, and it seemed that he was destined for a career as an artist. He went to Music & Art High School in the Bronx, and then planned to attend a fine-arts college.
"But after meeting Marilyn, something stayed with me, and I became more interested in what Dad was doing in the hotel business," he said. "So, I asked Dad if he would mind if I also applied to a hotel school. He asked where, and I said I didn't know. He said, 'Let me do some research.' He came back and said that the best one in the nation is at Cornell University."
Entering the Hotel Business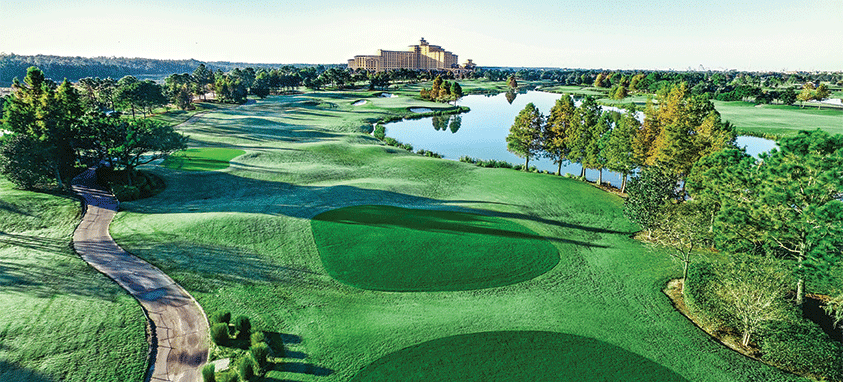 Rosen went on to receive a Bachelor of Science degree from the School of Hotel Administration at Cornell, and then served in the U.S. Army for three years in Germany and South Korea. When he returned, he began working as a convention salesman at Waldorf Astoria in New York City, and this led to several management positions at Hilton properties.
He became director of hotel operations for the The Post Company of Dallas, developing and managing one of its resorts in Acapulco, Mexico, before being hired as director of hotel planning for Walt Disney World Resort in Orlando.
Disney eventually determined that Rosen's independence and entrepreneurial nature weren't a good fit for its corporate culture, so in 1974 he ventured out on his own, and pinned his hopes on purchasing the 256-room Quality Inn (now known as Rosen Inn International, with 728 guest rooms) on International Drive in Orlando.
"I was sitting there with the owner of the hotel, Jim Morgan, and a young mortgage broker from Traveler's Insurance, who had the mortgage on the hotel. Jim wanted out so badly. He wanted to spend more time with his family and didn't know anything about the hotel business—he had bought it as a real estate investment—and then the oil embargo came, and it crashed."
Hotels were going bankrupt throughout Orlando, but Rosen thought it was a great location, and he felt that with 256 rooms, it was an ideal size. The mortgage broker was impressed with Rosen's resume. He asked Rosen how much money he had in the bank.
"I told him I had $20,000," Rosen says. "The guy reached out his hand, and I felt obliged to shake it. He said, 'We have a deal.' I asked, 'What's the deal?' He told me I needed to put $20,000 down and assume the mortgage. I had no idea what assuming the mortgage was. He told me it was $2.5 million.
"It was June 24, 1974—I walked into my office, put my head down in my arms and cried. I said to myself, 'Harris, you've just done the dumbest thing a human being could possibly do.'"
Rosen soon came up with a plan, though. He went out on the street with his backpack, stuck his thumb out and hitch-hiked to the Northeast, to visit the top motor coach companies in New York, New Jersey and Massachusetts. Once he arrived, he somehow managed to meet with the president or chief operating officer of the companies. He asked them what rate they wanted to book rooms at his property. They would say $9, $8 or $7. Rosen wrote the name of the company and the rate on a business card or napkin, and then signed his name.
"That was their contract," he said.
After five days, Rosen had accumulated enough contracts to sustain his business for the first year. The property turned out to very successful, and Rosen was even able to buy the nearby, 251-room International Inn (now the 315-room Rosen Inn) the following year.
The Emergence of a Top Convention City
Orlando had begun marketing itself as a convention destination as far back as 1969, and after buying his first properties, Rosen began thinking that it could become a major player.
"I presented my thoughts to some of the folks in the business, and the results were mixed," he says. "Some people said it was a great idea and some people thought it was stupid, saying, 'This is Disney, this is SeaWorld, this is Universal. It's not going to be anything other than that.'"
Landowner Martin Marietta donated land to the county for the proposed convention center. Voters then approved the Tourist Development Tax to build Orlando County Convention Center, which opened in 1983 and now has 2.1 million sq. ft. of meeting space.
Rosen also obtained land from Marietta, resulting in the construction of his first two convention hotels—Clarion Plaza (now Rosen Plaza) and Omni Rosen (now Rosen Centre), both now connected to the convention center by skywalks. After buying additional land from Universal, Rosen added his third and largest convention hotel, Rosen Shingle Creek, in 2006. The three convention properties generate about 70 percent of Rosen Hotels & Resorts' overall revenue.
To be hugely successful in the meetings arena, however, Orlando needed more hotel rooms. He approached other companies about building hotels in the immediate area.
"I talked to some of the biggest guys in the business, and they literally laughed at me," Rosen says. "They said Orlando will never, ever, ever be a destination for conventions. And boy, were they wrong. The convention center has been tremendously successful, and the Rosen Centre and Rosen Plaza have been very, very successful. But it was a long time before Hilton and Hyatt decided to build the other convention center hotels there."
Hilton bought some nearby land and opened Hilton Orlando in 2009. Hyatt purchased Peabody Orlando, and unveiled it as Hyatt Regency Orlando Convention Center in 2013.
Rosen now owns nine properties, all situated in the same area of Orlando. They represent the largest hotel chain in Florida, with 6,705 guest rooms. He has been approached about opening hotels elsewhere, but likes having easy access to all his properties. He resides in the area, and his office occupies a space in Rosen Inn International that was his living quarters for 16 years. He plans to expand his meeting properties, but doesn't want to divulge specific details.
"We do have plans to expand within the next five, six or seven years," he says. "We have ample space at Shingle Creek to add more rooms, and we have plans to do that at some point in time. We would certainly love to add more space to Rosen Plaza, and we have plans to add more rooms and space at Rosen Centre."
All nine of his properties are immaculately kept, meticulously designed and very spacious—and many of the restaurants and other spaces are named after members of Rosen's family.
From the very beginning, Rosen has made a special effort to create an atmosphere where everyone feels welcomed, and company associates feel that they are part of one big, extended family.
The company's approach is conveyed in its mission statement: "Rosen Hotels & Resorts is patterned on the vision and principles of founder, president and CEO Harris Rosen—a total commitment to unwavering honesty and integrity, the security and well-being of associates, high-quality hospitality products, exceptional guest services, unmatched value, the continuing improvement of the industry and ongoing enhancement of the community."
"It's not terribly complicated," Rosen says. "We try to keep things simple by treating associates and customers the same way we treat members of our own family who we love and cherish."
A Dream Deferred
While Rosen is a major player in Orlando's hospitality and meetings industries, he is perhaps even more recognized for his many philanthropic contributions.
The roots of his philanthropy trace back to his childhood in Manhattan's Lower East Side.
"One day, my brother and I were picking up some books at the library, which was right in the Bowery," Rosen says. "There were 150,000 people living under the elevated subway there, seeking shelter. It was awful, but my brother, Ron, and I got used to it. To us, it wasn't so different; it was our neighborhood.
"As we were leaving the library, we saw a sightseeing bus. I asked Ron, 'What is a sightseeing bus doing in our neighborhood?' The bus stopped and parked, and we heard one lady say, 'So this is how they live.'"
The brothers wondered what she meant. When they got home, they asked their mother.
"She told us, 'Not every neighborhood is like our neighborhood. Not every neighborhood has a Bowery, where homeless people are living, many of whom are alcoholic.' That really was something that I would never forget, and it occurred to me if I ever was in a position to offer a helping hand, that would be something I would like to do."
A Dream Actualized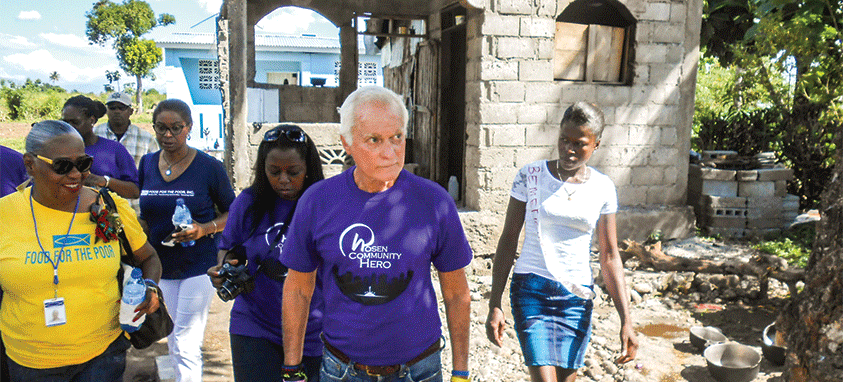 Some 44 years later, Rosen realized that he could start realizing his dream.
"Sitting right here in my office 25 years ago, ready to open our first convention hotel, already planning the second one, dreaming about a resort, I said to myself, 'It's time,'" he says. 'It's time to demonstrate how thankful I am for being so blessed'—and I knew education would be one component."
In essence, Rosen increased the scope of his extended family to include not only associates, but also other communities.
He already had opened Rosen Medical Center for company associates and their families. The center now offers employee access to primary-care physicians and practitioners for annual exams, general health visits, podiatry services, basic laboratory work, nutrition-program services, chiropractic services and physical therapy.
Soon after making his commitment, he launched the Harris Rosen Foundation, which provides funds for many philanthropic initiatives. One of the first initiatives, the Tangelo Park Program, for the past 24 years has provided a free preschool education for children ages 2–4 and mentoring for students from kindergarten through high school in Orlando's impoverished Tangelo Park neighborhood.
The foundation launched a similar initiative, resulting in the opening of Rosen Preschool at the new OCPS Academic Center for Excellence in the Parramore neighborhood in downtown Orlando in August 2017.
Students from the programs who graduate from high school are provided with a full scholarship—including tuition, room and board, and books—to a vocational school, community college or four-year Florida public college. More than 200 of the students have received college degrees.
"A college education isn't critical to one's success, but it certainly does help, and it helps to level the playing field," says Rosen, 78. "That's what Parramore and Tangelo Park are all about—providing a wonderful opportunity for youngsters to achieve their potential."
The foundation donated $18 million in 2002 to purchase land at the foot of what is now Rosen Shingle Creek, and build Rosen College of Hospitality Management at the University of Central Florida. A $5 million fund was created to provide 100 to 150 annual scholarships. Rosen College now is one of the elite hospitality schools in the world.
Also, a recent initiative resulted in the building of Jack and Lee Rosen Southwest Orlando Community Center, which serves 215 students in its early childhood program and 60 students in its after-school program.
Many of Rosen's associates hail from Haiti, so since 1996, the foundation has provided Haitian residents of Hispaniola with food, health-care supplies and more than 200 water filtration systems. The foundation recently partnered with the nonprofit organization Food for the Poor to open a new elementary school in Les Cayes, near Port-au-Prince (Haiti's capital and most populous city), and to help repair and replace more than 100 homes there that were damaged by Hurricane Matthew.
Rosen has won many awards for his philanthropic efforts, including The King Center's Coretta Scott King A.N.G.E.L. Award, NAACP's Humanitarian Award, 100 Black Men Inc. Chairman's Award and Beta XI Chapter of the National Sorority of Phi Delta Kappa's Outstanding Community Supporter of Education Award.
"My story isn't an unusual one, though—it's the American dream," he says.
A Closer Look: Meet the GMs Greeting Your Guests
Derek Baum
Title: General Manager, Rosen Plaza (800 guest rooms, 60,000 sq. ft. of meeting space)
Career at Rosen: Baum received a bachelor's degree in hotel administration from Cornell University, and between academic semesters there, he interned with Rosen Hotels & Resorts. The native of Plattsburgh, New York, has been with the company for 30 years. He started his professional career as assistant general manager of Clarion Inn Lake Buena Vista, and served in other managerial positions before being promoted to general manager of Rosen Plaza in 2016.
Fulfilling the mission: "Mr. Rosen feels that value and quality are most important, and wants to make sure that we're not only providing great service, but also that we're providing it at a value that's competitive in our industry. So, I work a lot with planners to identify their budgets and needs, and can be very flexible. He has a philosophy of, 'Ask, and you shall receive,' so we often cater programs specifically to clients."
Extending the family: "Associates who have financial situations or need other assistance can go to the Outreach Center, which does a great job of helping them. And we do a lot of drives at our hotel, such as a toy drive at Christmastime, and food drives during Thanksgiving and other times during the year. We also do back-to-back school drives, where people bring in school supplies. It's very important that our associates feel like they're giving back to our own, and that we're making everyone feel that we're really in it together…that we're a family. It's not just words—people really care about one another."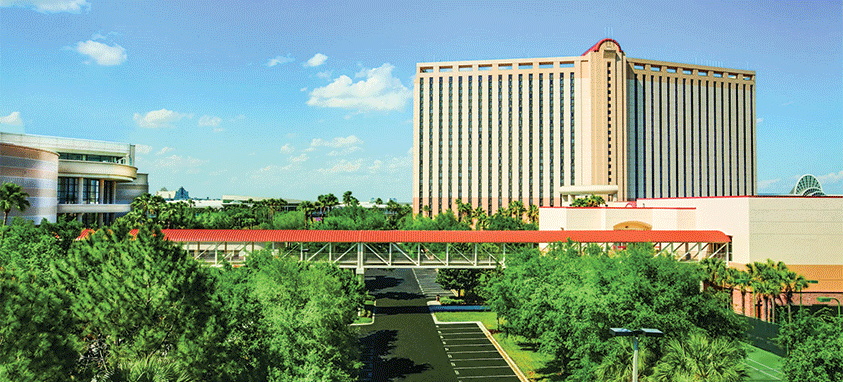 Phil Caronia
Title: General Manager, Rosen Centre (1,334 guest rooms, 150,000 sq. ft. of meeting space)
Career at Rosen: Caronia, a native of Cedarhurst, New York, began working for Rosen Hotels & Resorts in 1995, and served in convention services and catering before being promoted to general manager of Rosen Centre in 2006.
Fulfilling the mission: "We are attached to the West Building of the convention center via a skybridge, which is a great addition. Groups can be in Rosen Centre, and in less than five minutes—without ever having to touch International Drive—they can be in the convention center. Orlando is first and foremost a meetings market, and so we look to the customer to give us our marching orders. Mr. Rosen challenges us on a day-to-day basis to continuously remake ourselves to satisfy customers."
Extending the family: "Mr. Rosen is deeply involved in the community. The Tangelo Park and Parramore projects allow groups that come in looking for team-building exercises or corporate social responsibility opportunities to go to these places to communicate and engage with the residents and kids. This allows groups to become part of that community for a day."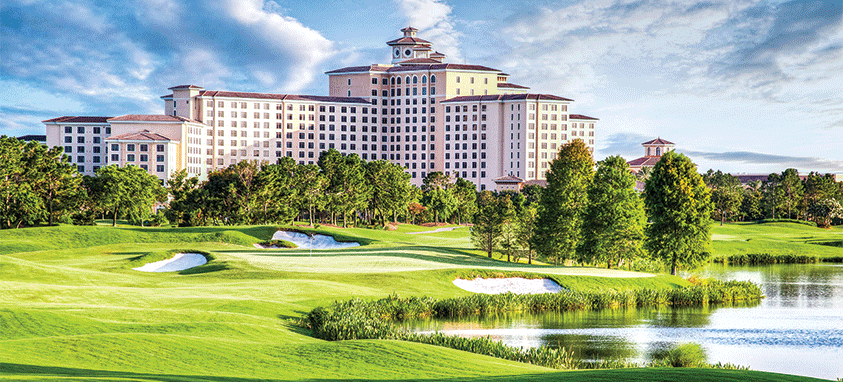 Dan Giordano
Title: General Manager, Rosen Shingle Creek (1,501 guest rooms, 524,000 sq. ft. of meeting space)
Career at Rosen: Giordano joined Rosen Hotels & Resorts as director of conference management in 1995, and was promoted to general manager of Rosen Centre Hotel in 2002. He has served as general manager of Rosen Shingle Creek since its preopening, in 2006.
Fulfilling the mission: "The entrepreneurial spirit is what defines our entire organization. Mr. Rosen is our guiding light, but we are free to make decisions unencumbered; we have autonomy. We don't have to go and check, and then wait to get approvals. There are no borders, and that's very, very appealing to prospective clients."
Extending the family: "We consistently play host to large conventions that engage in very high-level corporate social responsibility endeavors, be it building homes, or helping generally. We attempt to steer groups toward Mr. Rosen's philanthropic endeavors, so some of them go to Tangelo Park and Parramore, and help to build furniture for kids, and help in other ways."