Inventive experiences for every group, from problem-solvers to thrill-seekers
A wealth of well-documented returns proves that team building is worth the time and resources. Experiences that bring employees together outside of a corporate or meeting environment foster connections, camaraderie, trust and employee engagement, while encouraging a spirit of creativity and collaboration that carries over into the workplace. Employees return refreshed, recharged and ready to tackle new challenges.
But meeting employee expectations for innovative, extraordinary activities poses a challenge. "The millennial workforce has dramatically changed demands for team building. They want experiences to be surprising and interactive," says Jay Guilford, program manager for Spark, the team-building division of Cirque du Soleil. "Mature and seasoned employees, having seen it all, are also seeking something new."
To meet the needs of a diverse workforce that demands and deserves an elevated approach to group activities, experiences must be more original, more inspiring and more interactive, Guilford says.
The key to success, many providers say, is the ability to customize team-building experiences to meet a group's specific needs. Custom requests often inspire new program offerings, further enriching options for planners. Here are some exciting possibilities.
Old Games, New Tricks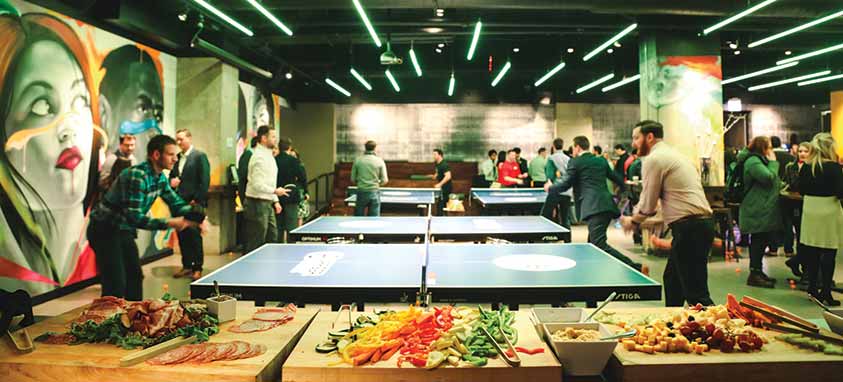 Spin, New York City
Previously relegated to basement recreation rooms, pingpong got a major venue upgrade in the form of Spin, a collection of pingpong clubs that counts Susan Sarandon among its investors. Spin opened a New York City flagship in 2009, followed by clubs in Chicago, San Francisco, Los Angeles and Toronto, with more locations to come. Decor such as custom street art and bathtubs splashed with neon paint impart a lively and irreverent vibe, while a menu of elevated comfort food bites and signature cocktails stands ready to refuel competitors.
Competitive pingpong offerings range from standard single- or double-elimination tournaments to custom gameplay options designed for teams of up to 10 players. By allowing for more participation and interaction, these custom game formats increase an event's energy level.
For maximum flexibility, planners are invited to mix and match to suit their group's needs. Hold one event-long tournament, split tables between traditional gameplay and custom formats, or simply keep some tables available for open play, freeing attendees to socialize, eat and drink at their leisure.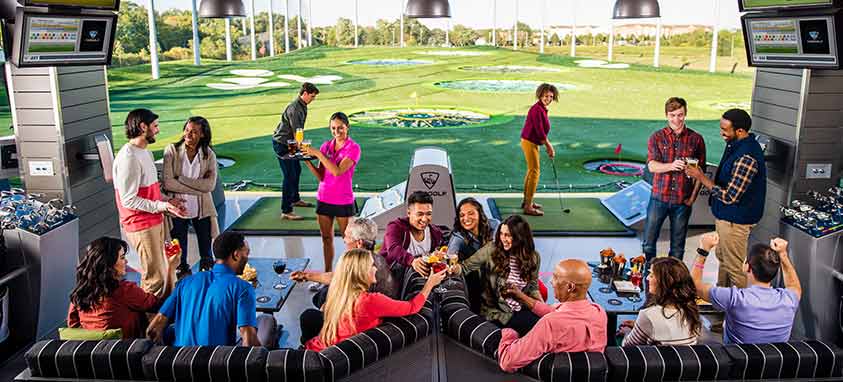 Topgolf, Naperville, Illinois
Another company taking a tried-and-true leisure activity to new levels is Topgolf. Founded in 2000, this chain of golf-based theme parks operates 28 locations across the United States and three in the United Kingdom, with seven more set to open this year.
High-tech, climate-controlled hitting bays stocked with supplies eliminate rainouts, the need to own equipment and delays common to course play. Food and beverage options catering to all tastes mean there's no reason to leave.
Groups of 12 to 12,000 can focus on competition, camaraderie and collaboration in a variety of spaces within Topgolf's enormous multilevel complexes. The Las Vegas flagship and the Nashville, Tennessee, location opening in late summer can accommodate even larger crowds. Topgolf plans to introduce additional team-building options this year.
"Top golf games are easy to play, and more than one-third of our visitors are nongolfers, so people aren't afraid to open themselves up to trying something new," says Susan Walmesley, vice president of sales and marketing. "The environment is very positive and encouraging. Topgolf is all about having fun. The outdoors element, with the impressive view of the outfield, elevates the experience and creates a much-needed mental escape from the day-to-day office scene."
Locally Focused Cruises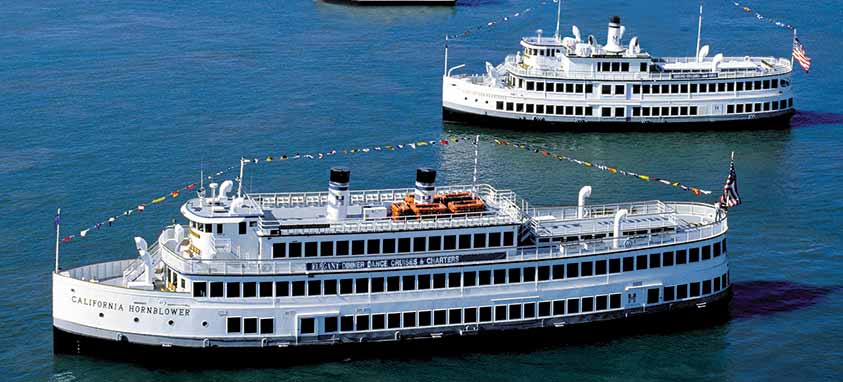 Hornblower Cruises & Events, San Francisco
Water provides a vast playground for team building. Groups can explore some of the country's most beautiful ports and waterways with Hornblower Cruises & Events, a premier charter yacht company founded in 1980 in San Francisco. Since then, the company has amassed a fleet of more than 70 vessels capable of hosting 20 to 2,200 guests.
"Out on the water, teams are naturally in a space that promotes togetherness, and an added team-building aspect only enhances that experience," says Sandy Baldonado, corporate director of marketing.
From ports of call including New York City, San Diego, Sacramento, San Francisco and Long Beach, California, groups can embark on excursions tailored to each location.
For example, Hornblower's most popular San Francisco activity is Angel Island Amazing Race. Home to a state park and situated in San Francisco Bay, the island offers panoramic city views and a fascinating history. The packed itinerary involves a lunch cruise and a challenge that leads teams around the island in a race to complete tasks and puzzles, with results tabulated during the scenic return trip.
A favorite Mexican condiment stars in another Hornblower activity. "The Salsa Team Building Package is a big hit in San Diego because we are 17 miles from the Mexican border," Baldonado says. "This area has fantastic Mexican food and dining, so our visiting groups crave it, and [they enjoy] the chance to learn to make their own salsa and take that information back home."
Interactive Acrobatics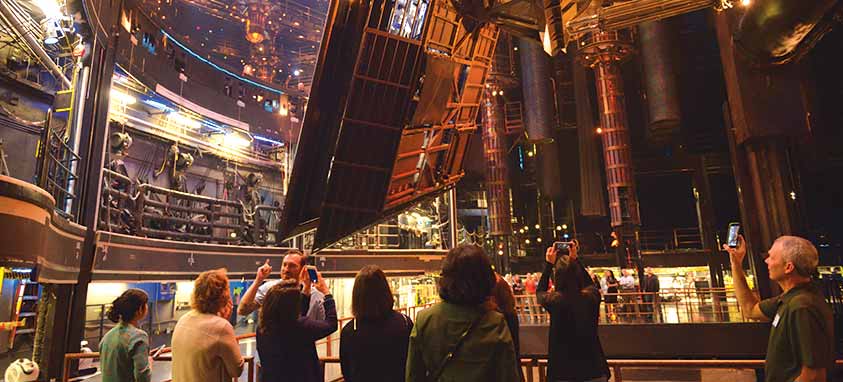 Miraval Arizona, Tucson
Have you ever sat in the audience watching a performance and wondered what it's like to be on stage? Cirque du Soleil's Spark Sessions team-building activities allow groups of 20 to 40 to learn, work and play alongside world-class performers, who coach them in the execution of visually stunning acrobatic arts. The experience, which holds participants of all ages and cultures spellbound, includes premium show tickets for each participant.
Teams gain exclusive theater access for the unforgettable experiential learning session. "Spark team-building sessions offer a full-circle experience. You learn Cirque-inspired choreography, perform a mini-show on stage and then see the people who coached you execute jaw-dropping feats on that very stage that same night," program manager Guilford says.
Spark team-building experiences, held in Cirque du Soleil's custom-built venues in Las Vegas, Orlando and Mexico's Riviera Maya, encourage self-exploration in a group setting. "Novel venues and engaging activities help participants to discover new things about themselves and their colleagues," Guilford says. "Our venues speak to each participant's inner clown or actor, and our skilled leaders facilitate activities that magnify the character within each participant."
Emerging Appetites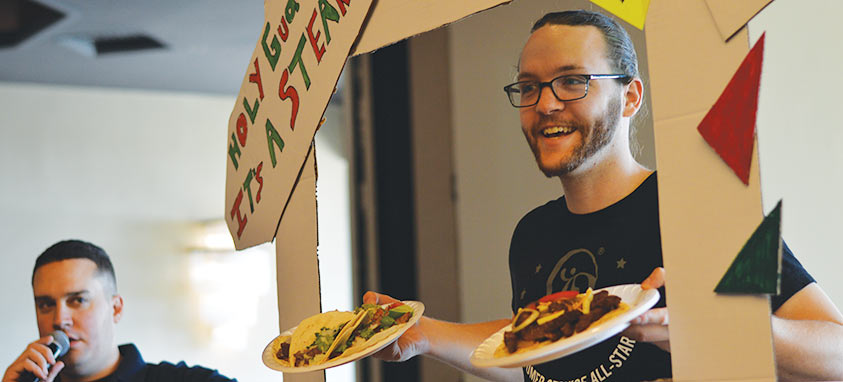 Cirque du Soleil, San Francisco
Culinary-themed activities offer a chance to experiment with new ingredients and devour the delicious results. Within this crowd-pleasing arena, it's important to keep offerings fresh. Creative providers constantly cultivate a new crop of culinary experiences to inspire participants.
"Right now, Food Truck Challenge is the culinary program of choice," says David Goldstein, founder of TeamBonding, a nationwide team-building provider. Creativity and competition figure prominently in the multiphase activity inspired by the ongoing street-food craze.
Groups of 25 to 150 divide into teams and develop a comprehensive foodtruck concept. Participants name their truck, create a logo, construct and decorate a cardboard facade, compile a menu and cook the dishes. With up to two hours to complete the challenge, teams have an edge if they're capable of making quick group decisions and delegating.
Fueled by the unquenchable thirst for craft cocktails, various providers have added mixology classes to their team-building lineups. Much like elements such as spirits, liqueurs, sweeteners and fruit juices come together in precise proportions to create a complex, balanced cocktail, workplace success depends on the effective use of employees' individual strengths.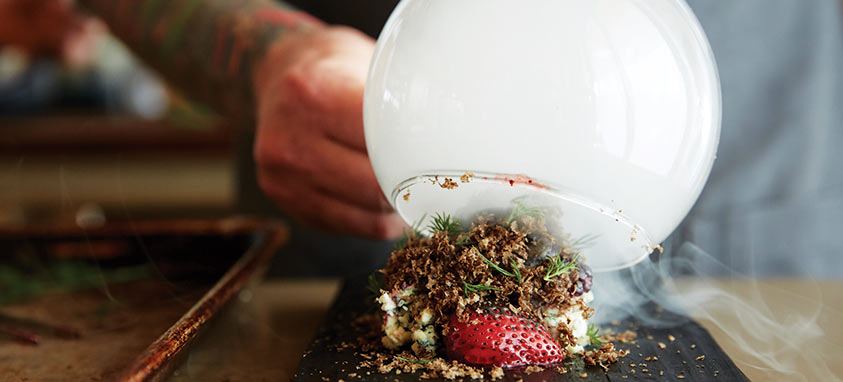 Miraval Arizona, Tucson
TeamBonding's in-demand Shake, Rattle and Pour Team Mixology program is one such social, casual and interactive offering. The decidedly noncorporate event relies on a national network of expert mixologists adept at instructing groups in the nuanced art of crafting memorable cocktails. Ideal for groups of 20 to 120, the two-hour program can transform any office or offsite venue into a mixology lab for a standalone experience or a pre-dinner activity.
Miraval Arizona, a destination spa resort in Tucson known for its commitment to balance and wellness, strives to make indulgences as virtuous as possible with its Cocktails in the Kitchen class. Groups create healthy cocktails, tour the main kitchen and enjoy a chef-made appetizer. A dining program rooted in clean eating and whole, plant-based foods renders the luxurious libation virtually guilt-free.
Sometimes, culinary team-building centers on tending to ingredients before they reach the kitchen. In the past year, Miraval has created an onsite organic garden and apiary where guests can participate in interactive gardening and beekeeping.
To bolster the nation's declining honeybee population, Lansdowne Resort and Spa in Leesburg, Virginia, added beehives to the property and hired a resident beekeeper to care for them. Chefs use honey harvested onsite in various dishes.
The addition also inspired a new team-building program called Bee the Change, an environmentally conscious activity in which groups help to build beehives for the resort or a local organization in need of replacement hives. The bees themselves may be the best teachers.
"Bees have the best teamwork around, and we will help you understand why we should all mimic a little bit of their working skills," says Kelly Moulton, director of recreation.
Clued In
Lansdowne Resort and Spa, Leesburg, Virginia
Live escape games, in which clues guide groups to break out of an enclosed space, make ideal team-building activities for problem-solvers eager to exercise their brainpower. But escape rooms can be hard to find in some areas, and they're expensive to create from scratch.
SmartHunts, which produces high-tech team-building events in cities across the country, devised a solution.
"We made a portable version named the Escape Bag SmartHunt and incorporated it into a scavenger-hunt event," says Samuel Wilson, director of operations. "You get the same experience of working together to solve riddles and feelings of success as a team, but it's easier to deliver anywhere."
Teams receive a locked backpack with exterior pockets containing clues that reveal the lock's combination one digit at a time. Armed with the combination, teams unlock the backpack and access the iPad inside, which guides them through the hunt.
SmartHunts developed its own app and provides its own hardware to ensure ease and reliability. This gives the company freedom to customize the app to a customer's specifications, by inserting specific photo or video challenges, for example.
"We can make the app look and feel like it's the client's own app for the day," Wilson says.
TeamBonding came up with a hotel-based escape-room variation that's easily scalable, because clients can book as many rooms as they need. Escape-room offerings from TeamBonding include Escape from Hotel California and Escape from Werewolf Village.
Adventurous Outings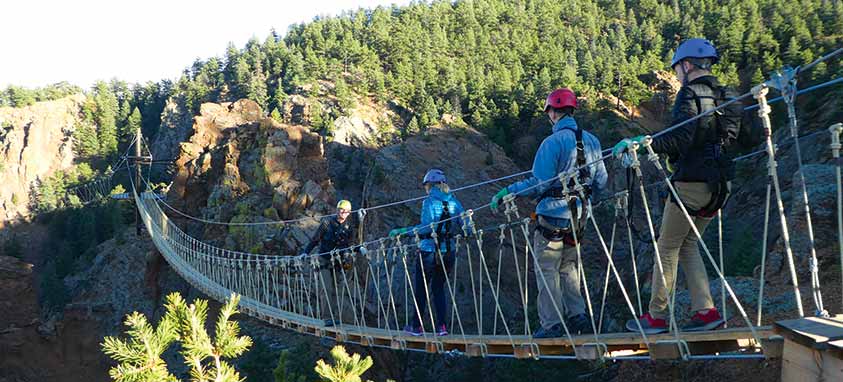 The Broadmoor, Colorado Springs, Colorado
You've shared coffee breaks and conference calls with co-workers, but have you scaled the world's tallest climbing wall together? At Whitney Peak Hotel in Reno, Nevada, groups can do just that. The 164-foot, outdoor Big Wall at the hotel's BaseCamp Climbing Gym presents a formidable challenge—and, from the top, views of downtown Reno and the Sierra Nevada.
Groups that want to start small can tackle three indoor boulders ranging in height from 12 feet to 15 feet, 6 inches.
"Climbing is more creative problem-solving than it is a physically challenging activity," says Ashley Novosad, marketing manager. "It's foreign to most people, so it puts them out of their comfort zone, which is where we are focused to be honest with ourselves. Most importantly, it's fun, and we learn best when we are having fun."
Team members pair up, with one person in a harness scaling the wall, and the other on belay, holding the rope to support the climber. This is spotting with a purpose. "You are very literally in charge of your teammate's safety," Novosad says.
Communication is essential in this environment, as are widely applicable skills such as coaching and goal setting. Payoff comes in the form of mutual support and trust, and the shared exhilaration of conquering a physical barrier.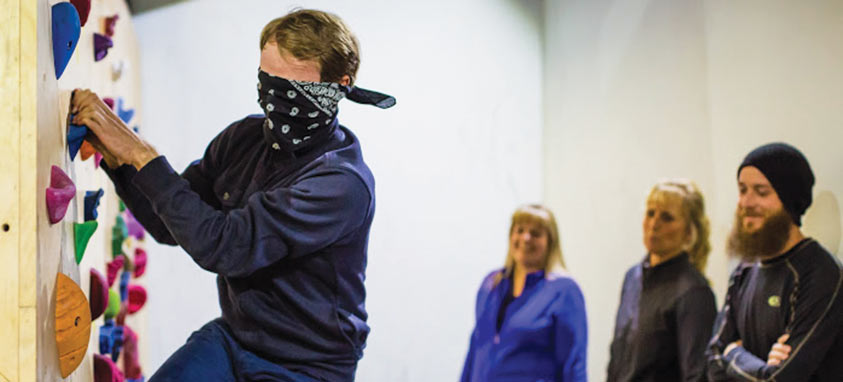 Whitney Peak Hotel, Reno, Nevada
With locations in New York City, Chicago and Somerville, Massachusetts, Brooklyn Boulders also offers group climbing instruction. Touchstone Climbing's 11 locations—which include San Francisco, Los Angeles and Sacramento— have California covered.
Prefer to let gravity do the work? Make a heart-pounding descent at The Broadmoor, a 5,000-acre luxury resort in Colorado Springs, Colorado. From mountaintop to meadow to canyon floor, awe-inspiring landscapes are a major draw for the property, home to a series of cascading waterfalls totaling 181 feet tall. The resort's Soaring Adventure at Seven Falls experience allows groups to rappel alongside the roaring waters of this natural wonder.
Soaring Adventure starts with a 15-minute ground school session, during which participants are outfitted with the gear and instructions they need to confront the course. Then the adventure begins in earnest. Ten ziplines ranging from 300 to 1,800 feet long are spread across two courses, which also include rope bridges positioned 500 feet above the ground.
Given the heights involved, and the potential to reach speeds of up to 45 miles per hour, nervousness is common. But a little anxiousness can be helpful, because it creates an opportunity for the team to provide moral support.
"Guests need the gentle encouragement and support of their fellow team members in order to conquer their fears," says Hampton Madsen of Broadmoor Outfitters. "As each member completes the last zipline, they revel in their accomplishment."
The scenic surroundings heighten an already adventurous activity. "Not many zipline courses have you landing on the side of a cliff, braving two rope bridges over 200 feet long or rappelling 180 feet to the canyon floor," Madsen says.