NRG Stadium, Houston
Stadiums and ballparks move from hot dogs to haute deals
It all started when the Beatles performed at Shea Stadium in the 1960s: a sports venue used for nonsporting events. Today, stadiums and arenas nationwide regularly open their doors to conventions, trade shows and conferences, offering all the essential ingredients for a successful meeting, including state-of-the-art audiovisual capabilities, W-Fi, Live 4HD screens and gourmet eateries destined to please the most finicky palate.
BBVA Compass Stadium (photo by Visit Houston)
On top of that, some venues have press rooms that double as boardrooms, retractable roofs that allow daylight during work hours and conference rooms with views of the sports field. And when the meeting is done, it's time to have fun: a tennis match, a quick game of touch football or shooting a few hoops.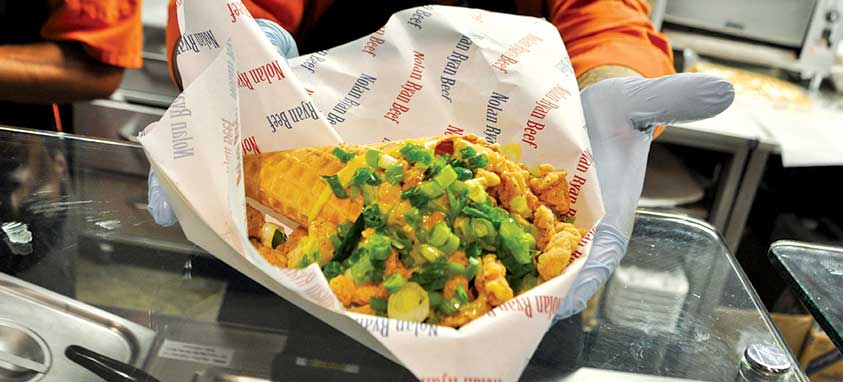 Minute Maid Ballpark (photo by Visit Houston (Austin Dressman))
"Using sports venues for nontraditional events creates new revenue streams for the buildings," says Jose Sotolongo, director of sports tourism for Greater Miami Convention and Visitors Bureau. "From the event's point of view, having their function at a sports venue will create added excitement for attendees and can be a win-win for both entities. And with so many football and baseball stadiums being domed or having retractable roofs, many can be turned into quasi convention centers by using their playing surfaces as floor space during the offseason."
Here are five facilities scoring big points as sports venues that are available for nonsports events.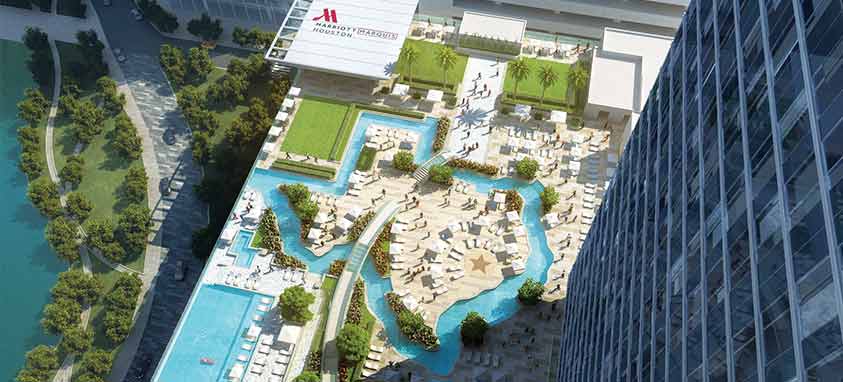 Rendering of Lazy River at Marriott Marquis Houston
NRG Stadium, Houston
On Feb. 5, some 114 million football fans will grab their TV remotes and tune in to the 51st anniversary of America's favorite sporting event, the Super Bowl. A lucky 72,220 fans will see the game from seats at NRG Stadium, the world's first domed stadium with a retractable roof.
Home to the NFL's Houston Texans and Houston Livestock Show and Rodeo, NRG Stadium is a multipurpose facility that offers meeting planners 125,000 sq. ft. of configurable space for business sessions, exhibits, concerts and more. There are four concourse levels and more than 7,000 club seats, some 200 suites, and multiple lounges and bars.
What makes the stadium memorable, though, is its retractable fabric roof, which consists of two large panels that separate at the 50-yard line and lie over each end zone when fully retracted. The fabric and the extensive glazing give the stadium a sense of transparency, which, combined with the abundance of glass, make the building appear to glow. The roof design also provides a flexible rigging configuration that enables major audio and visual presentations.
NRG Stadium is part of a collection of venues making up NRG Park, a 350-acre complex that hosts some 500 events each year, including trade shows, consumer shows, conventions, and sports and entertainment. The park is comprised of NRG Center, NRG Arena, NRG Stadium and NRG Astrodome.
"As a growing convention destination, hosting an event like the Super Bowl shines a global spotlight on the city and raises awareness of Houston among potential clients," says Mike Waterman, president of Visit Houston.
Houston will be showcasing much more than its football stadium. The downtown convention district is undergoing a $1.5 billion renovation that will totally change the face of meetings and conventions in America's fourth-largest city. The most noticeable change is the new five-block, pedestrian-friendly Avenida Houston, which can host outdoor gatherings for convention attendees. It offers 99,000 sq. ft. of space and connects delegates to such popular attractions as Minute Maid Ballpark, Toyota Center and BBVA Compass Stadium.
George R. Brown Convention Center (photo by Visit Houston)

Avenida Houston complements event space at adjacent George R. Brown Convention Center, which offers 1.2 million sq. ft. for exhibitions and meetings. Next door to the convention center is the new 1,000-room Marriott Marquis Houston, which opened in November with 153,724 sq. ft. of event space. Its Texas-shaped Lazy River is a prominent feature.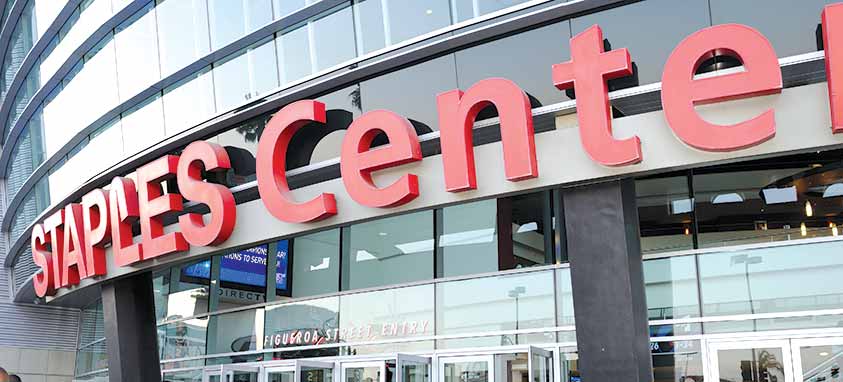 Staples Center, Los Angeles
From the moment it opened its doors in 1999, Staples Center in downtown Los Angeles quickly established itself as one of the nation's top sports and entertainment centers. Home to four professional sports franchises and host to 4 million guests annually, the multipurpose center has been the setting for such key events as the Grammy Awards, Democratic National Convention and concerts by rock star heavyweights U2 and Paul McCartney.
On Jan. 28–29, Staples Center will be the site of the NHL All-Star Game during NHL All-Star Weekend, hosted by the Los Angeles Kings.
But Staples Center is also a popular destination for business-related events and conferences, and has hosted more than 4,000 gatherings since it opened.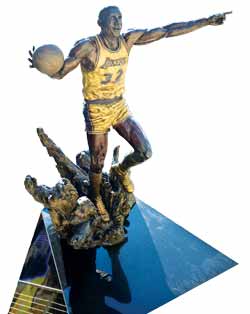 Magic Johnson statue
Set on 10 acres, Staples Center boasts 1 million sq. ft. of space. The arena floor is the largest of the venues, with seating for up to 20,000. Two-thirds of the seats, including 2,589 club seats, are in the lower bowl, but there are also 160 luxury suites and 15 event suites on three levels that can be used for breakfast meetings, breakouts, luncheons, cocktail receptions and parties.
"Staples Center is a tremendous city asset as it attracts high-profile events that generate an economic boost for L.A. as visitors fill our hotels, employ Angelenos and bring millions in direct spend to our restaurants, shops, attractions and more," says Ernest Wooden Jr., president and CEO of Los Angeles Tourism & Convention Board.
Another popular meetings venue for groups is Dodger Stadium, located in the Elysian Park neighborhood. It provides seven options, including clubs, a lounge, a plaza and the field, which accommodates 2,000 for a reception and 1,000 seated.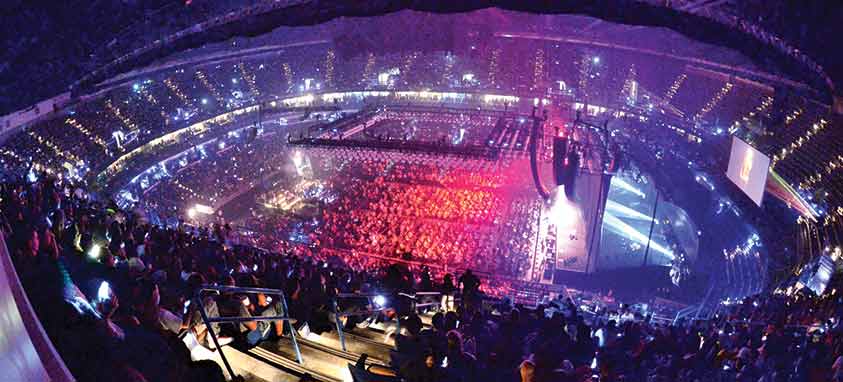 Smoothie King Center, New Orleans
Located on the edge of one of the nation's most popular destinations, Smoothie King Center is the largest venue of its size in the region. It is set on the 55-acre campus of the Louisiana Stadium and Exposition District, adjacent to the Mercedes-Benz Superdome.
Smoothie King Center is home to the NBA New Orleans Pelicans and has been the venue for collegiate basketball including NCAA Regional Tournaments and NCAA Women's Final Four. On Feb. 19, Smoothie King Center will host the NBA All-Star Game.
Smoothie King Center is equipped with a flexible seating configuration and upper-level curtain system to allow reduced-space configurations for special events and meetings. It is a technology-driven facility, with LED video boards, including two mega boards, and center-hung HD video screens.
Premium areas, such as the Courtside Club, can accommodate 200. The North Club and the South Club also can each hold 200. In addition, there are 56 privately owned luxury suites and two large party suites.
Centerplate, the Smoothie King caterer, is one of the largest hospitality companies in the world and has catered Super Bowls, World Series and U.S. Presidential Inaugural Balls. Menus are New Orleans-inspired, but custom menus also are available.
"The Smoothie King Center is a premier destination for world-class meetings, entertainment and sporting events," says Alan Freeman, SMG general manager of Smoothie King Center. "The arena is ideal for visitors, located in the heart of New Orleans only a short walk away from the French Quarter and thousands of first-class hotel rooms."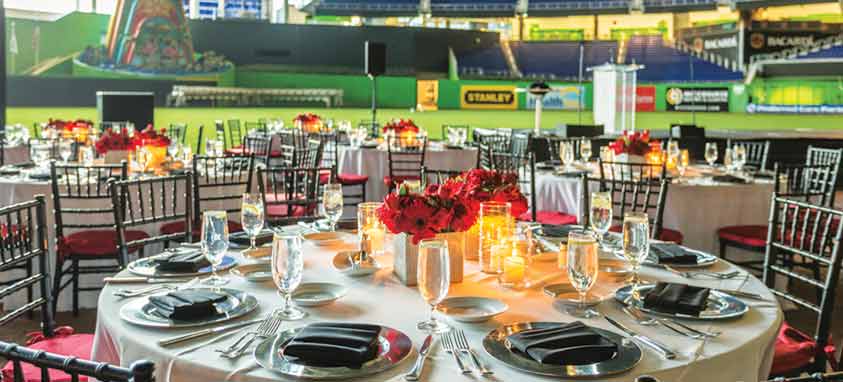 Photo by Advantage DMS, Inc.
Marlins Park, Miami
Opened in 2012, Marlins Park is Miami's crown jewel of sports facilities. The 37,442-seat park, which is located in the heart of Miami, is home to the two-time MLB World Series Champion Miami Marlins. It has air conditioning, garage parking and the distinction of being the first professional sports facility with a retractable roof to receive a LEED Gold certification. On July 11, Miami will become a first-time host of the MLB All-Star Game, at the park.
Marlins Park is located on the site of the historic Orange Bowl Stadium, sacred ground to sports fans. But the site has also become a hot spot for meeting planners. The stadium offers a variety of venues for events: The Seating Bowl accommodates 38,000; West Plaza has a capacity of 6,000; Skyline Terrace holds 1,000; and Ricoh Diamond Club seats 300 theater-style. If you're looking for a smaller venue or VIP hospitality, try the Press Conference Room, which hosts up to 190. The first base and third base dugouts hold 100 and 75, respectively.
Located in the left field lower level, next to the third-base entrance, is the South Beach-inspired Clevelander Marlins Park, which boasts direct views into the visitor's bullpen and is available for game-day events. Here, 450 fans can enjoy a party zone of music and dancing on the patio, along with a pool to cool off if the game gets too hot.
"One of our main goals is to use our sports venues for more than the sports for which they were built," says Jose Sotolongo of the Greater Miami Convention & Visitors Bureau. "In addition to using Marlins Park for concerts, the stadium also has hosted soccer matches, religious gatherings and sports-related conventions, and is the home of NCAA football's Miami Beach Bowl. We highlight the venue as a multipurpose facility and work very closely with Marlins Park management to ensure the public sees it as a venue that is so Miami."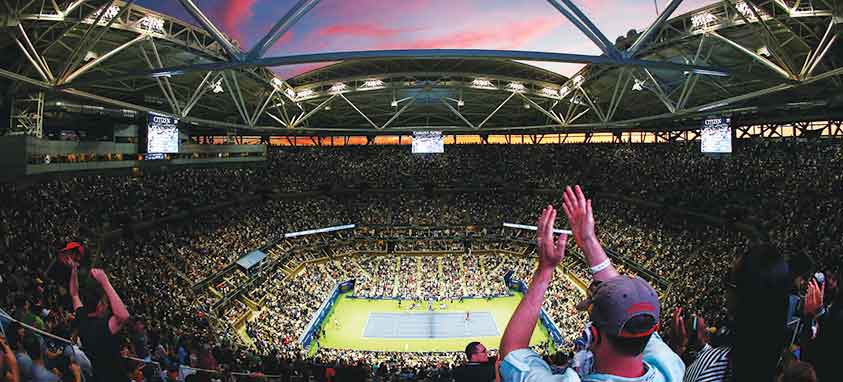 USTA Billie Jean King National Tennis Center, New York City
Billie Jean King, women's sports legend and LGBT activist, is honored as the namesake of the site that hosts the world's highest-attended annual sporting event, the U.S. Open tennis championships. Located in the Flushing Meadows-Corona Park (the site of a former world's fair) in the Queens borough of New York City, USTA Billie Jean King National Tennis Center is a stadium complex where the fourth and final Grand Slam tournament has taken place every August and September since 1978.
The center is operated by the United States Tennis Association (USTA) and has 22 courts spread out among its 46.5 acres.
In the southwest corner of the complex is the new Grandstand, a state-of-the-art 8,125-seat stadium unveiled in 2016. The Grandstand has a circular design (the old structure was three-sided) and is sunken 10 feet below the ground to create a more intimate feel. It has 2,000 more seats than the old grandstand and the asymmetrical shape ensures most seats stay out of direct sunlight.
The new Grandstand is part of a $550 million construction plan that includes a new retractable roof for Arthur Ashe Stadium, the demolition of the old Louis Armstrong Stadium and old Grandstand, and construction of a new Louis Armstrong Stadium, which is scheduled to open at the 2018 U.S. Open. Group tours of the center can be arranged.
---
Kristine Carber is a California writer who spent many years attending offsite meetings and now enjoys writing about them.
---
Nevada Votes to Build Stadium, Las Vegas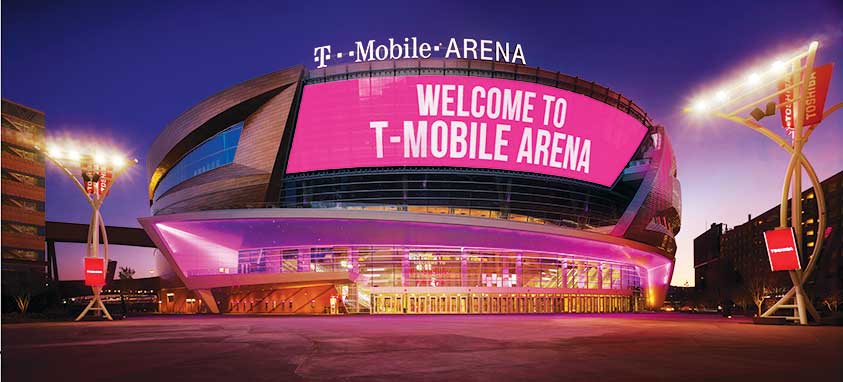 Las Vegas will totally benefit from action taken by the Nevada State legislators in October, when a bill was approved for the expansion and renovation of Las Vegas Convention Center and the development of a domed football stadium.
"Tourism is Nevada's No. 1 economic driver, employing nearly half of the people who call Southern Nevada home, and this decision represents a once-in-a-lifetime opportunity for Southern Nevada," said Rossi Ralenkotter, president and CEO of Las Vegas Convention and Visitors Authority. "Our destination thrives on evolution and reinvention and we commend the bold decision by the Nevada legislature and Gov. [Brian] Sandoval to approve these two monumental projects that position our destination to remain a leading tourism destination for decades to come."
Nevada lawmakers held a special session to approve a $1.4 billion Las Vegas Convention Center District project, which will add 600,000 sq. ft. of new meeting space. The bill also stipulates $1.9 billion for the development of a 65,000-seat stadium that could host University of Nevada, Las Vegas football games and a possible NFL team down the road.
The stadium will receive funding from a .88 percentage point guest room tax increase in Clark County. The proposed design of the stadium features a regulation-size playing field overlooked by seats and leisure areas. The highlight, though, is a dramatic dome protecting fans from the hot desert sun. Curving elements supporting the dome will hold huge panels of glass that can be opened and closed.
The city has been the No. 1 trade show destination in North America for more than 20 years, and hosts some 22,000 meetings and conventions annually. The expectation is the new stadium would host nonsports events such as the Academy Awards and Republican National Convention.
In April, Las Vegas welcomed the opening of T-Mobile Arena, which will be home to the Vegas Golden Knights, a NHL expansion team that will kick off its inaugural season in 2017.
---
Rose Bowl Stadium, Pasadena, California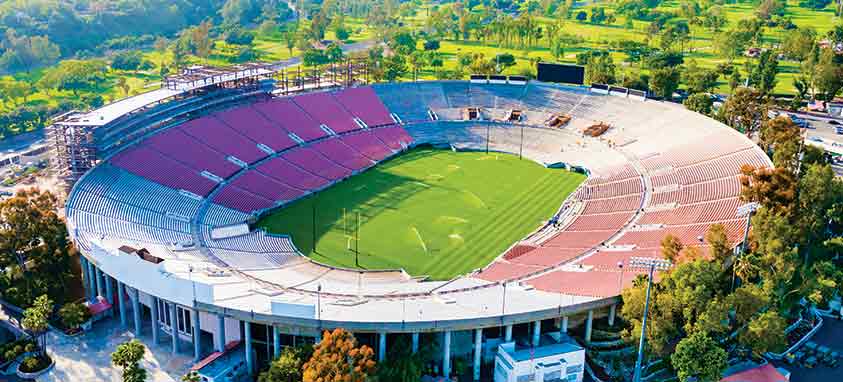 Few sports venues are as beloved as Rose Bowl Stadium in Pasadena, California. Home to the annual Rose Bowl Game, the stadium was completed in 1922 at a cost of $272,198 and with a seating capacity of 57,000. Today the stadium is finishing up a $182.7 million face-lift to ensure that it is safe and functional, and maintains its historic landmark status.
Work began on the renovation in 2011. Changes include a state-of-the-art, energy-efficient LED video board and LED scoreboard on the east rim, and reconstruction of the south scoreboard to recall the 1940s vintage scoreboard. Renovation and expansion of Terry Donahue Pavilion is probably the most exciting change, adding new levels of premium seating with air conditioning and a commercial kitchen.
Event spaces in the pavilion include the 32,000-square-foot Blue Moon Club, holding up to 1,200; the Acura Level, with capacity for 1,000; the North and the South Club Lounges, accommodating 300 each; and the Loge Lounge, for 192. The field is available for sit-down dinners for 3,500 and receptions for up to 7,500.
Renovations aren't new to the Rose Bowl. Since it first opened, it has expanded to accommodate 92,542 fans. It also has established itself as a major entertainment venue, hosting such musical biggies as Justin Timberlake and Jay Z.