Gone are the days when the city in the heart of heartland Ohio was a rather buttoned-up state capital and beloved primarily (or hated, depending on allegiances) for an Ohio State University football program that made "five yards and a cloud of dust" into a winning strategy.
A big data analysis this year by Yelp and Realtor.com anointed Columbus the nation's hottest hipster market. J.D. Power declared it "highest in visitor satisfaction in the Midwest" in 2016. Expedia named it among 17 Places You Must Visit in the United States and Time called it one of the nation's Six Best Big Cities.
Something is definitely going on in Columbus.
A compact, pedestrian-friendly downtown—especially around Greater Columbus Convention Center, which just completed a $140 million renovation and expansion project to give it 373,000 sq. ft. of exhibit space and 75 meeting rooms—makes it easy for meeting planners to give groups their chance to catch the Columbus buzz. New and newly renovated hotels, a thriving arts and entertainment district, dining and sports venues, and one-of-a-kind attractions are all within easy reach.
We performed a site inspection for you, and here are the highlights.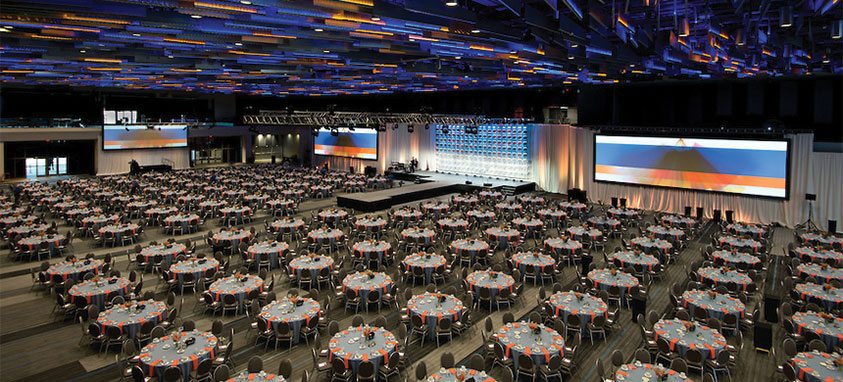 Arrive: John Glenn Columbus International Airport (CMH), named for the former astronaut, U.S. Senator and Columbus resident, is a 10-minute drive from downtown via major expressways. It offers 150 daily departures to 35 destinations nonstop. A major expansion is on the drawing board.
Meet and Sleep: Connecting to the convention center are upscale Hyatt Regency Columbus, with 631 guest rooms and 63,000 sq. ft. of meeting space, and LEED Gold-certified Hilton Columbus Downtown, with 532 guest rooms and more than 32,000 sq. ft. of meeting space. Hotel LeVeque, an Autograph Collection Hotel, recently opened in downtown's Art Deco masterpiece, LeVeque Tower, once the tallest building between New York City and Chicago (and an aerial lighthouse for aviatrix Amelia Earhart); it offers 149 rooms, 1,741 sq. ft. of meeting space and a classy, wood-paneled bar and French-inspired brasserie, The Keep Liquor Bar.
In Short North Arts District, across the street from the convention center, posh Le Meridien Columbus, The Joseph features 135 guest rooms and 6,700 sq. ft. of meeting space; it also boasts The Guild House, one of several area restaurants by local celebrity chef Cameron Mitchell. A 167-room Canopy by Hilton, with 3,000 sq. ft. of meeting space, including a rooftop bar and outdoor patio, will debut across from the convention center early this year. Another newcomer this year, Moxy Columbus Short North, will offer 118 guest rooms, meeting space and yet another rooftop restaurant and bar.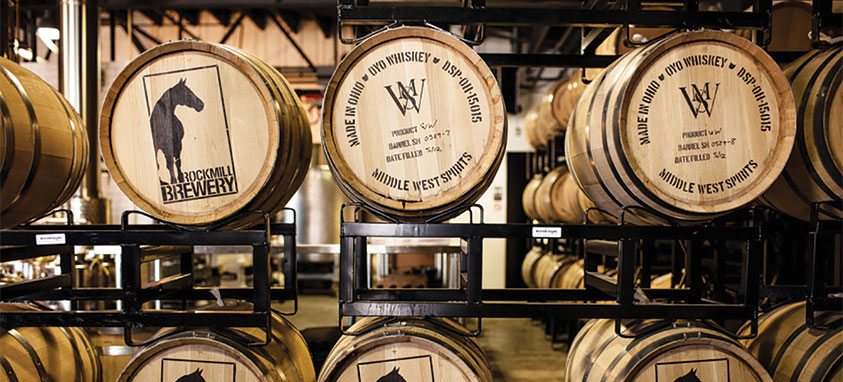 Eat: Central Ohio's public market, North Market, dates to 1876—and is a cake walk from the convention center. Amid fishmongers and greengrocers, eclectic food vendors make it a rival of any city's trendy food hall. Middle West Spirits (pictured above) recently opened Service Bar in its 16,000-square-foot distillery (where it creates Ohio's only organic spirits and conducts tasting tours), snagging executive chef Avishar Barua, who has worked at New York City's famed Mission Chinese and WD-50.
Do: By mid-year, National Veterans Memorial & Museum will become the only place where the stories of our veterans, their families and the fallen—across all branches of service and eras of conflict—will be told together; its 50,000 sq. ft. will be housed in a striking, concrete arch structure with glass curtain walls, and a spiral processional leading to a rooftop sanctuary. Center of Science and Industry (known as COSI) has partnered with American Museum of Natural History for a new, 22,000-square-foot exhibit of prehistoric artifacts. Dinosaurs dominate the first exhibit, and others will follow. COSI offers 12 private meeting spaces, as well as after-hours events in its galleries.