SITE leadership trekked to Rwanda to discover true resilience
Incentive trips motivate results by sparking wonder in the hearts and minds of attendees. So, it is only fitting that the Society for Incentive Travel Excellence (SITE) leadership team journeyed to a storied destination for Executive Summit 2018. The SITE board of directors and foundation trustees convened in Rwanda, East Africa for education and exploration.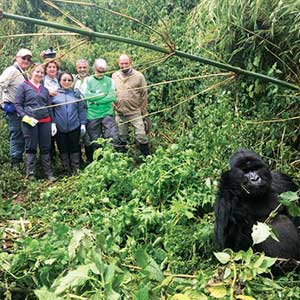 More than 30 members of the local Rwandan incentive travel industry joined the discussion about incentive trends in forums and panel presentations. The fact-finding mission also included high-level discussion with senior government officials at Rwanda Development Board and Rwanda Convention Bureau. The consensus was that Rwandan leadership understands the importance of MICE business events.
"Events are cross-sectoral, bringing benefits to the country way beyond mere tourism revenue," said SITE CEO Didier Scaillet. "The local leadership is undoubtedly committed to incentive travel, and our five days in Rwanda have left us in no doubt as to the country's credentials as an incentive travel destination."
SITE President Annamaria Ruffini reported that "Rwanda is incentive-ready."
Immersive Trekking
The delegation visited Nyungwe Forest National Park and Volcanoes National Park, using the new One&Only Nyungwe House as a comfortable base to explore the wildlife and culture of the area. An early-morning gorilla trek brought the group right into the midst of one of Africa's last intact populations in its natural habitat. Other outings offered through the resort include Colobus Monkey and chimpanzee trekking, bird watching in one of the most biodiverse places in the world and a walk on a canopy hanging almost 200 feet above the forest floor.
"We all knew coming in that we would experience incredible nature—a land of a thousand hills and wildlife, in particular the gorillas—and it surely did not disappoint," Scaillet reported.
A Lesson in Resilience
Scaillet found the country to be a perfect place to learn the true meaning of Ubumuntu, which is a Kinyarwanda word for "humanity." After enduring a devastating genocide in 1994, Rwandans faced their history by building Kigali Genocide Memorial Centre, where remains of more than 250,000 Tutsi victims are interred. It is billed as a place for remembering and learning. "They are moving forward in a remarkably courageously way," Scaillet said. "This nation is demonstrating a tremendous sense of resilience, inclusiveness and faith in the future under visionary leadership."
Ruffini, too, found reason for hope: "Since the tragic events of the 1990s, Rwanda has recovered remarkably and is fast becoming a leading light for women in leadership and sustainability, themes that have been key to my year as SITE president. I'm thrilled to see how the Business Events sector in Rwanda is being led by young women pursuing a vision for the country as a sustainable tourism destination powered by meetings, conferences and incentive travel experiences."
Notes from a Trip to Rwanda
SITE CEO Didier Scaillet shared a few things he did not realize about Rwanda before he stepped off the plane.
Rwanda is the fourth-safest country in the world and the safest in Africa.
Parliament is made up of 70 percent women (highest in the world) and women are playing a huge role in the country's economic miracle (7–8 percent GDP growth).
Rwanda is amazingly clean. "I am not talking 'most European city kind of clean': I am talking Singapore, Monaco or Switzerland clean. Everywhere, Rwandans spend a few hours every day cleaning the streets and their neighborhoods," he observed.
"The Rwandans are among the friendliest, most hospitable, smiling and positive people that I have encountered, and they are ready to host the world," he concluded.