Billed as America's First Resort, Newport has spent nearly four centuries honing its image as a posh New England seaside playground.
"Newport may be best known for its legendary mansions and quaint, coastal New England vibe, but this 378-year-old city is constantly reinventing—and reinvigorating—its world-class appeal," says Andrea McHugh, marketing and communications manager at Discover Newport.
Groups can soak in the city's timeless allure with a stroll along Cliff Walk, a 3.5-mile pathway bookended by crashing surf and grand Gilded Age mansions. The combination of natural and manmade beauty provides an exquisite backdrop.
Newport, known as America's sailing capital, offers a plethora of waterborne activities, too. America's Cup Charters leads excursions aboard its fleet of restored classic America's Cup-winning yachts. Whether your group is up for an interactive sailing lesson or a leisurely harbor cruise, there's a charter option to fit its needs.
Save the Bay narrated lighthouse cruises navigate nearly two dozen historic lighthouses in Narragansett Bay. In addition to a primer on early marine navigation and a lighthouse tour, groups will enjoy gliding by spectacular scenery, such as Gaspee Point and Newport Pell Bridge. There are also seal-watching cruises for wildlife-loving groups.
Discover Newport's destination experts can help planners create meetings and events to remember, as New England Cable & Telecommunications Association (NECTA) office manager Carolyn Killian learned while planning the organization's annual convention. NECTA has held the event in Newport for the past 28 years, but when a scheduling conflict ruled out the company's longtime conference hotel, Killian made a site visit to find another venue.
"The people at Discover Newport set up an entire itinerary for us," Killian says. "They know everyone there. You get so much more information in a quicker time. We saw eight places in a day. If I had done that on my own, it would've taken me three or four trips."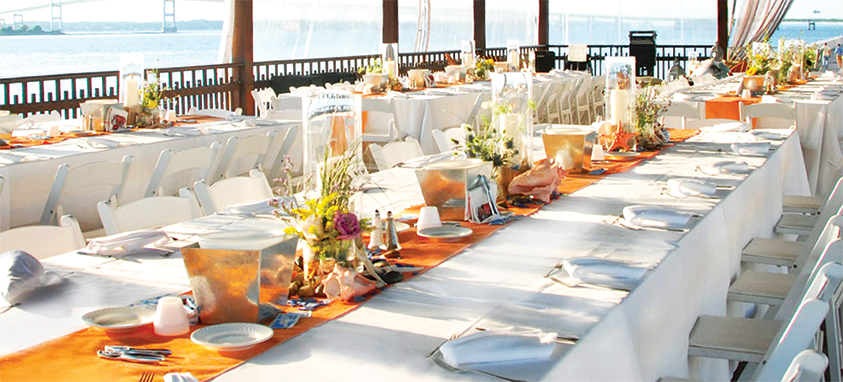 Gurney's Newport Resort & Marina, Rhode Island
Ultimately, Killian booked at Gurney's Newport Resort & Marina, which debuted in January on a 10-acre Goat Island site formerly occupied by Hyatt Regency Newport. Water is a cornerstone feature, from scenic Newport Harbor and Narragansett Bay to the city's only outdoor hotel pool. The property occupies a secluded location within minutes of downtown and boasts more than 70,000 sq. ft. of indoor and outdoor event space, making it an ideal option for groups.
"The location is stunning," Killian says. "They're right at the end of Goat Island. The views are just spectacular. We think it's going to give a resort feel to the event, more so than being closer to town. We're very excited."
Another prime local meeting venue recently received an upgrade. "Newport Marriott kicked off 2017 with newly designed meeting and event spaces that are not only stylish and bold, but also supported by cutting-edge technology," McHugh says. The contemporary, harborside hotel's 24,500 sq. ft. of redesigned event space includes a 7,686-square-foot grand ballroom and 16 new breakout rooms.
In Providence, the Ocean State's capital city, economy of space translates to convenience and navigability. "What really sets Providence apart from other cities is its walkability," says Kristen Adamo, vice president of marketing and communications at Providence Warwick Convention & Visitors Bureau. "The walk between the convention center and most of the major hotels is easily under five minutes. Our downtown core is very compact, making it simple for attendees to access scores of local dining and entertainment options."
Located downtown, Rhode Island Convention Center contains 100,000 sq. ft. of exhibition space, 20,000 sq. ft. of ballroom space, 23 meeting rooms, 30,000 sq. ft. of prefunction space and excellent in-house catering. The convention center anchors Rhode Island Convention & Entertainment Complex, which includes 14,000-seat Dunkin' Donuts Center and the intimate, 1,900-seat Veterans Memorial Auditorium.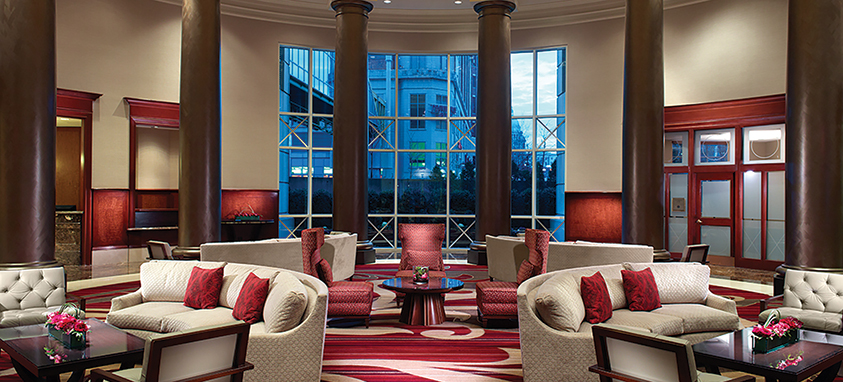 Omni Providence Hotel
One of New England's leading multi-use entertainment arenas, Dunkin' Donuts Center features 31,000 sq. ft. of arena space, a 25,000-square-foot concourse, a 9,000-square-foot lobby, and five additional meeting and hospitality rooms. Attendees will find 1,800 hotel rooms within walking distance of the arena, including the 564-room Omni Providence Hotel, which connects to the convention center via sky bridge.
Easily accessible waterways provide tempting opportunities for after-hours entertainment. "One of the great things about being the biggest city in the smallest state is our proximity to the ocean," Adamo says. "Many attendees want to sink their feet in the sand and bite into a lobster roll. Nearby Warwick, Rhode Island, offers that about 15 minutes away. The beautiful beaches of Southern Rhode Island are only 30 to 45 minutes away. Providence itself has three rivers that wind through the city and empty out into the Narragansett Bay."
Daytime and sunset tours from Providence River Boat Company guide groups through centuries of local nautical history while gliding through the city and into the mouth of Narragansett Bay. Or opt for the company's WaterFire Providence boat ride, which gives passengers a close-up view of the long-running show featuring flickering flames that reflect off of the dark Providence River and illuminate the architecture surrounding Waterplace Park.
Getting to Providence is about to become much easier. The main runway at T.F. Green Airport (PVD), situated 10 miles away in Warwick, is undergoing expansion to accommodate more cross-country and international flights. Work will continue through December.
A Building Boom in Providence
Hospitality, innovation and education are gaining ground in Providence, already home to creative and academic institutions such as Rhode Island School of Design and Brown University. A crop of new hotel construction promises to add more than 500 guest rooms to the local inventory. Additionally, two significant projects are poised to enhance the city's status as an intellectual and commercial center.
Planners will welcome the arrival of two new properties in the immediate vicinity of Rhode Island Convention Center: a Homewood Suites by Hilton, opening spring 2018, and a 176-room Residence Inn, opening fall 2018.
Historic character abounds in the emerging Broadway neighborhood, located in the city's west side, which will soon be home to a pair of new hotels. A Holiday Inn Express is scheduled to debut in spring 2018. A planned Best Western Glo—opening date to be determined—will introduce an energetic boutique hotel with a compact footprint.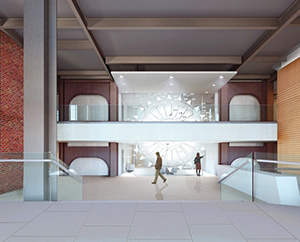 The city's fifth hotel-in-progress, a 170-room Aloft, is part of a $158 million harborside redevelopment project that includes the Wexford Science & Technology Innovation Complex. Envisioned as a life sciences hub, the 278,000-square-foot complex has announced two tenants thus far: Cambridge Innovation Center, a business incubator, and Brown University's School of Professional Studies.
Rhode Island Nursing Education Center (see rendering) will offer nursing students from University of Rhode Island and Rhode Island College access to advanced technologies. The 133,000-square-foot facility—under construction within blocks of Brown University's Warren Alpert Medical School—will open this fall.
MAJOR MEETING VENUES
Gurney's Newport Resort & Marina
Goat Island resort offers 360-degree water views; 257 guest rooms; 77,000 sq. ft. of indoor and outdoor event space, more than any Newport property; seaside dining; spa.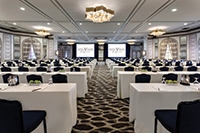 Hotel Viking
Iconic Newport downtown property dating to 1926; renovated in 2016; 13,000 sq. ft. of meeting space includes 5,900-square-foot ballroom; 208 guest rooms.
Newport Marriott
Contemporary harborside hotel; 320 guest rooms; 24,500 sq. ft. of newly redesigned meeting space features latest technology; 7,686-square-foot ballroom; spa; SkiffBar and Main Sail restaurant.
Hotel Providence
AAA Four Diamond luxury boutique hotel located downtown; nearly 5,500 sq. ft. of event space includes 2,033-square-foot ballroom and 1,490-square-foot terrace.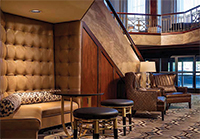 Omni Providence Hotel
Downtown location; adjoins Rhode Island Convention Center, Dunkin' Donuts Center and Providence Place Mall; recent $15 million renovation updated 564 guest rooms and public spaces; 22,877 sq. ft. of total meeting space.
Providence Biltmore
Historic downtown hotel debuted in 1922; 294 guest rooms; 19,000 sq. ft. of meeting space, including 4,212-square-foot ballroom.
Rhode Island Convention Center
Multipurpose downtown convention center; connects to Omni Providence Hotel, Dunkin' Donuts Center and Providence Place Mall; 100,000 sq. ft. of exhibition space; 20,000-square-foot ballroom; 30,000 sq. ft. of prefunction space.
Further Reading: