Grand Fiesta Americana Coral Beach Cancun, Mexico
The event of the future may be an optical illusion
Projection technology has been used for decades in meetings by projecting a film or presentation onto a white screen. Now, projection mapping, also known as video mapping and spatial augmented reality, brings visuals to life in a 3-D world.
The food and beverage, tourism, entertainment and sports industries are just a few of the businesses using projection mapping to bring new experiences to guests. The imagery plays mind games—these projected objects appear so real that you can reach out and touch them, and you can walk right through them, like ghosts. Walt Disney Imagineer Yale Gracey was ahead of his time when he used similar 2-D tech in 1969 for the Haunted Mansion attraction at Disneyland Resort in Anaheim, California, which projects faces onto busts to produce the 3-D illusion that ghoulish statues are singing.
Here are places that are advancing this technology.
A Feast for the Eyes
Bring your appetite and imagination to Grand Fiesta Americana Coral Beach Cancun, where an interactive dining experience has debuted at La Joya restaurant. A communal table seats 16 diners for an immersive, eight-course meal that is also a feast for the eyes. As guests dine atop this custom-built video table, they are guided on a journey through Mexico's history using music and narration.
Executive chef Sergio Zarate designed a menu to match the eight time periods depicted in the presentation. "Our hope is that each guest leaves the experience with a deeper understanding of Mexico's celebrated history," says Alberto Gurrola, the resort's managing director.
Movie Magic
Fans typically purchase tickets to live events to see, well, live entertainment. Not so much anymore. Mapping has come such a long way that it is bringing a popular movie franchise to virtual life for a worldwide arena tour, Fast & Furious Live. There is still a real-life element—stunt drivers perform tricks on the arena floor, choreographed with precision to the projection mapping of set pieces on the floor and walls.
"The 3-D mapping is really intended to take us seamlessly from one spectacular moment to the others," says Kate Dawkins, creative director of 3-D projection mapping for the show, in a video on the tour's YouTube page.
It Was All a Dream
A brand-new immersive theatrical production—"Somnai," produced by Dotdotdot—opened in London in March. It uses layered reality to take visitors through sleep and dreams, using projection mapping, virtual reality headsets, live actors, aromas and sounds to reach all five human senses. At the end of the experience, guests sip cocktails while futuristic, urban, underwater and forest scenes are projected on an S-shaped bar created by Projection Artworks.
"For this immense canvas, we had to use more than 21 million pixels to create the photo-real illusions from such a close viewing distance as a bar," Projection Artworks director Tom Burch told AV Magazine. "We predict this event and space will be heavily Instagrammed. Therefore, we chose LCD technology as opposed to DLP, to avoid rainbow-banding."
Washington, D.C.-area based Quince Imaging also creates wow moments. It's partnered with NHL and NBA teams to use the ice or court as its canvas during pregame and halftime entertainment. It can turn the rink or hardwood into a football gridiron, project fireballs and create the illusion of rushing water, cracking ice or graphics resembling video games. Their services are used at hundreds of trade shows and conferences annually.
Touch of Finger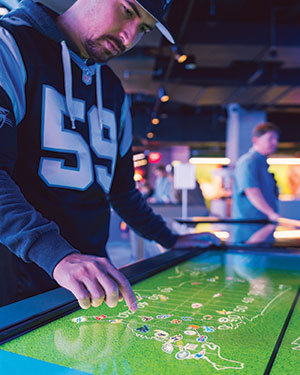 Touch displays have been installed to maximize interaction at airports, trade shows and museums. In October, Houston First Corporation and Houston Airport System opened Houston Interactive, a new welcome center at William P. Hobby Airport (HOU), in the former Southwest Airlines luggage office.
Houston Interactive is a 55-inch touch screen with LED technology that allows visitors to explore Houston at their fingertips as soon as they step off the plane. Users can discover neighborhoods, museums, restaurants, parks and more, and save favorites to their My Houston Bucket List, which is sent to their email to help build their itinerary.
One of the newest additions to New York City is NFL Experience Times Square, which was opened in December by the NFL and Cirque du Soleil Entertainment. When Cirque is involved, you know to expect the unexpected.
One of the entertainment complex's interactive exhibits is called The 32's. The touch screens take football fans inside NFL stadiums, where they learn game plays, take trivia quizzes and vote in surveys. Inside the 180-seat, 4-D stadium theater, guests experience the different weather elements players encounter on the field, such as wind and snow. Two event spaces are available for smaller groups, as is a complete venue buyout for up to 1,000 attendees.
If you would like a touch screen to help enhance your meeting or trade show booth, companies such as Ideum have interactive multitouch tables and large touch displays available to rent. Their developers can create custom software to go with your theme or objective. The screens can even be built into furniture, such as a boardroom table, for demonstrations during a meeting.