Universal Orlando Resort
Visit Orlando, the local convention and visitors bureau, reports that the city welcomed 66 million visitors in 2015 for a whopping 10 percent increase over the previous year. The economic impact was close to $60 billion.
With numbers like that, it's easy to understand the motivation to broaden the magic in hopes of building on Orlando's reputation as a meetings mecca. For example, Universal Orlando Resort wrapped up a huge project in September with the completion of The Loews Meeting Complex, which accounts for 2,000 guest rooms and 247,000 sq. ft. of meeting space between the new Loews Sapphire Falls Resort and Loews Royal Pacific Resort.
"The addition of Loews Sapphire Falls Resort provides even more options for meeting planners and their attendees, incredible onsite amenities, enhanced meeting capabilities and overall unique experiences that only Universal Orlando Resort can provide," says Vince LaRuffa, vice president of resort sales and marketing. "We believe this new addition to our destination will continue to position Orlando as the No. 1 meeting destination in the country."
Orange County Convention Center, only 15 minutes from the airport, offers more than 2 million sq. ft. of meeting and event space. It's the second-largest and fourth-busiest convention center in the United States. The center has recently unveiled the largest public "aeroponic" garden in the country and two new ballrooms, and will soon introduce a new pedestrian bridge to Hyatt Regency Hotel and a new destination lounge.
Wyndham Grand Orlando Resort Bonnet Creek just completed a $5 million renovation, adding 6,000 sq. ft. of meeting space for a total of 32,000 sq. ft. The renovation also includes a new wraparound balcony and terrace overlooking the 10-acre lake, the new 3,500-square-foot Bonnet Creek Ballroom, a state-of-the-art lighting system and upgrades to three restaurants.
One good thing about the Coca-Cola Orlando Eye is that you can't possibly miss it! It opened in April 2015, standing 400 feet tall, and taking you on a comfortable, air-conditioned ride, with views of Cape Canaveral, some 50 miles away.
Must See
Expansive Universal Orlando Resort has more meeting space than some cities. It now boasts five hotels, including the new Loews Sapphire Falls Resort, with a combined 5,200 guest rooms and 295,000 sq. ft. of event space. There are two theme parks–Universal Studios Florida and Universal's Islands of Adventure. Universal's Volcano Bay Water Theme Park (pictured in rendering) is expected to open next June. Universal CityWalk adds more dining and entertainment options.
Meeting Hot Spots
Planet Hollywood Observatory in Disney Springs reopens this fall in a redesigned flagship restaurant. This 35,000-square-foot venue provides an outstanding backdrop perfectly designed for VIP group events. Enjoy four floors of uniquely customizable space while taking advantage of a 4,500-square-foot immersive video wall with custom corporate messaging available. Planet Hollywood Observatory will host special nightly live entertainment as well as an interactive DJ. New upscale specialty menus feature steaks, seafood, pastas and irresistible desserts.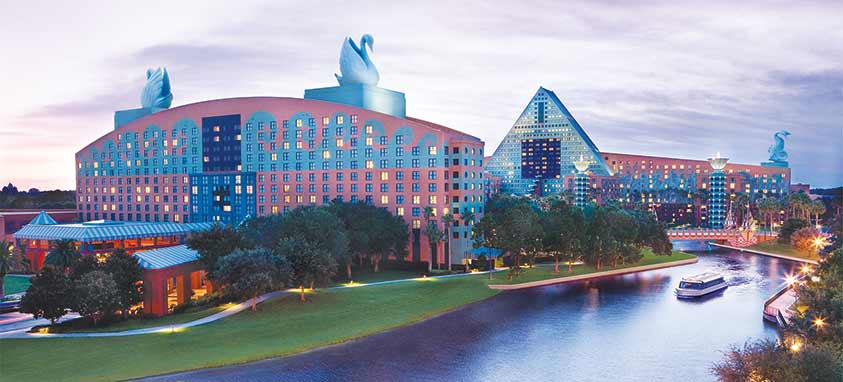 Walt Disney World Swan and Dolphin Resort is situated on 87 acres of beautiful lakefront property. The Dolphin offers 1,509 guest rooms and the Swan has 758 guest rooms. Together, there's 329,000 sq. ft. of meeting space, with state-of-the-art technology. There's a 24-hour convenience store/cafeteria, a game room, the prestigious Mandara Spa, 14 restaurants and lounges, five heated pools and a fitness center.
Villas of Grand Cypress Orlando offers 146 guest rooms and 7,200 sq. ft. of event space. Spread out over 1,500 acres of lush landscaping, the resort boasts 45 holes of Jack Nicklaus-designed golf and a golf academy, two restaurants, a pool bar, a pool and a rock wall.