Stadiums, ballparks and a raceway where planners can score big points
The secret's out. Meeting planners can score a touchdown, hit a home run or win a race by holding meetings at sports venues. How? Well, it's easy to be inspired when you're meeting in a place where the pros are making big plays.
Players who've competed on these often-hallowed fields and arenas are legendary. By having hosted so many heroes, these venues can have a transformative effect on meeting attendees, as well.
Meetings at sports venues are unlike any other event your people will attend. The teamwork honed here and the camaraderie formed will last long after your attendees are back at their desks. So, too, will the memories. …
Dodger Stadium – Los Angeles
From the day of their founding in Brooklyn in 1884, the Dodgers have played a prominent role in the national pastime. A meeting at Dodger Stadium evokes that role. This is the third straight year the stadium is making improvements, such as adding new seating areas and new private lounges to enhance the meeting experience.
"Meeting planners are looking for wow experiences for attendees," says Kristi Schaffter, manager of special event sales. "And few places can offer a better wow experience than a sports venue."
Groups can arrange for private tours of the field, Dodger dugout, locker room, Vin Scully Press Box, and Dodgers trophy gallery. They can also participate in the ever-popular meet-and-greets with legendary players.
The stadium hosts 300 to 400 meetings and events annually, including meetings in the exclusive Stadium Club, receptions on the warning track and dinners right on the field.
Gina Valenti, vice president of brand hospitality for Hilton Worldwide, brought 100 executives from the Owner's Advisory Committee from Hilton's 12 brands to Dodger Stadium a year ago.
"We wanted to create an experience, and the Dodger Stadium people understood exactly what we needed," Valenti says. "They didn't package an off-the-shelf program for us: They created a customized experience, with things like a progressive dinner tour of the stadium, and meet-and-greets with former players in the Dodger dugout, the press box and the Stadium Club."
Coors Field – Denver, Colorado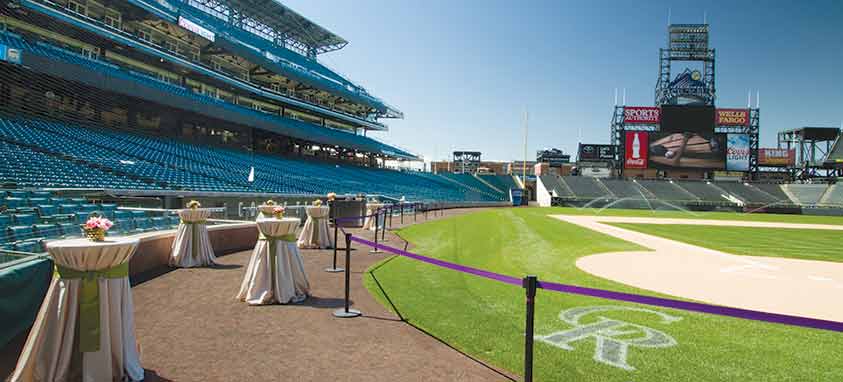 Coors Field, Denver
Coors Field, home to the Colorado Rockies baseball team, celebrated its 20th anniversary last year. In 2014, the stadium cleared out 3,000 seats from the upper deck to create The Rooftop. This 38,000-square-foot space provides spectacular views of the city and the Front Range, atmospheric restaurants and bars, and open spaces available for meetings, receptions or just watching a game.
Coors Field Conference Center has 5,000 sq. ft. of event space and state-of-the-art audiovisual technology. Other meeting spaces include a total of 29,000 sq. ft. in the left- and right-field club areas, 70,000 sq. ft. in the main concourse and the field itself. There are four different dining areas, one of which is the birthplace of Blue Moon Beer. Coors Field also stages team-building exercises, including Survivor-type challenges.
AT&T Stadium – Dallas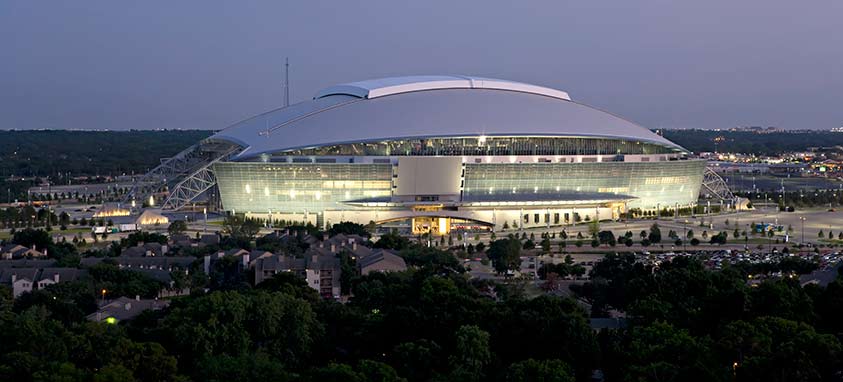 AT&T Stadium, Dallas
Completed in 2009, the home of the NFL's Dallas Cowboys can seat 80,000 and the stadium can be expanded to accommodate 100,000.
Cowboys owner Jerry Jones is not known to pinch pennies, and this $1.2 billion facility features the world's largest HDTV video-board cluster, a retractable roof and more than 300 luxury suites. AT&T Stadium has already hosted Super Bowl XLV, along with many other major sports events.
You can meet on the field, as well as in numerous clubs and lounges, the locker room, the press box, IT Amphitheater and end zone platforms.
"This is a popular football team nationwide, and a new building that's already a legend," says Carmen Jones, director of global meetings, events and incentives for ETC Group, which puts together meetings, events and branding solutions. "It's hard not to be inspired by the setting. We had 550 attendees for an event, and the energy was electric."
Also of interest to meeting planners, The Cowboys will be moving their training complex to a new development, The Star, in Frisco, Texas, 28 miles north of Dallas, in summer 2016. The Star will also include a 12,000-seat multiuse event center and an Omni hotel, among other things. The Star will host Smart Meeting Dallas on Nov. 10, 2016.
Safeco Field – Seattle
The 47,116-seat park is home to MLB's Seattle Mariners. It features a one-of-a-kind retractable roof designed to cover, not enclose, the field, which helps maintain an open-air environment. Safeco has top-of-the-line technology on display, including an HD LED screen that measures 11,425 sq. ft., the largest in the majors. There's a variety of event space, such as Lookout Landing, which can host 150, and Hit It Here Cafe, which has space for 225.
The Smart Meeting Northwest event on Feb. 23 will include a tour of the park before an after-party.
Levi's Stadium – Santa Clara, California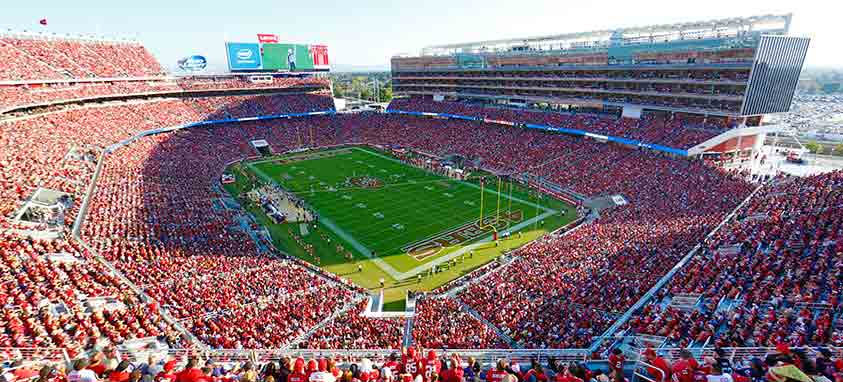 Levi's® Stadium
When you tune in to Super Bowl 50 on Feb. 7, you'll be seeing one of the most impressive sports venues in the world. Levi's Stadium opened July 17, 2014, with every conceivable technological bell and whistle. In just its first year, Levi's Stadium hosted more than 2 million visitors to watch the NFL's San Francisco 49ers games, and other sports and entertainment events.
Levi's Stadium is the first pro football stadium to open with LEED Gold certification. It has 1,162 solar panels and low-flow plumbing fixtures that use 85 percent recycled water. Featuring amazing ambience for meetings and events, the stadium can host receptions and trade shows for up to 23,750.
"Our attendees were inspired both before and after the meeting," says Phyllis Yoshimoto, talent acquisition coordinator for Mountain View, California-based Samsung Research America. "We held our annual meeting last January at Levi's Stadium, with 1,000 attendees. We normally get about 60 percent attendance at this meeting. But we had nearly 100 percent for this one…and attendees told us it was because of the location."
Indianapolis Motor Speedway – Indianapolis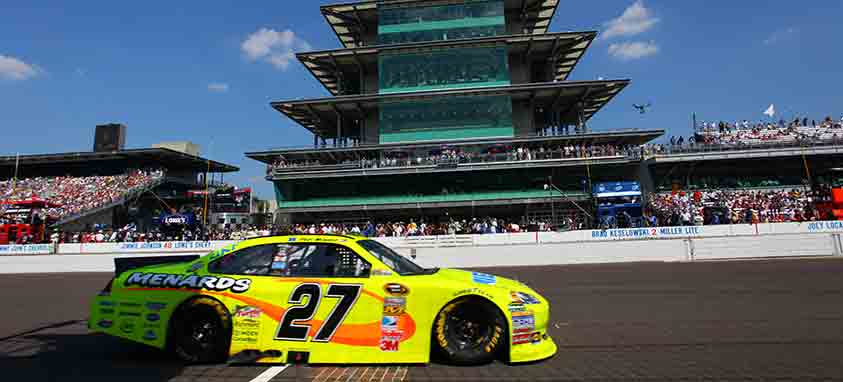 Indianapolis Motor Speedway
When you think of automobile racing in America, you think of The Brickyard.
Planners can hold receptions for up to 2,000 people at the Pagoda, situated 13 stories high, at the starting line; meetings or banquets for up to 1,200 at the Pavilion; events in Gasoline Alley Suites, accommodating up to 140; and the 11,182-square-foot Media Center. At these spots, attendees will be surrounded by the memorabilia and legends of an American institution. In addition, if the timing is right, they can enjoy an actual race.
"Our clients believe that by participating in an inspiring experience, their attendees will carry an inspired attitude back to work," says Shannon Gardner, president of Accent Indy, an Indianapolis-based destination management company. "We host about five client events every year at the Speedway, often bringing in drivers for meet-and-greets. Attendees can take a lap around the track at 110 mph in performance-enhanced street cars. Or, they can actually strap themselves into a real Indy Car with a professional driver, and scream around the track at 180 mph. That's an experience that stays with you!"
Sun Life Stadium – Miami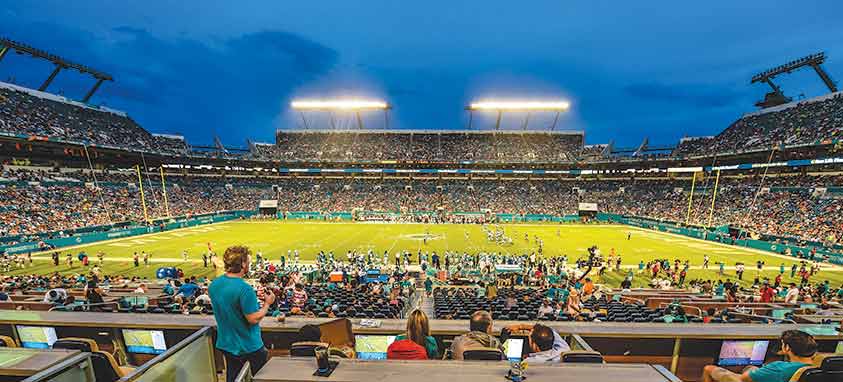 Sun Life Stadium, Miami
Thanks to a nearly $500 million infusion of Miami Dolphins' owner Steve Ross' own money, Sun Life Stadium is being totally transformed. When the work is finished this summer, in many ways it will be a "new" facility.
There will be a roof covering the seats (but not the field). The seats are also being moved closer to the field. The upper-level corners are being converted into open-air restaurants. Additionally, five new luxury clubs will be available for meetings.
The exclusive Nine Club has open-air VIP suites where attendees can watch the game. The 72 Club is a "South Beach" place, featuring and in-seat service and direct access to the field. The North Sideline Club is located between the 30 yard lines. The Ford Field Club offers more intimate spaces behind each end zone. The BankUnited Club Level provides more than 400 seats with corner club access. You can even hold your meeting in the locker room!
Team building is big here. Scavenger hunts are popular, and the field is open for flag-football and "combines" that require teamwork through drills. Your teammates might be famous Dolphins alumni.
"Sun Life Stadium has hosted five Super Bowls, four college football championship games and two World Series," says Todd Boyan, senior vice president of operations for the Miami Dolphins/Sun Life Stadium. "And the renovations are making the venue a global entertainment destination, reflecting the cultural diversity of South Florida."
Amway Center – Orlando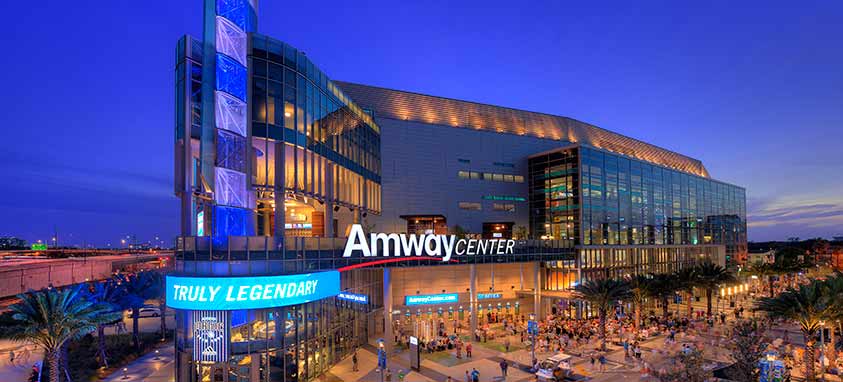 Amway Center, Orlando
The 20,000-seat Amway Center has been home to the NBA's Orlando Magic since it opened in 2010. The building's exterior features ever-changing graphics via a monumental wall along one facade and a 180-foot tower serving as a downtown beacon, with a Sky Bar and Sky Terrace on top for stunning views of the city. The LEED Gold certified building has a sustainable design and advanced technology, including 1,100 digital monitors and the tallest high-definition video board in the NBA.
Amway has 60 suites, 1,400 club seats, 68 loge boxes, 17 other meeting/event spaces and numerous premium amenities.
Even though it's only six years old, the center has an ambitious enhancement program, particularly with technology; for example, meeting planners can now utilize its Venue Next platform to help manage their meetings with smartphones.
In addition, Amway Center has already won numerous awards, including the prestigious Facility of the Year award from Street & Smith's SportsBusiness Journal/SportsBusiness Daily.
Fenway Park – Boston
Fenway Park is an American icon. Built in 1912, it has plenty of heartache (The Red Sox didn't win a World Series, from 1918 to 2004) and redemption (three World Series triumphs since then). Its brown-brick exterior and "Green Monster" left-field wall are considered historical landmarks.
Fenway can accommodate 20,000 attendees in its hallowed hallways, rooms and on the field. Visitors can get private tours of the ballpark, take batting practice, enjoy meet-and-greets with legendary players and see the three recent World Series trophies for which Boston fans waited so long.
Fenway's not standing on its laurels. Key event spaces include Big Concourse, with 38,719 sq. ft.; the 6,314-square-foot Budweiser right-field roof deck, and, yes, even the 2,320-square-foot Green Monster. In 2012, Fenway added the Royal Rooters Club, a 5,870-square-foot space that is filled with thousands of historic baseball artifacts. Fenway practices sustainability, too; the stadium has its own rooftop garden from which comes the produce served at its meetings.
Mary Keough-Anderson, former manager of meeting management and event strategy at Liberty Mutual Insurance Company, now runs her own meeting-management consultancy. Over the years, she's brought many groups to the iconic park. In 2012, she coordinated an event for 20,000 Liberty Mutual employees and their families to celebrate the company's 100th anniversary. Coincidently, it was also the ballpark's 100th anniversary.
The activities included VIP tours of the ballpark, carnival games and rides, a special video on the scoreboard screen, a performance by actor Gary Sinise's band, Lt. Dan's Band, a speech delivered by the company president from the pitcher's mound and a Red Sox cap for every attendee.
"The post-event feedback from our people was off the charts," Keough-Anderson says. "It was an unforgettable experience for the attendees. But what I most enjoyed, what any planner most enjoys, was hearing that attendees were inspired."
Levi's® Stadium By The Numbers
19 meeting spaces
400,000 sq. ft. of indoor rentable space for conventions, meetings, events and exhibits
Nearly 200,000 sq. ft. of rentable outdoor meeting space
8,200 seating capacity for banquets
5,000 seating capacity theater-style
23,750 capacity for receptions
68,500 Levi's® Stadium seating capacity, with the ability to expand
1/6/2016 Smart Meeting Northern California event at Levi's® Stadium
Coming Soon
In Minneapolis, 73,000-seat U.S. Bank Stadium, the new home of the NFL's Minnesota Vikings, will open in August. This $1 billion stadium, with striking architectural elements letting the outdoors in, will also host major events such as Super Bowl LII in February 2018 and the NCAA Final Four Basketball Championship in 2019.
The new stadium is also a catalyst for the revitalization of downtown east Minneapolis. A $400 million development with office, retail and residential space, as well as a new park, are coming next door.
The most sophisticated event space in the stadium is Medtronic Club, with 24,944 sq. ft. of lounge space. The Fire Club, with 11,643 sq. ft., holds up to 800 people. The Hyundai Club has 2,800 field-level seats and Club Purple offers 28,225 sq. ft., in a luxurious setting with dramatic views of the Minneapolis skyline.
Atlanta, too, is gearing up for the opening of a new stadium. When it opens in 2017, the $1.4 billion Mercedes-Benz Stadium will seat 75,000 and feature a retractable roof. Among the interesting options for meeting planners will be 16 Touchdown Suites, located in the end zones and offering spectacular close-up views. There will be three luxurious Franchise Suites, ranging from 12 to 22 seats.
In addition, plans call for spaces such as the two Founders Clubs, each with 12,000 sq. ft.; the Star and North Champions lounges, each with 30,000 sq. ft.; and the North and South Piedmont clubs, with 6,000 sq. ft. each. All will be available for rentals.