After serving as a meetings industry executive, Michael Lyons changes his career focus
Michael Lyons has been one of the most visible people in the meetings and hospitality industry for more than 40 years, serving in senior level roles with 12 companies and on several boards. But who would have guessed that his upcoming role will be Speaker of the U.S. House of Representatives?
"I'll be playing that role in a February episode of the TV show House of Cards Season 4," he says. "We already filmed it, and it was an awesome experience—probably my best day as an actor."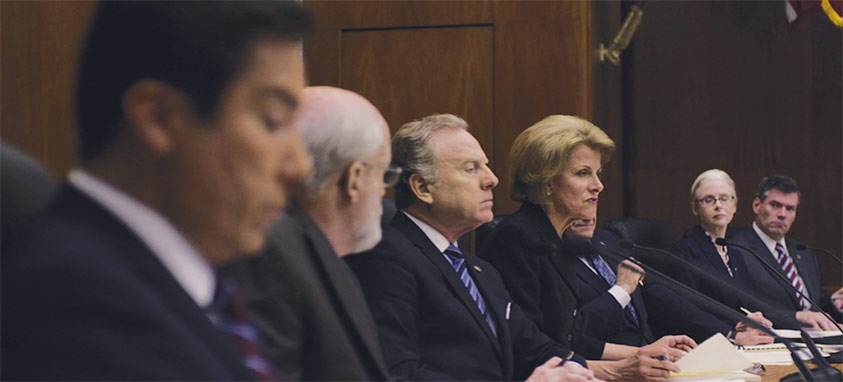 Lyons (third from left) in a scene from House of Cards
In the show, Lyons plays the Speaker of the House in a scene set at the State of Union address, where he introduces the president. It might seem a far cry from his roles in the meetings industry, but he actually has a varied career that includes acting in movies, television shows and commercials. He recently has returned to acting, and is forging a career as a professional speaker.
At the encouragement of his father, Lyons began acting after his family moved to Paris in 1960, appearing in a scene with Tony Curtis in Paris When It Sizzles. Lyons says he "got the bug" while filming the movie, and subsequently appeared in commercials in Paris, as well as theatrical productions after his family returned to Philadelphia in the early 1960s.
After graduating from the University of Notre Dame, Lyons began working for a building materials company. One day, out of the blue, his boss asked him to organize a sales meeting for 150 people in the Bahamas. The event was successful and Lyons enjoyed the experience, leading to a new job as a meeting planner.
Lyons, 64, went on to work in other capacities in the meetings industry, including vice president of business development for Carlson Wagonlit Travel and exhibition director for Reed Travel Exhibitions, which involved managing the annual IBTM America event.
Development of the Industry
During his career in the meetings industry, he has seen a tremendous amount of changes, including the steady growth of technology.
"It's has been truly amazing to witness," he says. "But as much as I see the benefits of all the new tools we have at our disposal, I also see a disturbing trend emerging: In the past few years, as we have become more and more reliant on technology, our face-to-face communication has diminished and suffered. And ironically, the meetings industry, the standard bearer for face-to-face communication, is an active participant in this shifting, new area of communication behavior."
Lyons contends that face-to-face communication has repeatedly proven to be more effective than email, texting, phone calls and video conferencing.
"My concern is that social media is actually making us less social and has become a substitute for the real thing," he says. "In my opinion, to be more effective in our daily communications, we must balance our online behavior with as much face-to-face interaction as possible."
He also feels that generational issues have become more significant in the industry.
"There always has been a generation gap, but today it seems to be widening and becoming more complex, posing issues in both our professional and social lives," Lyons says. "In the meetings industry in particular, designing events that appeal to all attendees is becoming an ongoing challenge, especially as it relates to the youngest attendees.
"Today's planners must shift their thinking to correspond to the generational shift occurring so that their events meet the expectations of all participants. For example, to satisfy both Gen X and Gen Y attendees, planners must carefully consider the content of the meeting and how the venue is set up; give them a forum to exchange information and questions in real time; offer apps that promote interaction; and most of all, make sure that they feel they received value that is relevant to them."
Pursuing His Passions
Lyons left his last position in the industry—his job at Reed—in August 2014 because of the long commute from his home in Philadelphia to Norwalk, Connecticut, as well as his desire to concentrate on acting and speaking. He is also a writer and serves as a consultant on strategy development, sales, marketing, public relations and operations.
"I stick my hand in so many pots that by the end of the day, I might have dealt with six different things," he says. "I feel energized, like I'm 25 years old. But an occasional ache reminds me I'm not."
While making his career transition to acting and speaking, Lyons frequently draws from his leadership positions in the meetings industry.
"I've worked as a manager of people and a leader for a lot of organizations, and this has given me good insight into people's behavior," he says. "And I've made a lot of presentations to clients."
Lyons never had to deal with stage fright.
"My dad [John] instilled in his children a tremendous sense of self-confidence," Lyons says. "He was very confident himself, and made us feel we could accomplish anything."
As a professional speaker, he addresses groups in the United States—including Smart Meetings participants—and abroad. Lyons delivers compelling presentations to meeting groups and others about how to achieve goals, pursue passions and craft a strong personal brand.
"You make your own life," he says. "You're responsible for your life, so if you aren't happy, why not change it? People need to jump into things that they enjoy, instead of remaining miserable. Why do people say TGIF? If you like what you're doing, you should look forward to each day.
"You can daydream all you want, but unless you pursue what you want and take risks, you won't get it done. Nothing changes if nothing changes."
He thoroughly enjoys helping people through his ever-developing career as a speaker—and can't contain his excitement about revitalizing his acting career.
"I'm having a blast working on TV shows such as House of Cards, Gotham, Outsiders and What Would You Do?, with more in the pipeline," he says.
See Michael Lyons in action at this year's IMEX America 2015: