The Press Hotel
Portland, Maine, is steeped in history
Prohibition in America started "down east," the New England geographical term for the rugged Maine coast from Penobscot Bay to the Canadian border. The Maine Temperance Society turned the whole rough-and-ready state dry in 1851. The law was repealed five years later, but one of its largest cities, Portland, still seems to be making up for lost time.
Today, the city boasts the most microbreweries per-capita of any city in the United States, with an emphasis on hoppy, complex brews. And in 2013, it became the first East Coast city to legalize recreational marijuana.
Portland, nestled on a peninsula that juts into Casco Bay, and about a two-hour drive from Boston, proudly boasts historic Victorian architecture and cobblestone streets, rough-hewn shops and some of the best dining on the East Coast. Thinking of bringing your group to this proudly unique destination? Here are tips from local experts.
Arrive: In 2013, Southwest Airlines added airlift from Portland International Jetport (LPA) to the Northeastern cities, whose vacationers flood Maine during high season, making it a convenient escape for those coming "from away," as they say.
Meet and Sleep: Two conference hotels in Old Port downtown serve the 6,200-seat Cross Insurance Arena. Holiday Inn by the Bay is home to the largest expanse of meeting space with 30,000 sq. ft. and 239 guest rooms, and is slated for a complete update inside and out starting next year. The Westin Portland Harborview has the most guest rooms with 289, as well as 15,000 sq. ft. of meeting space and stunning views of the city from its Top of the East lounge; the property has a 90-year history of being the place in town to celebrate business and personal milestones.
Also dedicated to the city's roots is The Press Hotel, where 110 rooms occupy the former offices of Portland Press Herald and celebrate that history in the typewriter-inspired art and even the names of the meeting spaces. Portland Harbor Hotel offers 101 guest rooms and 2,700 sq. ft. of meeting space, plus outdoor ice-bar events under twinkling lights. Or, for a truly unique experience, consider taking Portland Harbor Hotel's former U.S. Navy launch boat out to Great Diamond Island, where 44 renovated officer's quarters accommodate guests on the private island.
Five new hotels are slated to open later this year, including the 150-room AC Hotel Portland Downtown/Waterfront with more than 2,000 sq. ft. of meeting space, and a 150-room West Elm hotel property.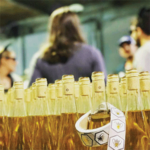 Eat and Drink: The quintessential Portland experience is a lobster bake, and where better to enjoy the buttery goodness than on a boat? Charter DeMillo's on the Water for your custom scenic and culinary tour. The city's Gaelic roots shine year-round at Ri Ra Irish Pub & Restaurant, where you can look out onto the dock from the light-filled upstairs meeting space to see where your quahog clam dinner landed hours before.
Or, engage your group in a little liquid tourism with the help of The Maine Brew Bus, which covers both the burgeoning beer scene (how about a board meeting in the space overlooking Sebago Brewing Company's shiny new fermenters, with Slick Nick Long Winter Ale on tap?), an active meadery (consider bringing Maine Mead Works and its lavender-lemonade honey wine to your event for tastings that will be remembered) and the fruits of craft gin makers (who wouldn't like a little Hardshore Distilling Company swag in their gift bag?).
Do: Portland's maker culture is accessible to groups through the many crafters eager to share their expertise in everything from jewelry and chocolate truffle-making (Dean's Sweets) to crafting signature totes out of old sails (Sea Bags). When a Nor'easter blows in and envelops your group in a blanket of sparkling flakes, warm up bodies and minds with a visit to Spare Time Portland, a bowling, dining and gaming experience complete with laser light show. Or team up in The Escape Room, where three multiroom puzzles await your group to test teamwork and creativity.
The new hot spot in Portland is the developing Thompson's Point, where Brick South has transformed the 2,500-square-foot Maine Central Railroad locomotive repair shop into a gleaming industrial event space with built-in catering options and an adjacent outdoor venue ideal for festivals and expos. Next door, visitors can explore their wild side at Circus Maine, local brews at Bissell Brothers, vintage Lincolnville at the elegant Cellardoor Winery tasting room—and even catch up on the latest Big Foot sighting at the world-famous Cryptozoology Museum. A planned $18 million, 148-room hotel will soon anchor the area.
Of course, Portland is also the gateway to the L.L. Bean flagship store, which is open 24 hours a day for avid climbers, fly-fishers and kayakers.