As the daughter of a wealthy real estate mogul and a beautiful model, the world was Ivanka Trump's oyster. Stylish, sharp and ambitious, Ivanka incorporates the best attributes from both sides of her gene pool. A former model and television personality who exhibits poise and confidence in the limelight, the 34-year-old is more than just a pretty face; she is the powerful executive vice president of development and acquisitions at the Trump Organization and founder of the Ivanka Trump Collection.
Raised among Manhattan's elite, she attended prestigious prep schools and graduated cum laude from Wharton School of Business at the University of Pennsylvania, her father's alma mater.
Her education has included important life lessons gleaned from both parents, who divorced in 1991. Her mother, Ivana, familiarized her with the intricacies of day-to-day hotel operations. "I grew up traipsing behind her as she met with the GM and other executives at the Plaza Hotel in New York when we owned it," she says. From her father, Donald, she learned the value of attention to detail. "My father will walk through a property and comment on a crown molding that's just slightly off," she says.
For Ivanka, the takeaway was the importance of being hands-on. Whether it's visiting the construction site of a future Trump property, approving a shoe design for her eponymous line of apparel and accessories, or caring for her two youngsters, Ivanka is emphatically hands-on.
"From a design perspective, there is not an element in any property that we don't have our fingerprints on," she says. Ivanka and her brothers, Donald Jr. and Eric, are actively involved in nearly all decisions relating to the family business. Luckily, they usually operate in harmony.
"In a family business you are all running toward a common goal," Ivanka says. "We have very different styles and approaches, but we have a unified vision."
She adds that they each bring something different to the table. "I'm a woman, so I bring that perspective. My brothers and I are millennials, which is helpful because everyone is talking about what millennials want. And my father understands what the luxury customer expects better than anyone I ever met," she says.
When asked for one word to describe the Trump brand, Ivanka replies, "uncompromising." Expanding on this, she says, "We have an expectation of excellence, and that's felt on every level of the organization. That's the bar we set for our team and ourselves, and we never waver on it. We don't compromise or cut corners. The difference between being great and being the best is about nuance and meticulous attention to details."
A commitment to unrivaled service is also part of the equation. "We know what our competitors are doing; we task ourselves with doing it better… so each guest truly feels the experience was customized for them," Ivanka says. One way they accomplish this is with the Trump Attache program, which maintains a detailed guest history to ensure that no request needs repeating.
The Trump Hotel Collection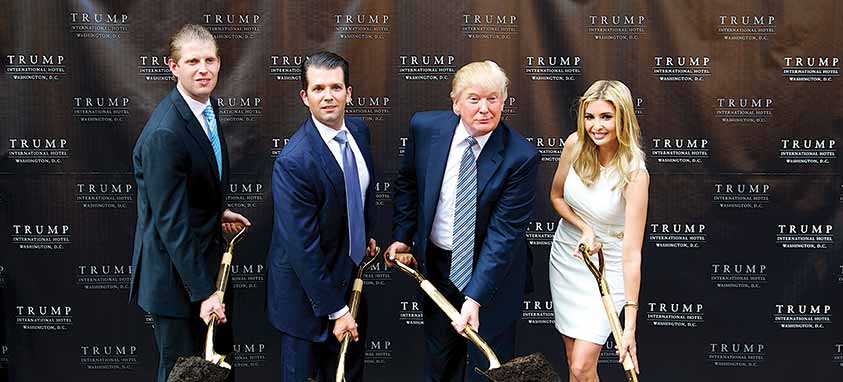 The Trump Hotel Collection includes luxurious properties in New York City, Chicago, Las Vegas, Panama City, Toronto, Honolulu, Miami and Doonbeg, Ireland. Projects are in development in Washington, D.C., Vancouver, Rio de Janeiro and Bali.
Ivanka was instrumental in the recent overhaul of Trump National Doral Miami, an 800-acre property that the organization purchased for $150 million and has spent more than $250 million on restorations and renovations. The luxurious resort features four championship golf courses and 175,000 sq. ft. of event space, including the 24,079-square-foot Donald J. Trump Grand Ballroom and the 8,100-square-foot Ivanka Trump Ballroom.
Trump International Hotel Washington D.C., located two blocks from the White House, is on track to open in fall 2016, which is plenty of time for the family to host an inaugural party in the hotel's 13,000-square-foot ballroom, should that be necessary. When asked how she might redecorate the White House if her father wins the presidency, Ivanka said, "Melania (Trump's wife) has got amazing style, so I would imagine she would have a big hand in it. But I would certainly get involved."
Meetings With Panache
Meetings and events represent important business, and the Trump Hotel Collection factors in the industry when developing properties. Most showcase large meeting spaces or breathtaking views, such as the Miami property, which was custom-built with meetings and events in mind. Trump SoHo has unobstructed 46th-floor views, while Trump Chicago boasts three riverside event spaces.
Tech is increasingly important at Trump properties. GuestTek provides seamless integration of personal electronic devices to the hotel's television system, which is helpful for presentations, and guests have complimentary access to more than 2,500 digital newspapers and magazines.
Trump Hotel Collection provides meeting packages for both large and small groups. A unique brand differentiator is the Trump family itself; it is not unusual for a member to welcome a large group to one of the properties.
"I love meeting and event planners," Ivanka says. "They are incredibly passionate, and there's so much commonality in terms of how we pursue our careers and work together." She points out that like herself, event planners care about details and are committed to creating exciting and unique experiences for their clients.
Ivanka acknowledges that she has very high expectations and is quite demanding but very open-minded. "I love to hear other people's opinions and perspectives. I'm ultimately going to make the decision I think is right…Hopefully that decision is informed by all those perspectives," she says.
Balancing Work & Family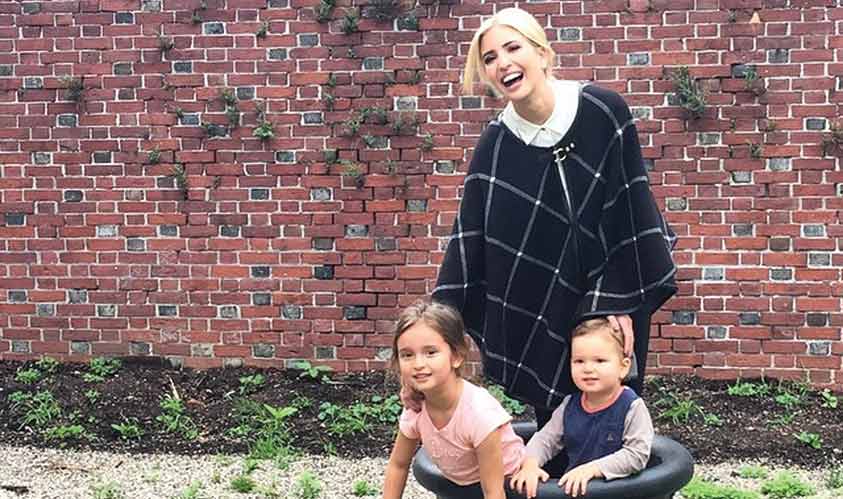 Ivanka was introduced to Jared Kushner by mutual friends who thought they could do business together, but their interest obviously transcended that. They married in 2009 at Trump National Golf Club in Bedminster, New Jersey.
They have been successful in bringing other couples together. "Matchmaking is a not-so-secret talent of ours. Jared and I have set up six couples who are married, and one that just married on Labor Day weekend," Ivanka says.
The couple has two children: Arabella Rose, 4, and Joseph Frederick, who turns 2 this month. Like many parents, Ivanka works hard to be a great mom despite her busy schedule. She lives on Park Avenue, a few blocks from her job at Trump Tower, and she makes it a priority to spend focused, quality time with her children each day.
"You become so much more aware of efficiency when you become a parent because there is such an opportunity cost to all the time you spend not with them," she says. "But I love what I do professionally, and it's a big part of who I am. So it's figuring out a way to make it all work, and every day is different in that regard. I'm working really hard to architect the life I want to live."
In an effort to redefine what it means to be a working woman, Ivanka launched the #WomenWhoWork initiative on IvankaTrump.com. She hopes the campaign opens a discussion that empowers women to work smarter, not necessarily harder.
"We are smart, ambitious and passionate about our careers—but not defined by them. We are doing work we love, work that inspires us, and we're also pursuing our personal passions and making them priorities," Ivanka says.
---
7 Facts About Ivanka Trump
–Appeared on the cover of a 1997 issue of Seventeen
–Danced in The Nutcracker at Lincoln Center
–Founded the Trump Hotel Collection with her father and brothers
–Appeared as an advisor on NBC's The Apprentice & Celebrity Apprentice
–Negotiated the purchase of Trump National Doral while in the hospital after giving birth to her daughter, Arabella Rose
–Published The New York Times bestseller The Trump Card: Playing to Win in Work and Life in 2009
–Named to Fortune magazine's prestigious 40 Under 40 list in 2014